Whether you are getting ready to move into a new home or apartment, or you simply want to upgrade your current one and bring out its best characteristics, chances are you're often looking for ways to improve the look, feel and organization of your home sweet home. With all the time we've got to improve our homes these days, why not learn about some of the best home hacks on the Internet? Here are some of the tried and true ones we recommend.
Turn restricted outdoor space into a hanging garden
Having a small outdoor area can feel very disappointing whenever you decide to expand your garden. The good news is that you can make your outdoor garden larger by thinking outside of the box. Create a vertical garden by using landscape fabric that can be hung and that includes pockets. Simply fill it with soil and tuck your favorite plants into each pocket to make sure that they are able to grow from the opening. This method will allow you to change the position of it anytime you want.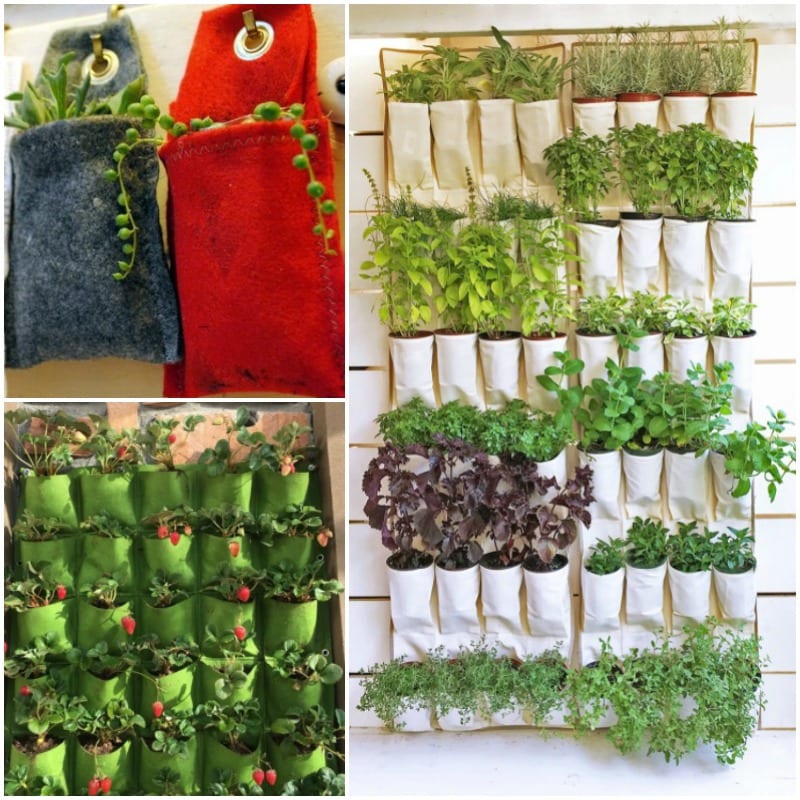 Remember your Wi-Fi password with a cute framed picture
Wi-Fi has become a daily necessity for many people, but it's easy to forget the password. One creative way to prevent forgetting it, or making guests feel awkward about asking you to repeat it, is turning it into a decoration. Choose a theme to write your Wi-Fi password on, such as a clever phrase or a colorful pattern. Print it using your home printer and place it in a cute picture frame. If you like more of a modern feel, you can use letterfolk boards to write it on.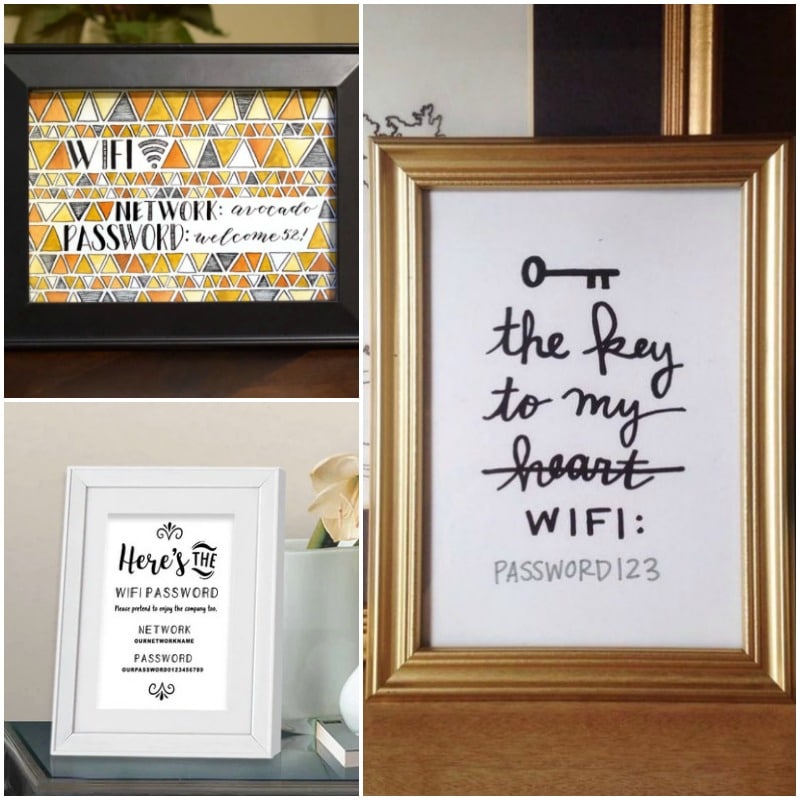 Apply temporary wallpaper to your apartment
If you are looking for ways to make your rented apartment a little more personal but don't want to risk possibly losing your security deposit by painting the walls, a great option could be to invest in some temporary and removable wallpaper. Removable wallpaper is fairly affordable, easy to apply, and can make a tired room with lackluster and chipping paint look super bright and exciting, or super chic and high-end. It all depends on what look you go for, the options are endless.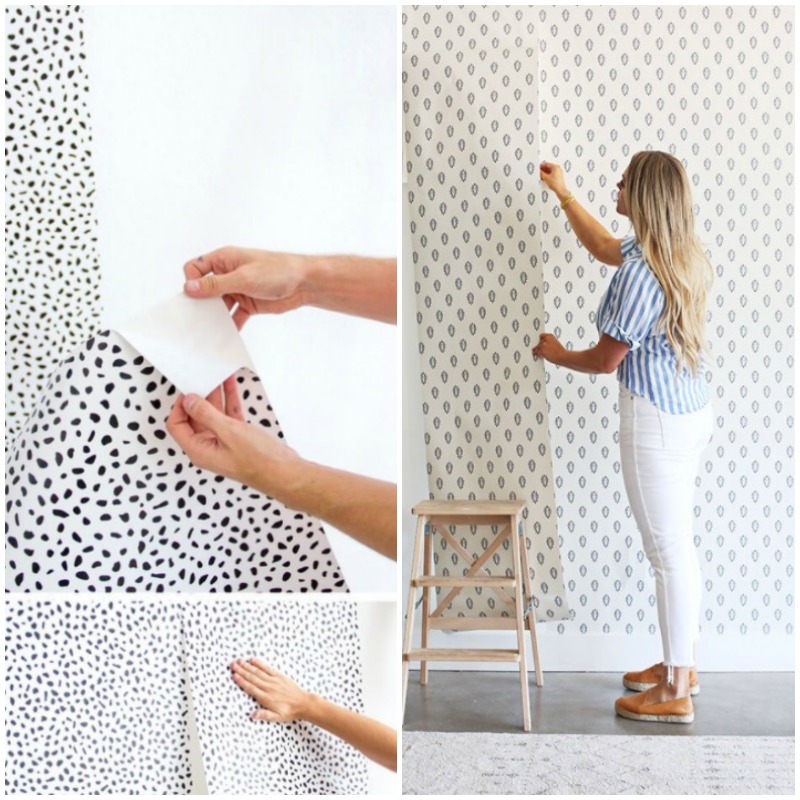 Turn your door windows into DIY stained glass
Stained glass can turn a room with a normal window into the most elegant place, but it can be costly to install them. The great news is that you can turn your plain window into stained glass with transparent plastic film, acrylic paint, and clear glue. Place a design under the transparent paper and trace it with the clear glue to help you section it. The next step is coloring the section the way you want it and sticking the film on the window.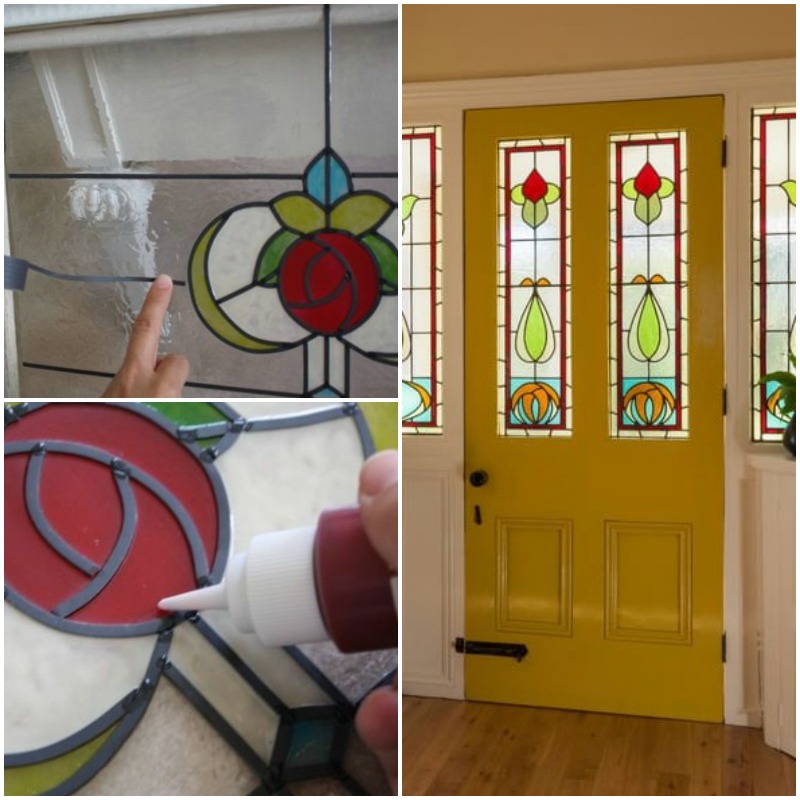 Put mini furniture sliders on the bottom of flowerpots to avoid scratches
Without a doubt, one of the easiest ways people go about improving their living spaces is to fill them with luscious plants and flowers. With that being said, ceramic pots can end up leaving pretty nasty scratches on your floors and countertops. A great way to avoid scratches on floors and surfaces is to put little furniture sliders on the bottom of your bowls. They're so small no one will even be able to see them.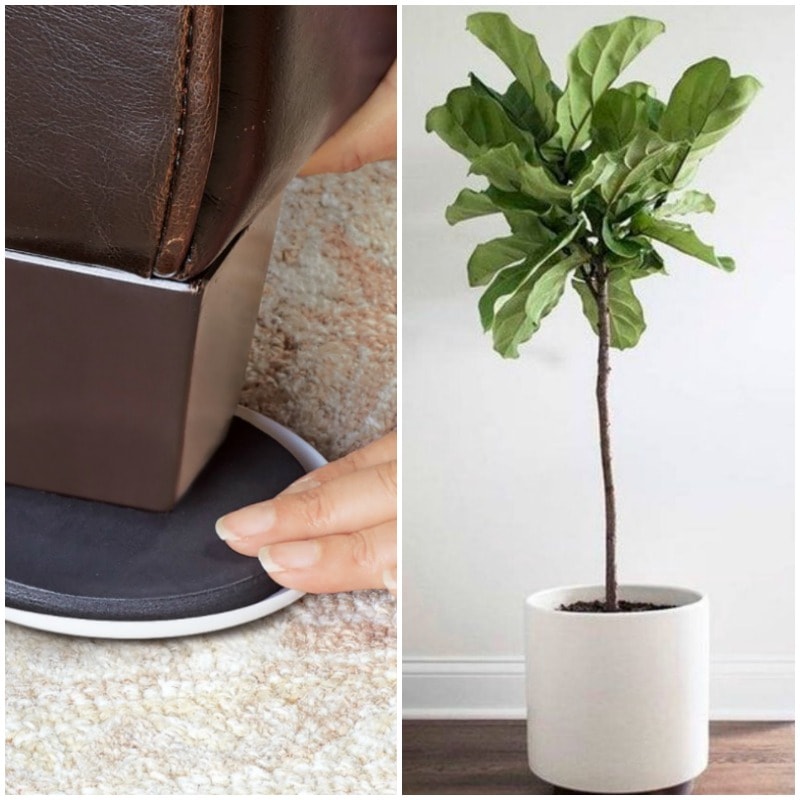 Make your rugs non-slip by adding some caulk to the bottom
Decorating the floor of your home with colorful and comfortable rugs is a great way to freshen up the place, but sliding rugs can get pretty annoying to deal with on a daily basis. One very easy way to fix that is to put some lines of caulk to the bottom of your rug so that you can keep it from slipping out of place. Now all you'll have to do is worry about not staining your beautiful new rug.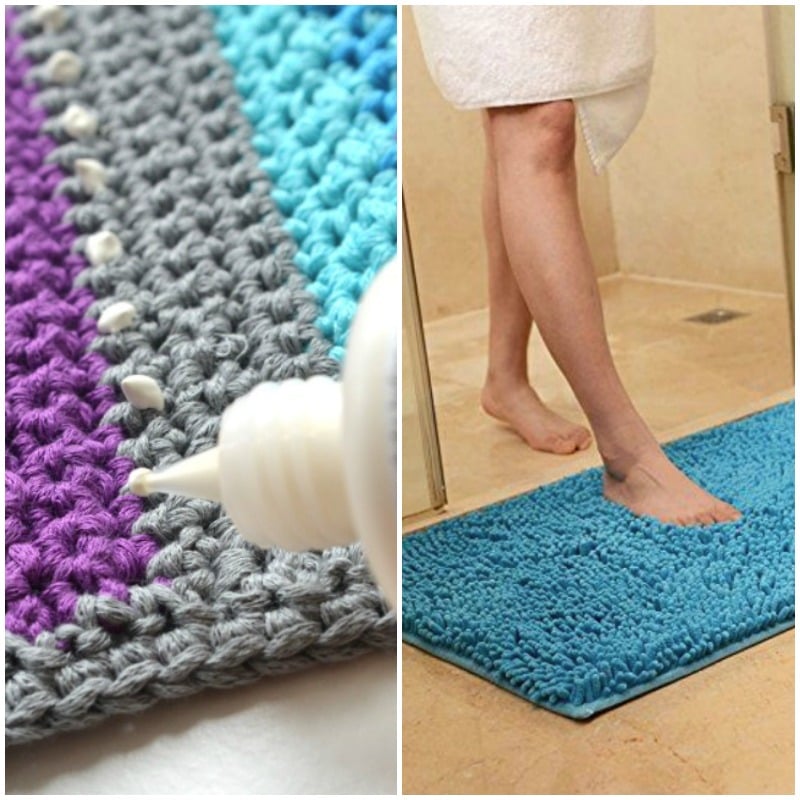 Hang pots and pans
While we're on the topic of organizing your kitchen, consider hanging your nice looking pots and pans around your kitchen in order to save loads and loads of valuable cabinet space. The one added benefit of hanging your pots this way is that it will encourage you and your family to clean your pots super well after every use. After all, when you hang them, they'll kind of start acting like wall art and impact the aesthetic of your kitchen and living space.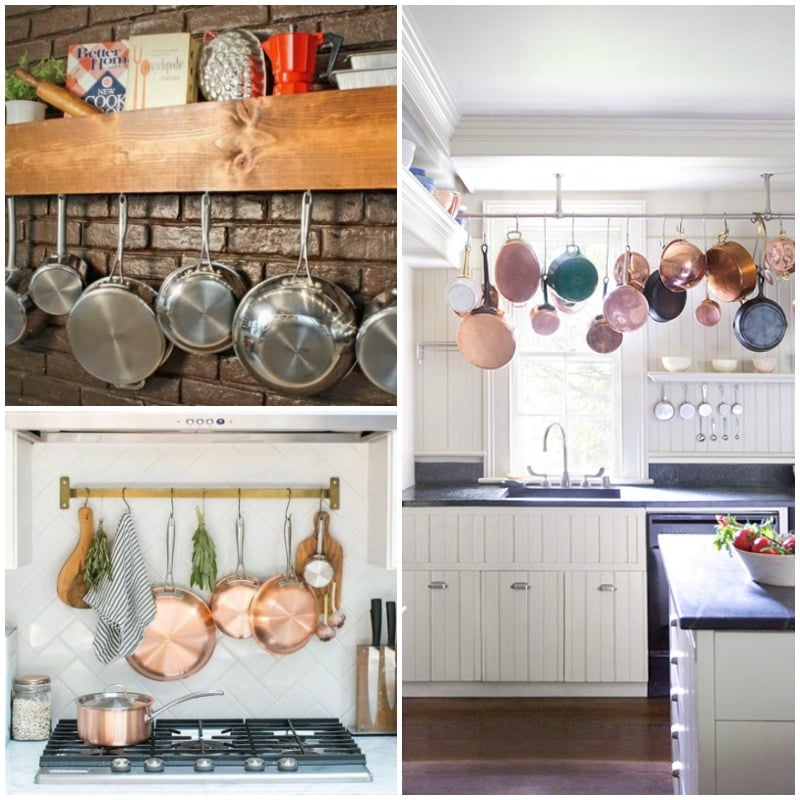 Create an ottoman with wood pallet
Turn a wood pallet sitting in your garage into an ottoman that your friends will be envious of. Feel free to use the pallet as it is or paint it a color that you want before starting the process. Place foam or a mat on top of the pallet and cover it with printed fabric of your own choosing. Staple the fabric onto the bottom side of the pallet and install 4 wooden legs with wood glue. Once the glue is dry, flip the ottoman and voila!
Use a magnetic rack to keep your spice rack tidy
For many people, spice racks are pretty messy simply because home chefs have to use them each and every time they cook. An easy way to make sure that your spice rack always stays clean and organized is to use a magnetic rack. Magnetic racks are great because they allow the separate spice bottles to lock into place thanks to the magnetic power of the holder. You can attach them to a countertop, a cabinet, or the refrigerator – just to mention a few options.
Use cooking oil to get rid of label residue on jars
If you are looking to use some cute cups and jars for storage or decorations around the house, you probably want to get rid of those pesky signs and the sticky residue that those labels leave behind. The best way to do that is to use cooking oil before scraping off the residue. Now you'll have perfectly clean jars that you can fill with tea bags, plants, cookies, pickling veggies, nails and thumb tacks, and so much more.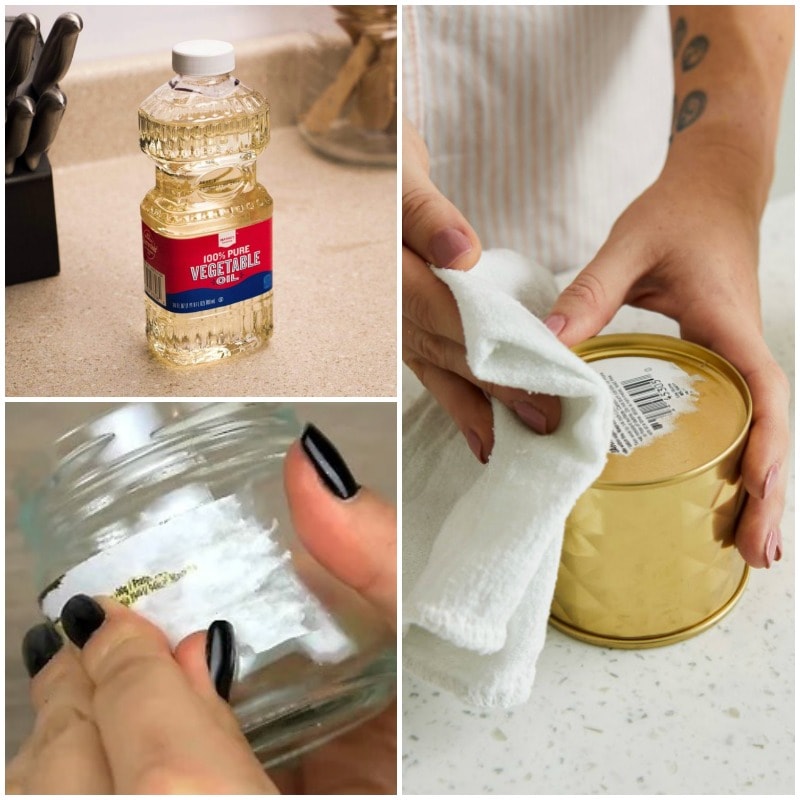 Organize bathroom essentials with a silverware tray
Silverware trays are super useful to make sure that you are able to keep your spoons, knives and forks separate from one another. If only there was a bathroom tray that you could use to keep your deodorant, floss, toothpaste, clippers, brushes and more just as organized, right? Turns out, all you have to do is find a silverware tray that fits in your bathroom cabinets and there you go! Now your bathroom drawers will be as organized as possible.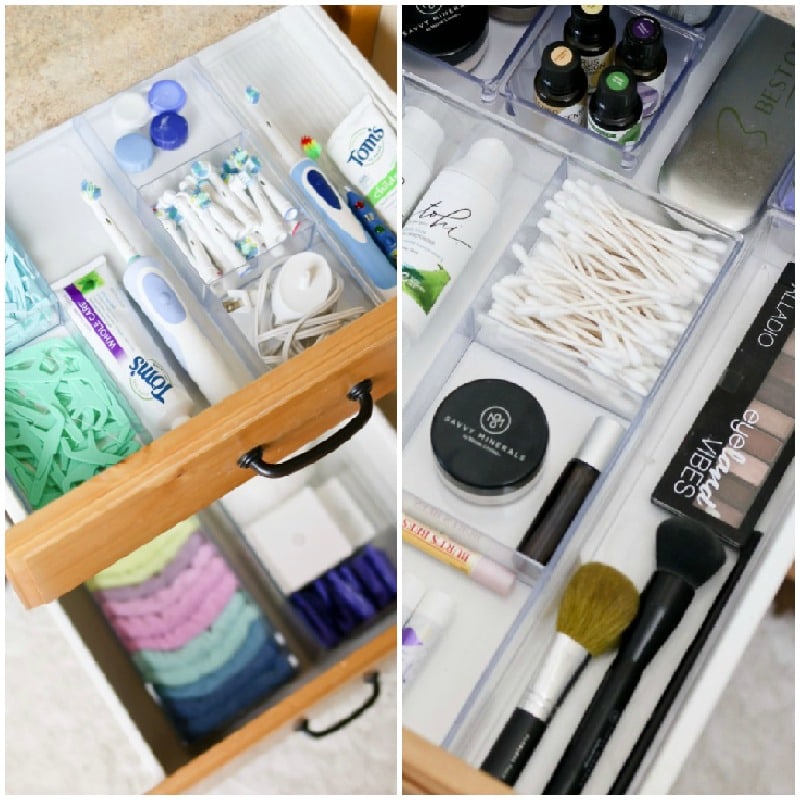 Save your furniture from your cat with aluminum foil
Cats are amazing pets, but all owners struggle with keeping their fur baby from clawing at furniture. You may have tried every trick in the book, such as purchasing a clawing post, using lemon scent to keep them away, putting on plastic on the chair, and telling them no, but none of it worked. Using aluminum foil to cover the areas that your cat claws on will create an unpleasant feeling any time they try to destructively scratch at it.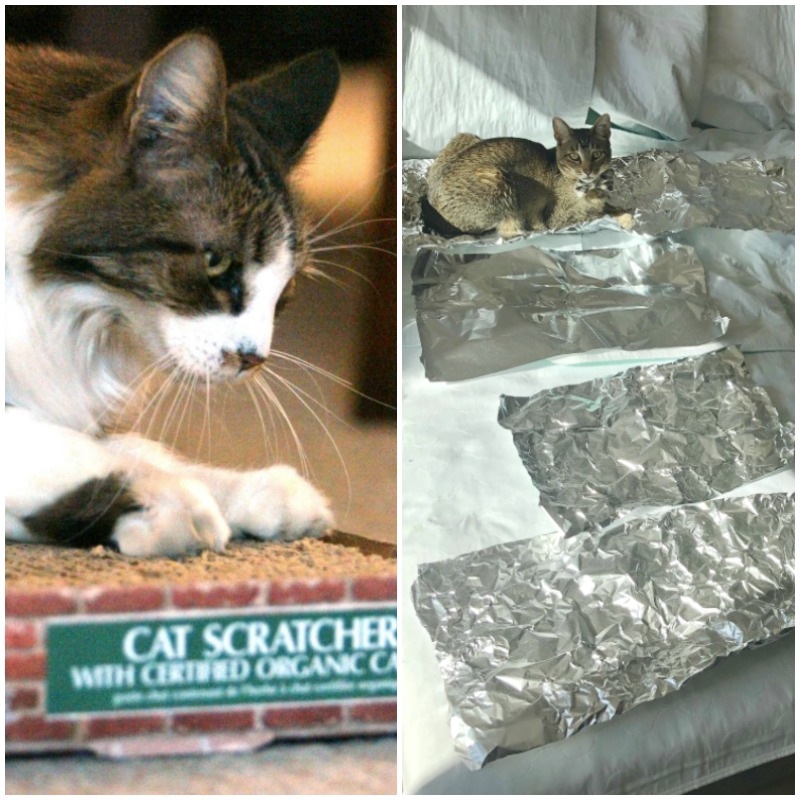 Use your towel bars as a lid rack
The storage in your kitchen does not necessarily have to be used the way it was meant to be used. If you want to stack your pots and pans and have nowhere to put your pot lids, consider using towel racks to hang the pot lids. This helps keep your kitchen orderly and organized because it makes the pot lids easily visible so that you can use the exact one you need while also saving space by stacking your pots.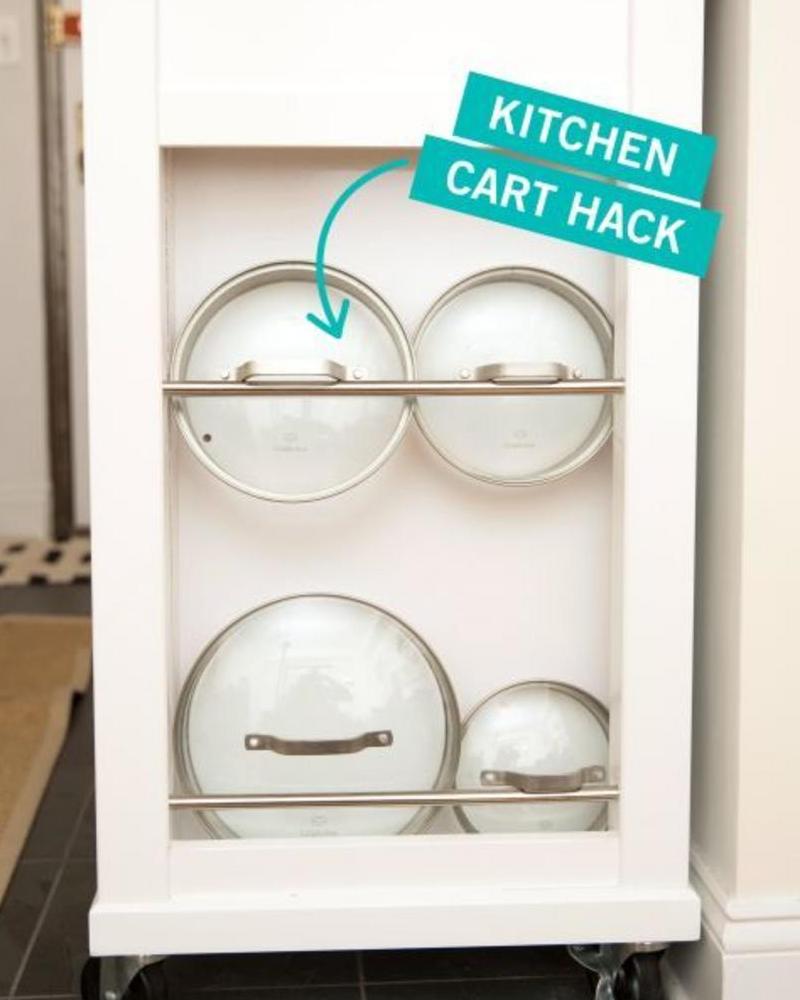 Use PVC pipe to create a great plastic bag dispenser
Whether you have a dog and need to keep plastic bags to take out with you on walks, or if you simply like to recycle grocery bags in order to use for your small trash bins in your bathrooms or home offices, having a stylish and effective place to put the bags is very helpful! Screwing a bit of PVC pipe to your wall and stuffing the backs in makes sure that you'll never have cabinets overflowing with plastic bags ever again.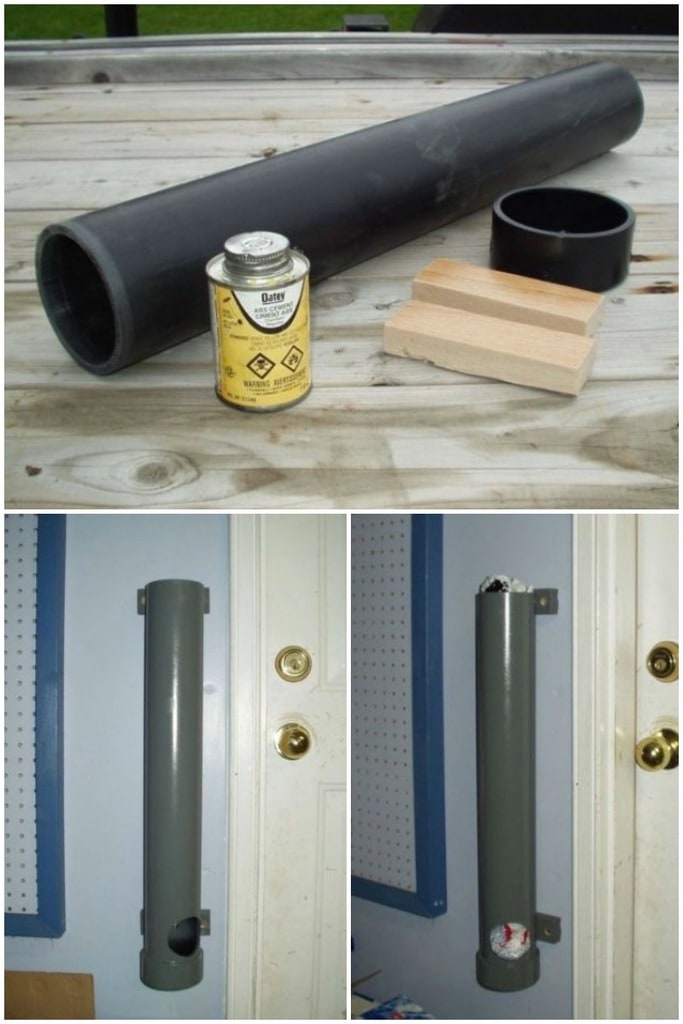 Install floating shelves
Floating shelves are the best way to create a functional storage space that won't make your home look cluttered. Installing floating shelves is extremely easy, and the end result will decorate the room without taking any space on the floor. Center the shelf on the wall using a tape measure, flip it up and place a level on top, use a pencil to mark the drill holes, and begin drilling the screws. Hang your floating shelves to start decorating with plants and pictures.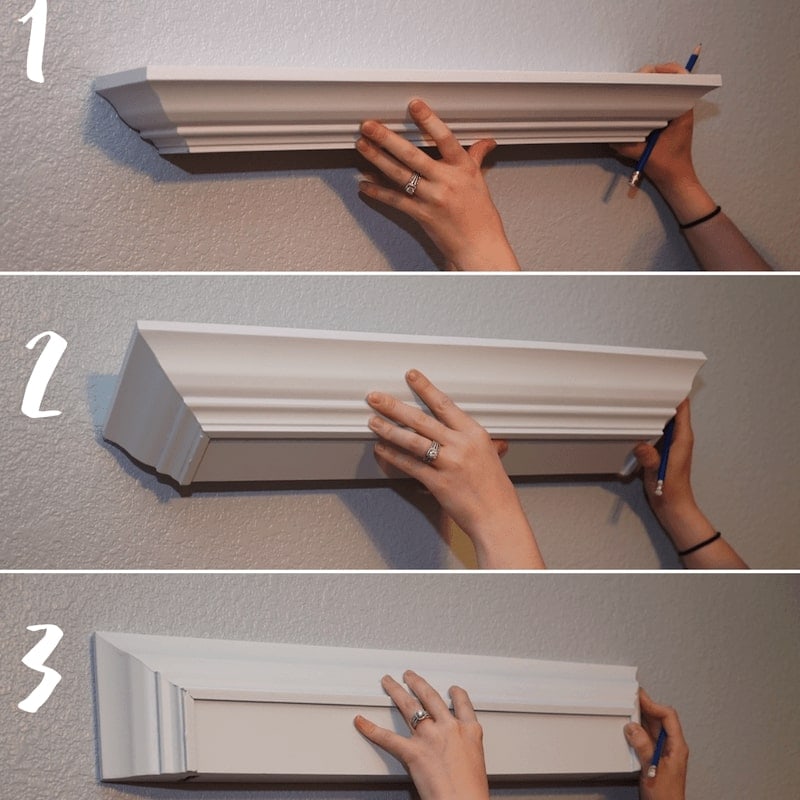 Build a skinny laundry room cart
One great way to make your laundry room look a little prettier and more organized is to either purchase or build a skinny laundry room cart. A skinny cart like this can easily be made with a few planks of wood and a set of small wheels. With this you can slide it right between your washer or dryer unit and the wall and hide away stuff like detergent, drying sheets, drying balls, and even your iron.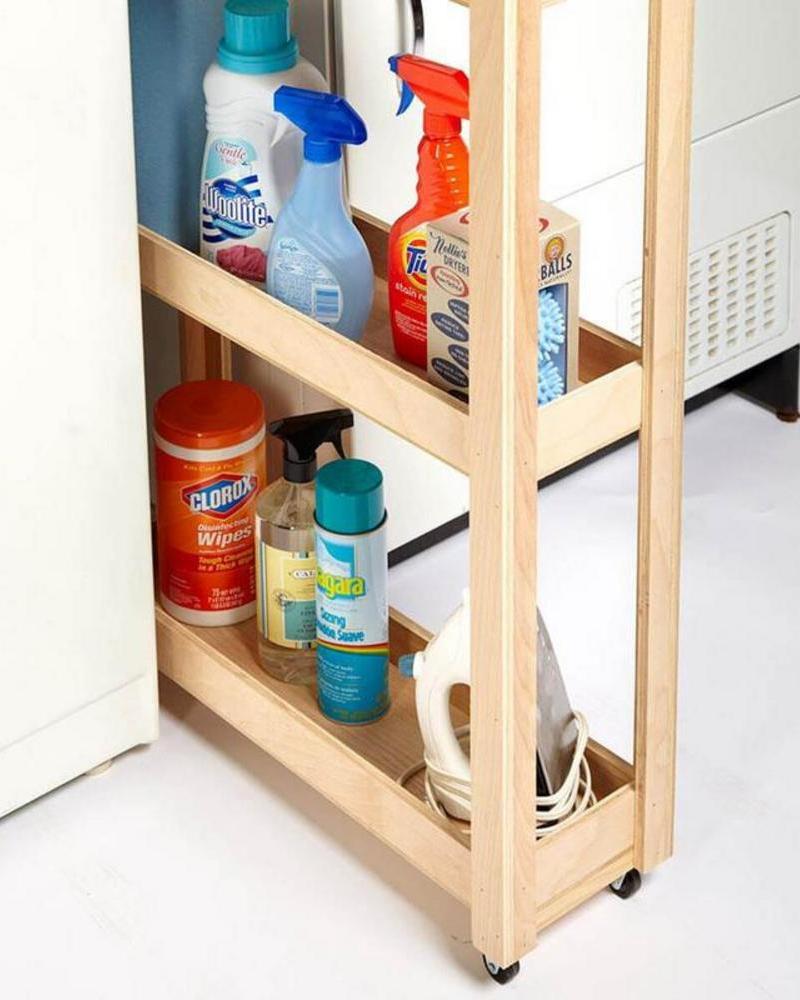 Use rubber bands for a no-slip cutting board
This is a super simple DIY project, and you can probably take care of it in a matter of seconds. The idea here is that you can avoid your cutting board slipping, an annoyance which can create a hard-to-manage and even possibly pretty dangerous situation, by putting two medium-sized rubber bands on each side of the cutting board. The rubber will keep the board from slipping and give yourself a more stable surface to cut your fruits, veggies and more on.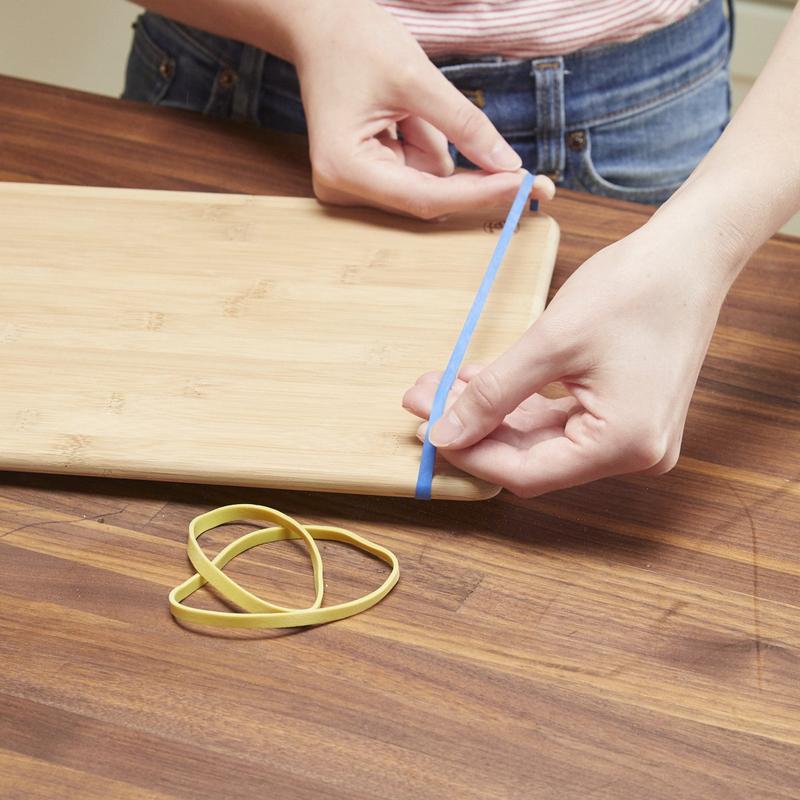 Store your fresh fruit in a hanging basket
If you're running out of space in your refrigerator or on your kitchen counter, consider getting a hanging fruit basket that you can hang from your ceiling. Not only does technique help you save a lot of room in your otherwise cramped kitchen, it also acts as an ever-changing, colorful, and edible kitchen decoration. Fruit is quite beautiful, and now you can enjoy the color hanging from your ceiling. Getting multiple or multi-tiered baskets can look great too!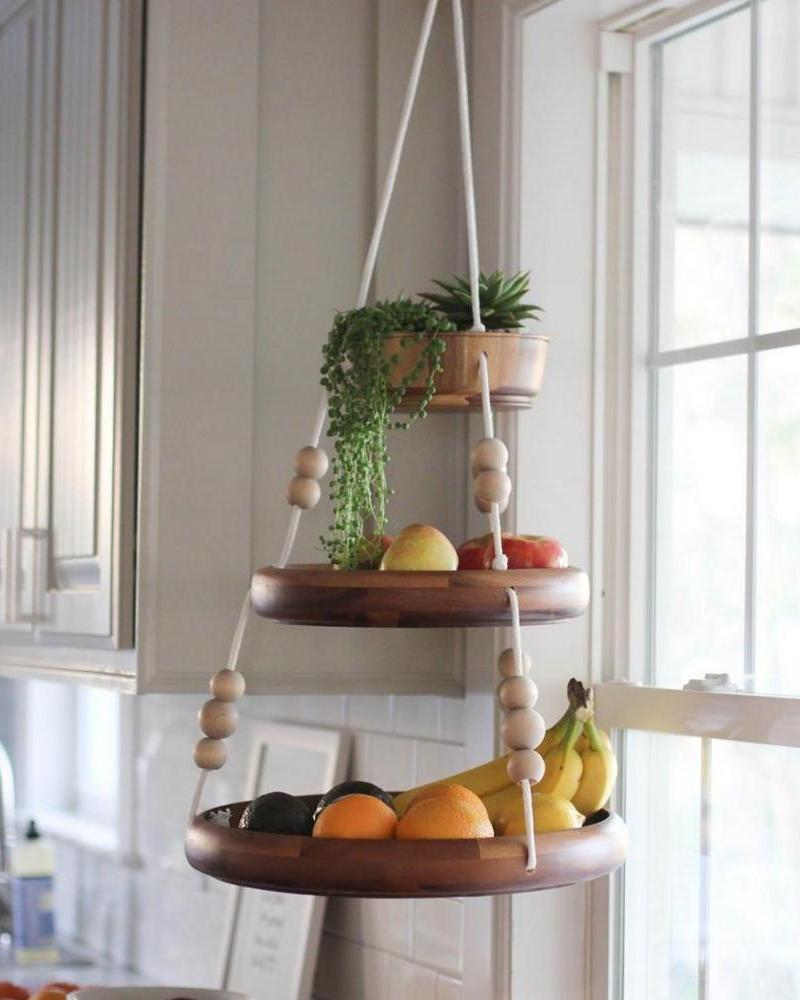 Create a socially-minded living room design
In modern times, many of our living rooms are unfortunately oriented towards the television, and while that is useful when you are trying to watch your favorite television show or a new movie on Netflix, it can be quite constricting when you have friends or family over. Instead, consider orienting your living room so that people can sit towards one another and be social when they come and visit. It will also reduce television time, which is probably healthier anyway.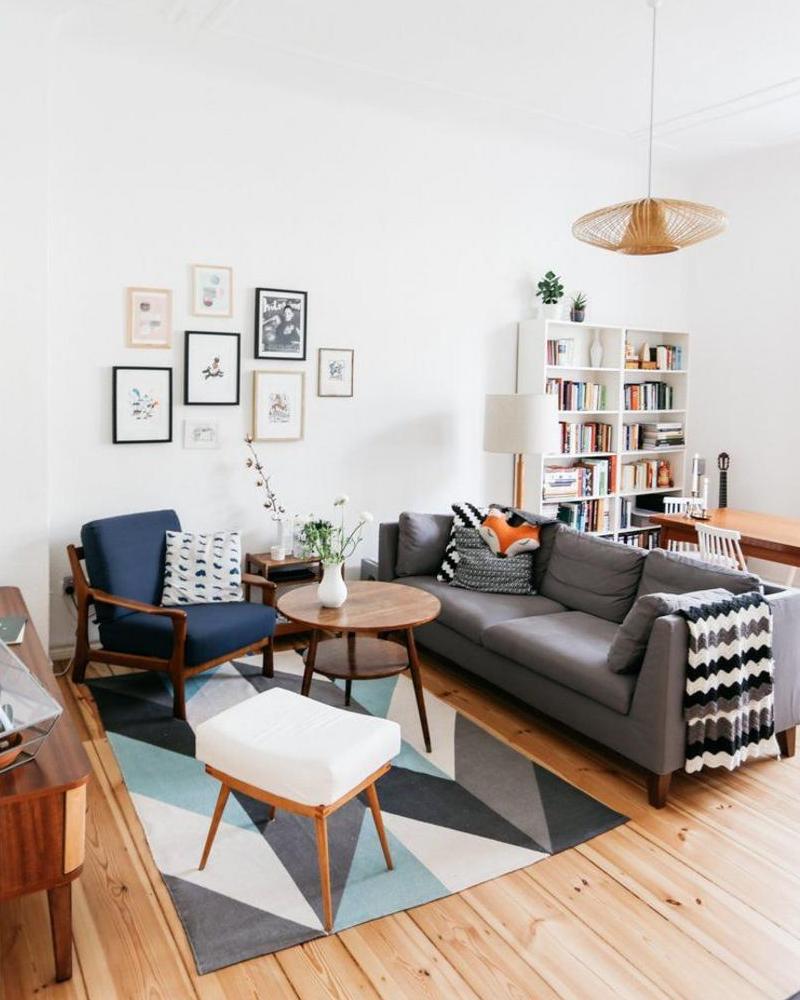 Turn a vintage ladder into a one-of-a-kind bookshelf
Found a ladder in your garage while deep cleaning your home and don't know what to do with it? Turn it into a unique bookshelf that will give your living room a touch of rustic atmosphere and create additional storage space. The first step is choosing a spot where you want the A-frame-shaped bookshelf to be. The next step is creating shelves by using wooden planks that will vary in size. The last step is choosing which books and photos you want to place on the bookshelf.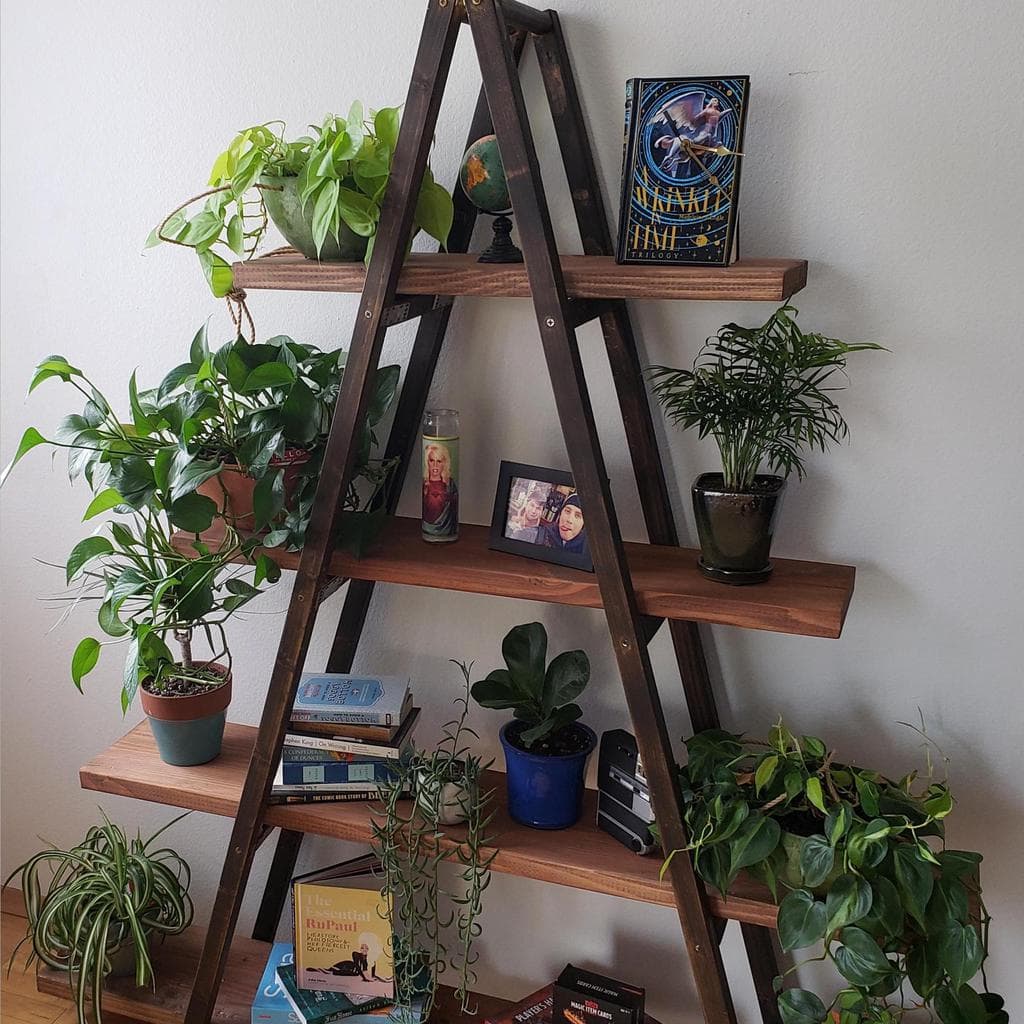 Replace plastic curtains with fabric curtains
If you are a renter or have just moved into your new home, one of the first things that you want to think about changing are your plastic drapes and window curtains. Consider investing in fabric curtains that you can hang on all your windows and glass doors. This will not only make your home look more lived in and comfortable, it will also allow you to better control the amount of light that comes into your place so that you can save on electricity and power costs every month.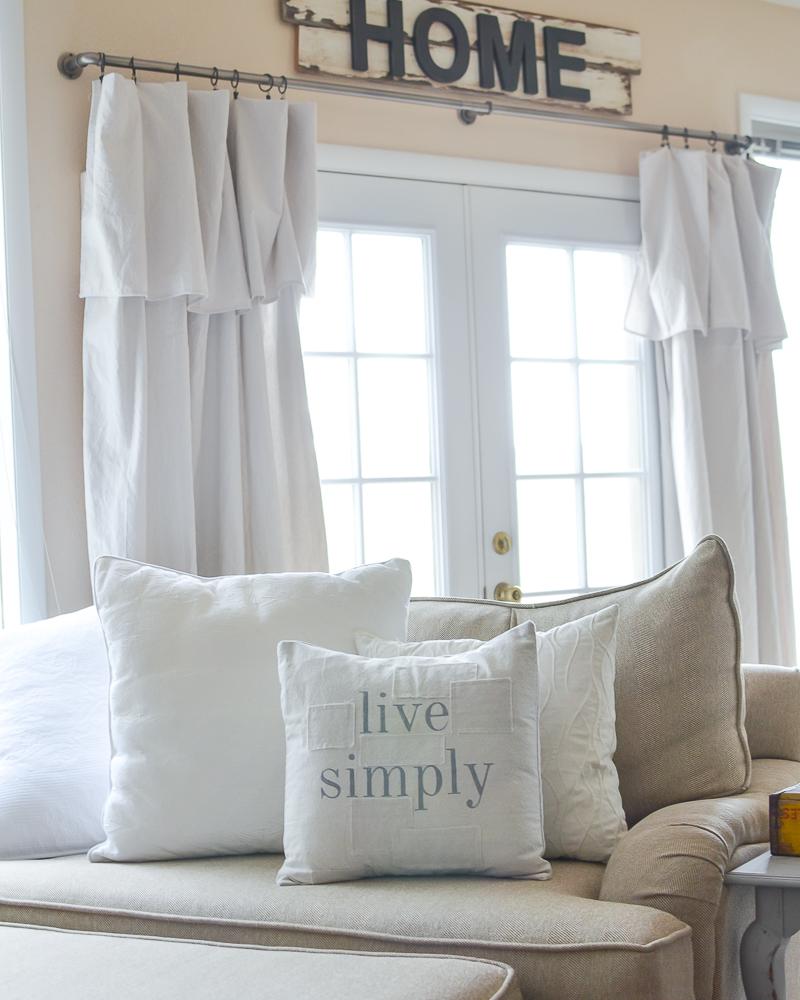 Use mirrors to make your space look bigger
If you live in a smaller, or even cramped, apartment or home, one of the best ways to create space and make the most out of your potentially limited natural light is to hang mirrors that expand space and reflect light. Don't just go for the simple, frameless lights either. Consider going to local thrift shops and picking up some beautiful and unique mirrors that will act as, well, mirrors, while also acting as pieces of art on your walls.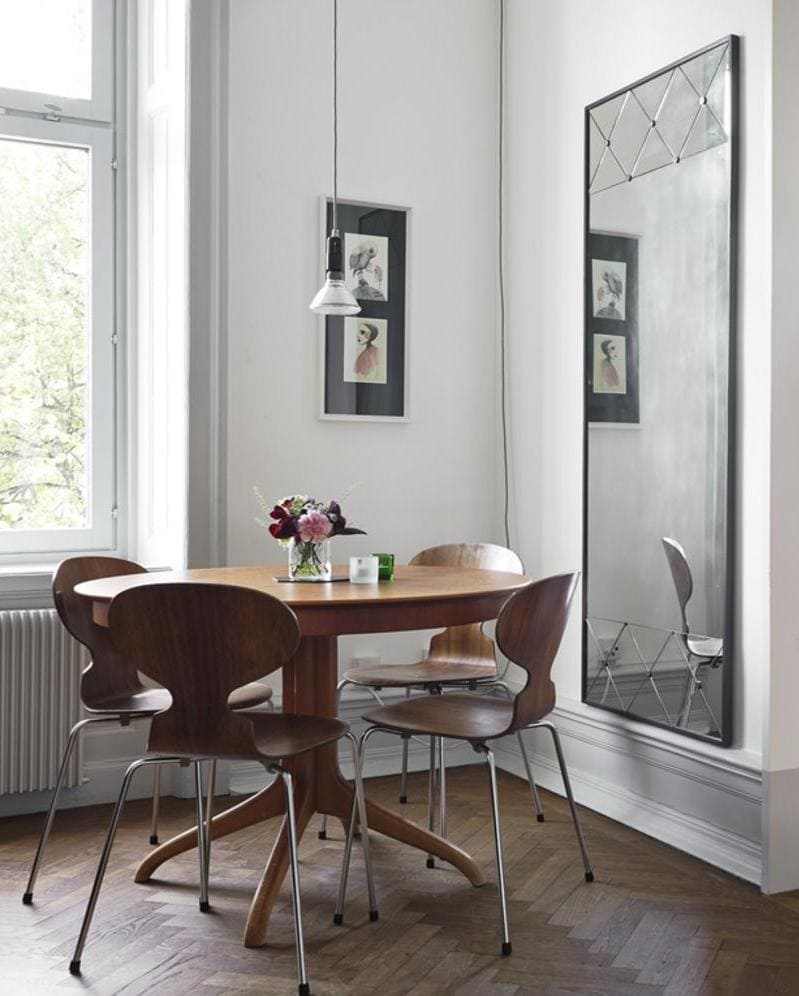 Turn an old bottle into a sprinkling system
If part of your summer goals include improving the look and feel of your front or back yard, you may feel the need to head to your local hardware store and buy an expensive sprinkler system or hose head. The truth is that any old plastic bottle can be turned into a great hose head. All you have to do is prick some holes in the bottom and sides of the bottle and use some duct tape to affix it tightly to your hose.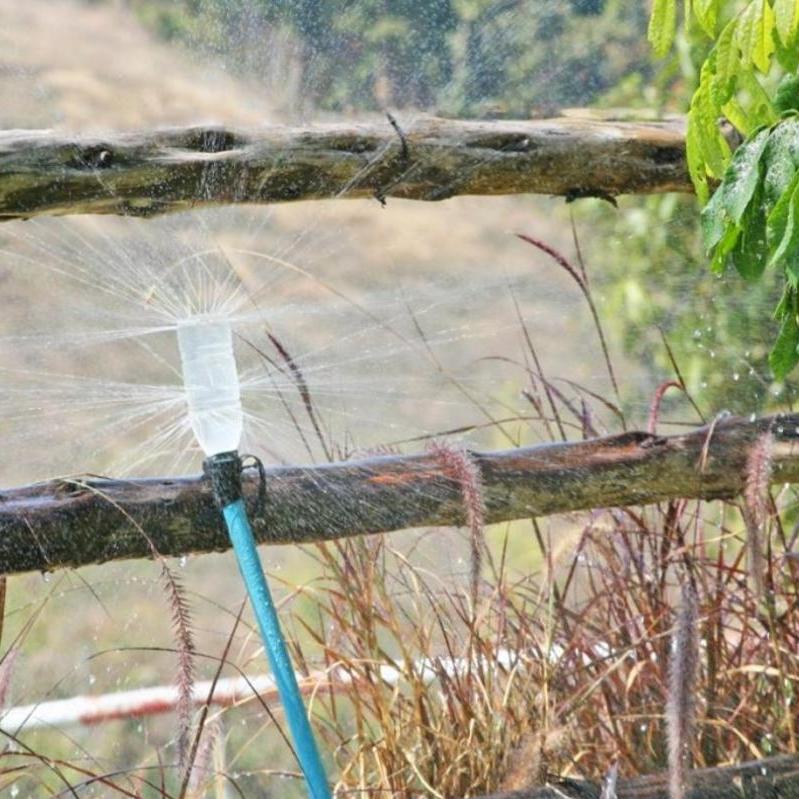 Use stick-on LED to light up your kitchen
If you are someone who loves to stumble to the kitchen for a midnight snack or glass of water, chances are good that you do not want to worry about having to turn on the lights and nearly burning your eyes out. One easy way to fix this issue is to get a couple super cheap stick-on LED lights to brighten up areas like sinks, kitchen cabinets and more. Not only do they look almost like expensive under-cabinet lighting, they're super easy to replace when the bulbs run out as well.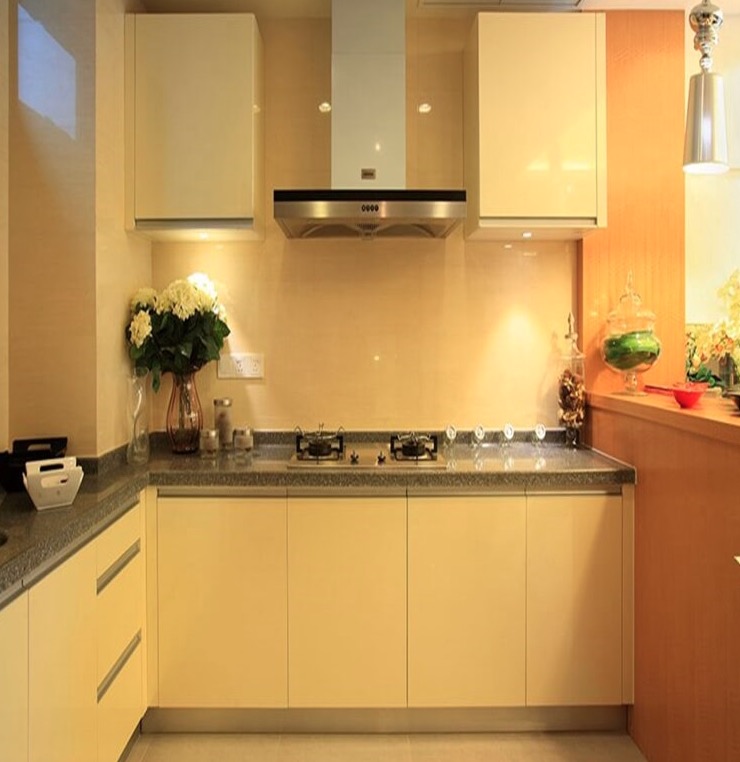 Hang drying racks in your over-sink cabinets
This is a major DIY project, but it can be pretty awesome to have in your kitchen especially if you do not have a dishwasher in your kitchen. The project here has people removing the wooden cabinet bottoms in the cabinets above their sink and replacing them with metal drying racks. So, after you hand wash your dishes, you simply put them in the drying racks and allow them to air dry before putting them into their permanent shelves.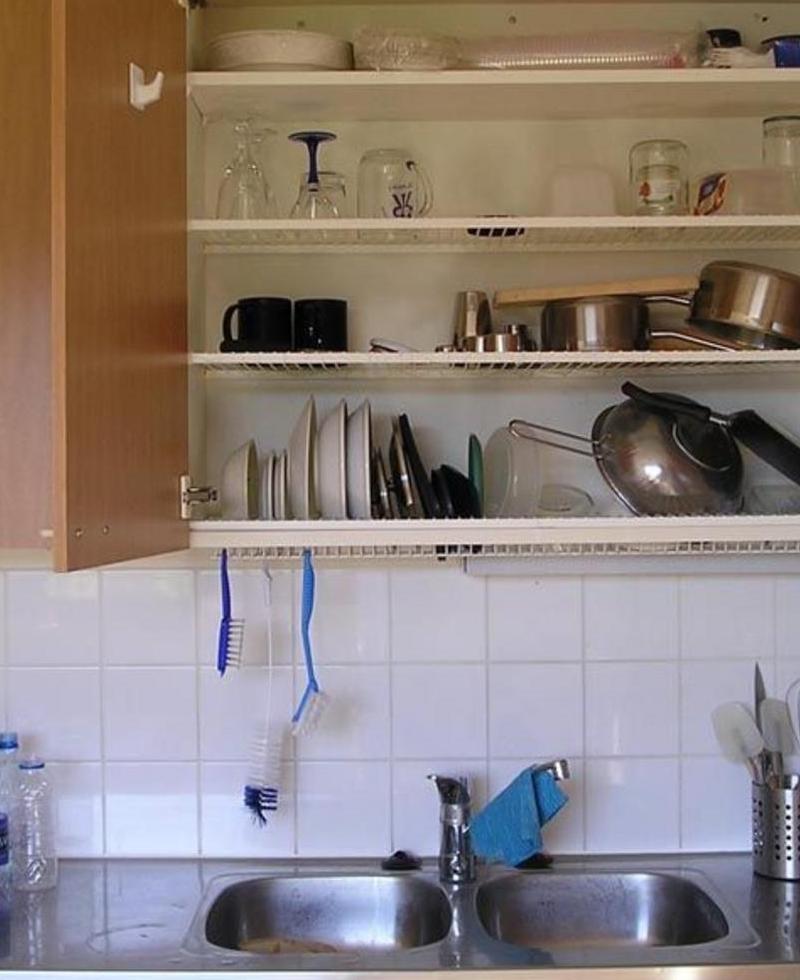 Use salt and ketchup to polish copper
If you have some beautiful copper silverware that you want to show off, but you're worried about how crummy it looks because it needs a polish, you can easily polish them up so they look as good as new using some simple household tools. Simply get a cloth rag and cover in it ketchup and salt, rub the mixture on your item, and repeat until you've covered the entire item. Then simply rinse it off with water and your copper item will be as shiny as new.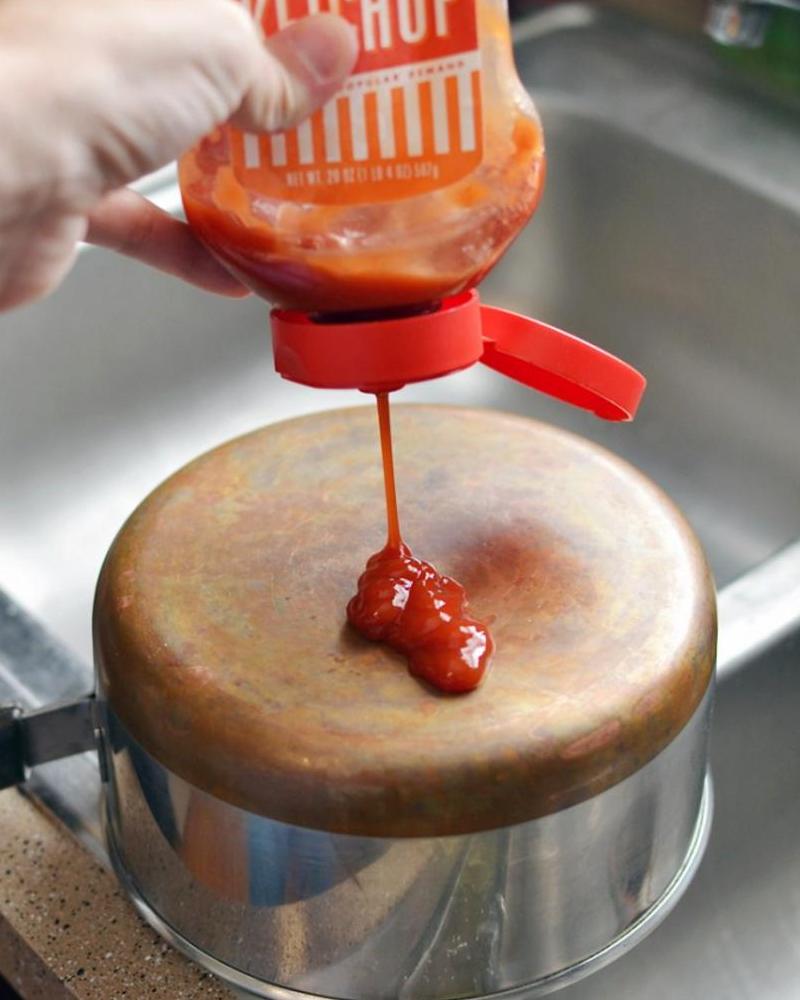 Keep your dryer from banging around
If you've got an older clothes dryer, your evenings are probably filled with the thump, thump, thumping of it hitting against your wall as it dries your clothes. One great way to avoid your dryer banging against your walls and to keep yourself from losing socks and small items of clothes to the corners of the machine is to get some pipe insulating and squeeze it in between the cracks. This will absorb the sounds and keep socks from falling off the surface.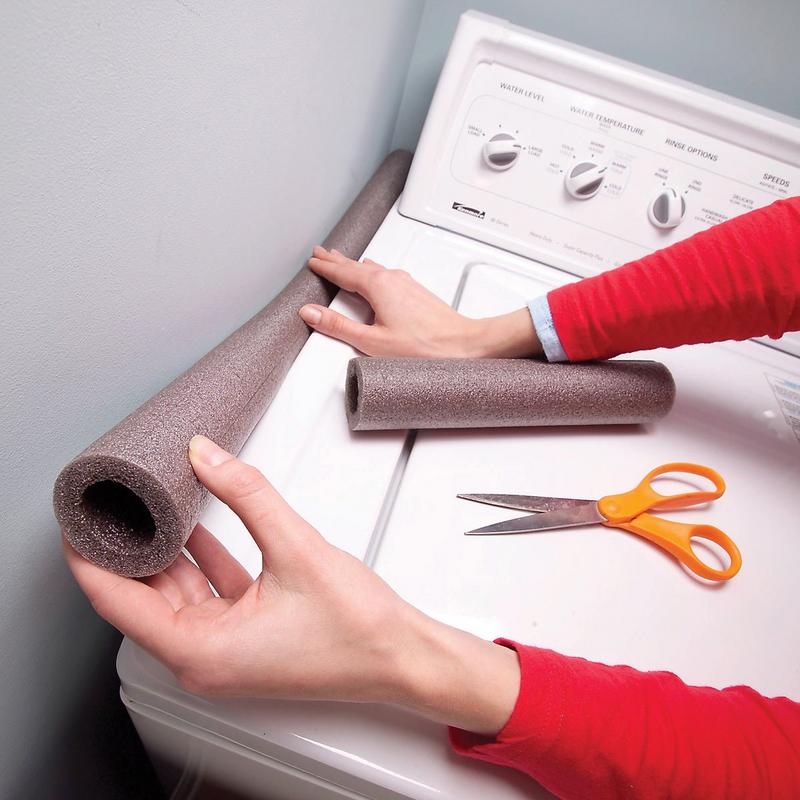 Store your hangers with a simple chain
If your apartment is lacking when it comes to ample closet space, you can make the very most of what closet space you do have by using a link fence so that you can hang your hanger and clothes in a tiered fashion. This will allow you to hang five or so shirts, pants or dresses in the amount of space that it would usually take to hang one! Even if you have ample closet space, this is a super worthwhile DIY hack to try to take advantage of.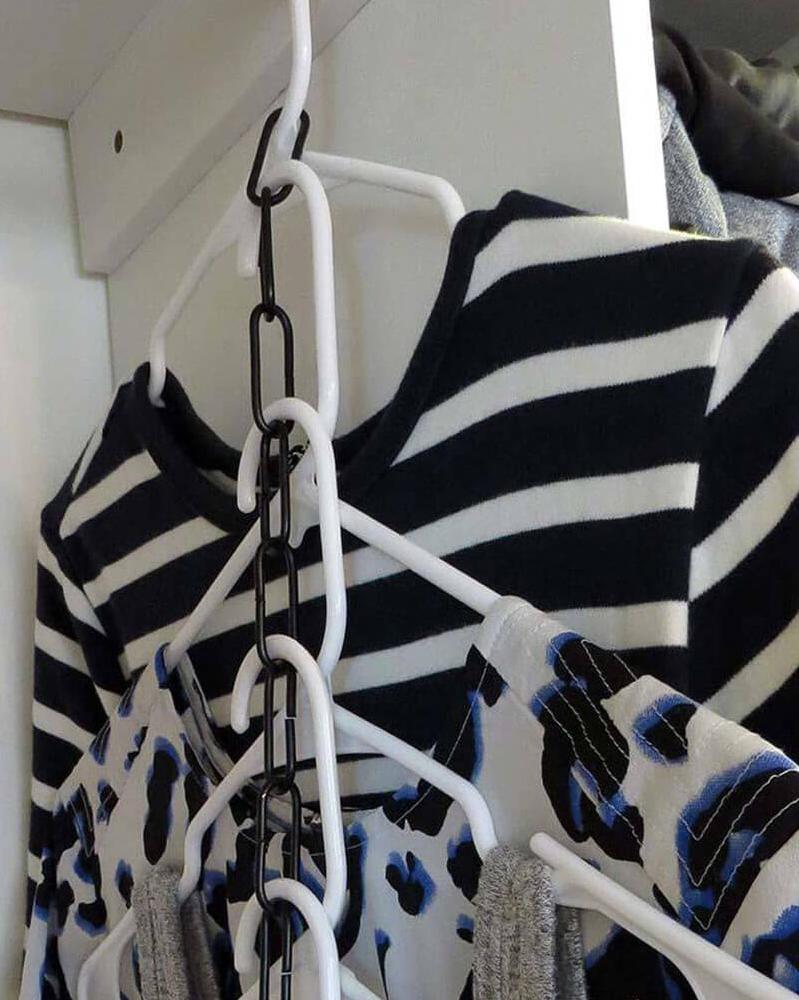 Remove hard-water buildup with a lemon
If hard water comes out of your sinks and shower heads, chances are good your are going to have nasty looking buildup of calcium that makes your beautiful bathroom look far less beautiful. Luckily, a super easy DIY hack to fix that issue is to simply cut a lemon in half, put it in a small plastic bag, and then rubber band that bag to your faucet or shower head. The acid in the lemon will quickly break down the buildup.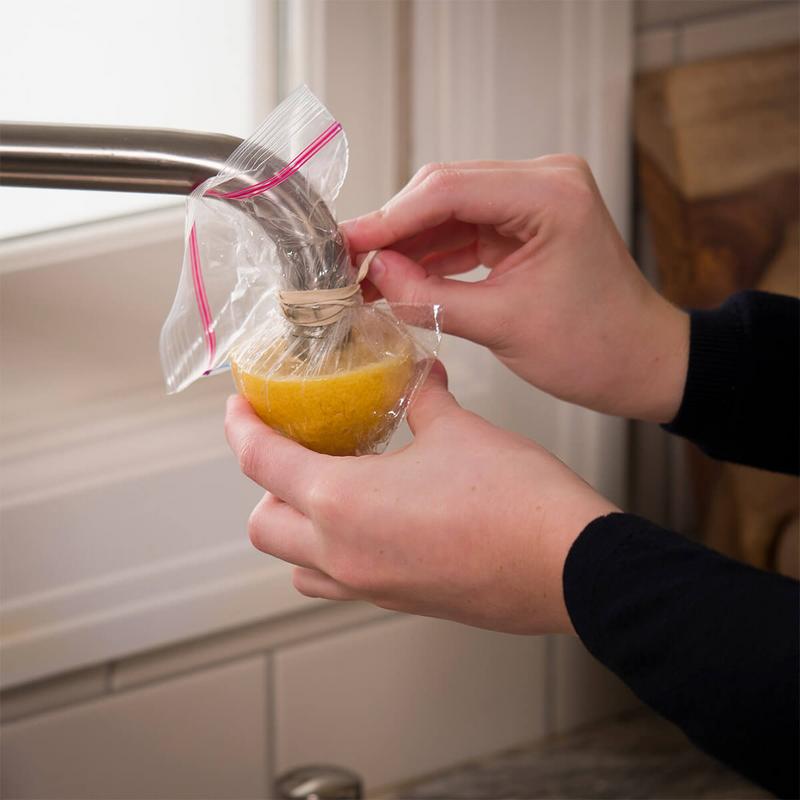 Use a magnetic strip to hold knives and kitchen utensils
If you are lacking kitchen counter space and want to get rid of your knife holder and utensil holder, think about installing a powerful magnetic strip so that you can simply affix your kitchen knives and utensils to the wall. Not only does this home hack save tons of space on your countertops, it also looks super cool and can even give your at-home kitchen the feel of a professional chef's kitchen. It also makes it far easier to find specific knives or utensils without having to guess at which handle belongs to the correct tool.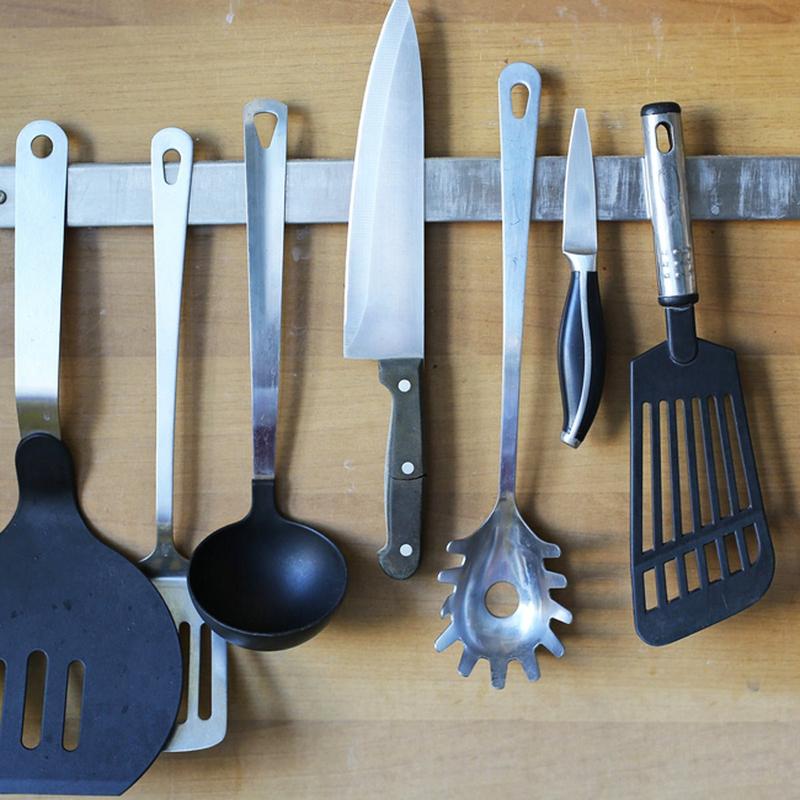 Use chains to add another clothes rod
If you don't have enough space when it comes to hanging space in your closet, you can easily create more hanging rods by hanging hanging rods to your permanent hanging rods. Try saying that five times fast! Luckily, it's easier to build than to say. All you have to do is use chains and some cheap carabiners to connect a wooden rod to your closet rod, and there you have it! Now you have twice the hanging capacity. Just make sure you leave enough room to actually hang shirts and pants on the first rod.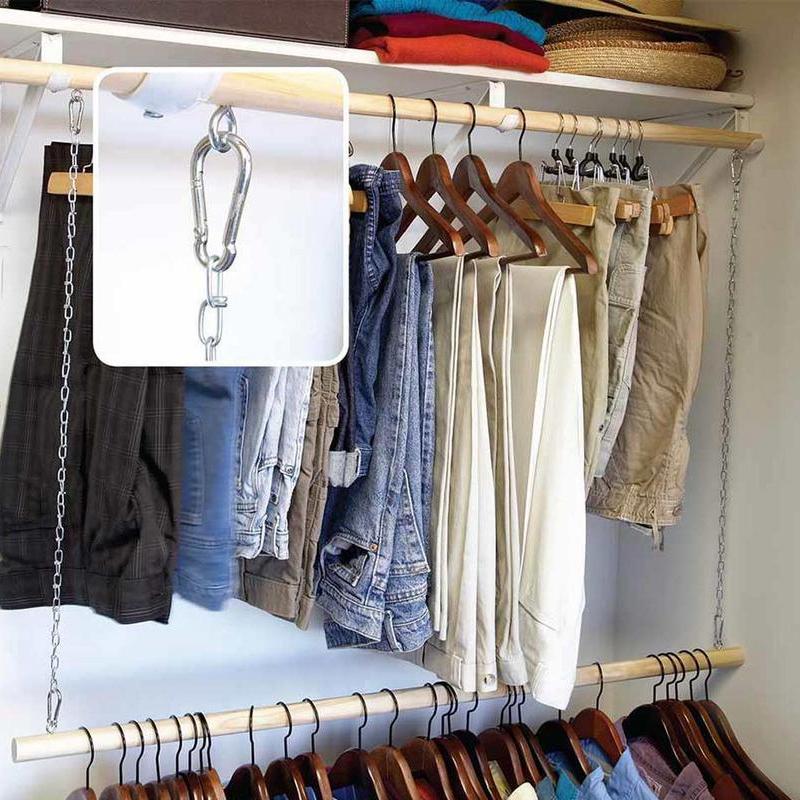 Wrap tongs with towels to clean your blinds
Everyone who has blinds at their homes has a difficult time figuring out how to clean them. Create your own Swiffer Duster by utilizing your kitchen tongs and dish towels, or microfiber towels for the best result. Simply wrap any type of small towels around both sides of the pair of tongs, then secure them with a couple of rubber bands. Now you have a duster that will clean your blinds and any small areas in seconds.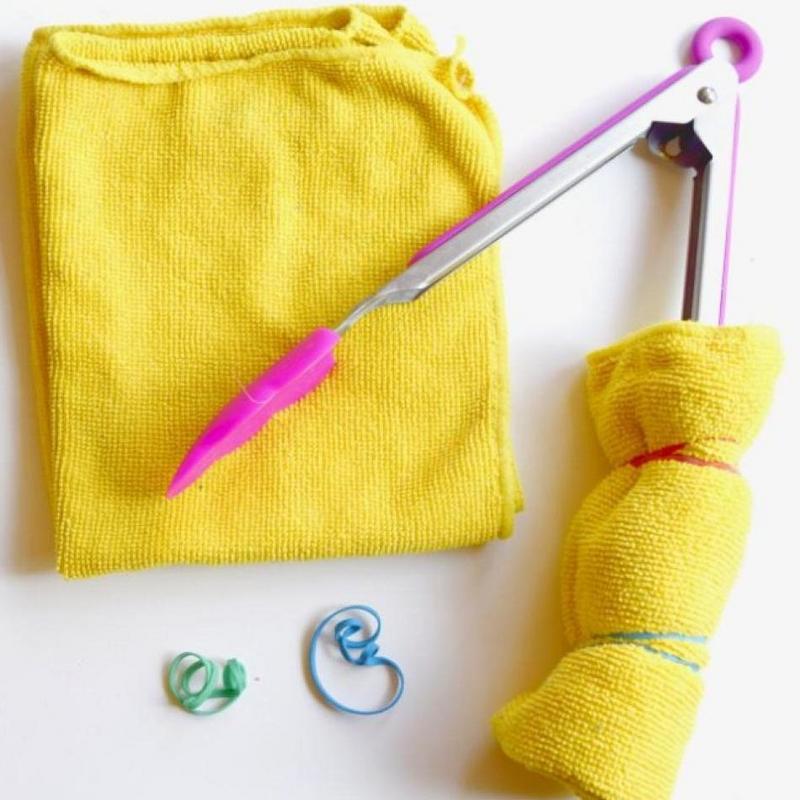 Use vanilla bean to make your home smell incredible
Do you have guests coming over, but you ran out of air fresheners and candles? Don't worry, you can make your home smell like you are baking chocolate chip cookies in an instant. Place vanilla bean in a cup of water and simmer it on the stove or put it in the oven. This hack works quickly to make your home smell fresh within minutes, and you can add cinnamon cloves to create a warm fall scent.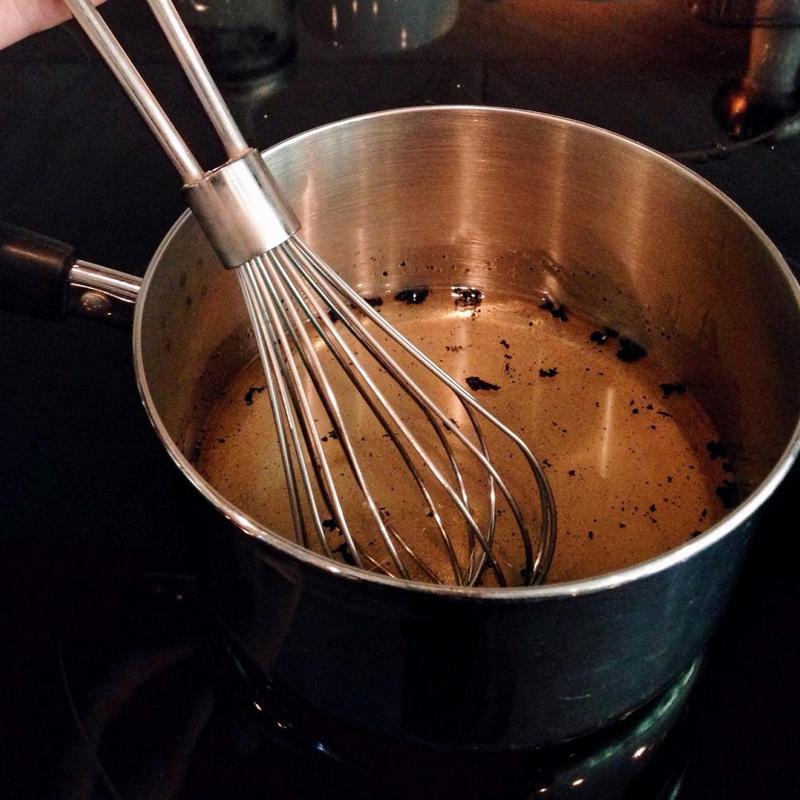 Use rubber bands to avoid wasting hand and dish soap
Do you find yourself purchasing a new bottle of dish or hand soap every few weeks? Then that means that you are using too much soap, and that can be quite pricey. Luckily, using a wide rubber band will help you limit the use of dish and hand soap. Wrap the wide rubber band around the neck of the dispenser until it stops the pump from getting pressed to the bottom. You can also use a hair tie to stop dispensing too much soap.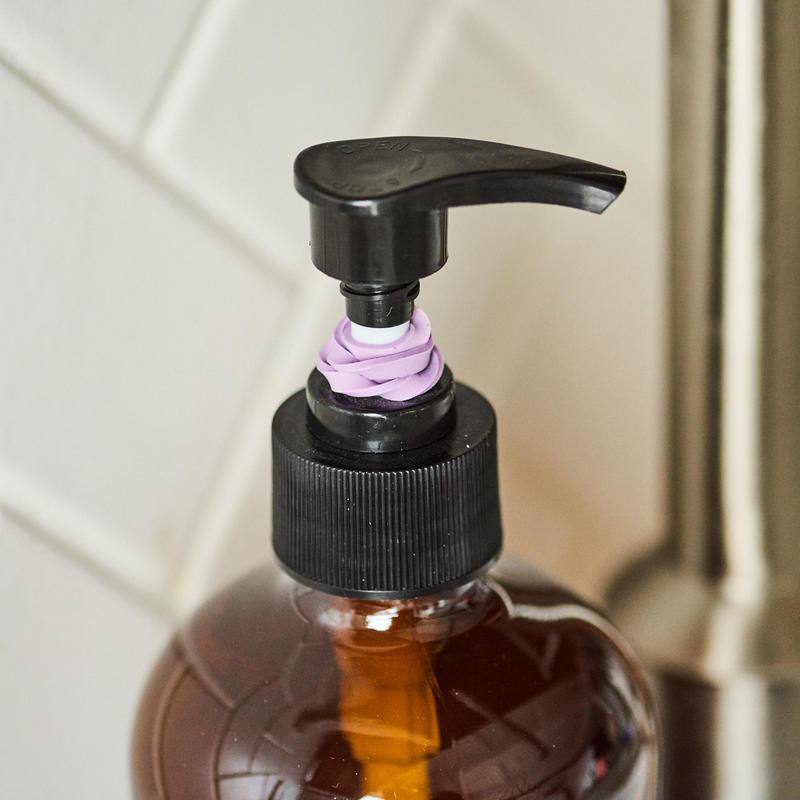 Protect your plaster wall with tape before placing a nail
Everyone loves to decorate their homes by hanging family photos and floating shelves, but it's hard to avoid spreading dust and cracks when putting a nail in the plaster wall. A great home hack is covering the area where you intend to place the nail with a small piece of tape. Using either masking tape or painters' tape will provide support that protects the wall from flaking and cracking. Now you can hang anything you want on the wall without worrying about destroying it.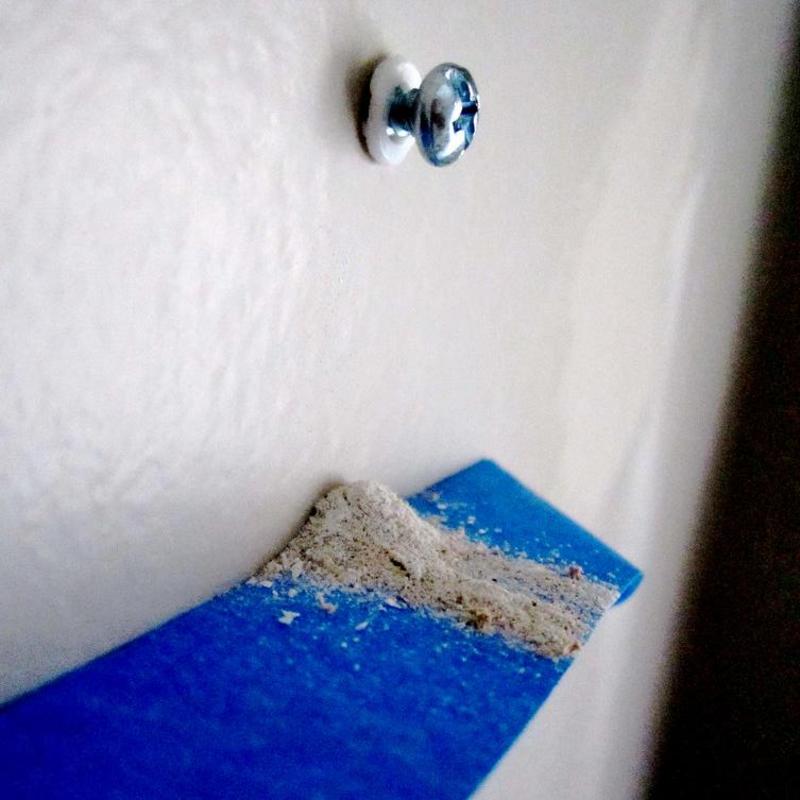 Reuse your wipes container to make homemade cleaning wipes
Deep cleaning your home has never been easier thanks to disinfectant cleaning wipes. You can make your own homemade wipes with a formula if you want. Simply use paper towels that won't break when wet and cut them in half. Place them inside the old wipes container and soak them with a cleaning solution of your choice, such as bleach and water. The last step is taking the cardboard tube out of the center and pulling the paper towel out of hole in the lid.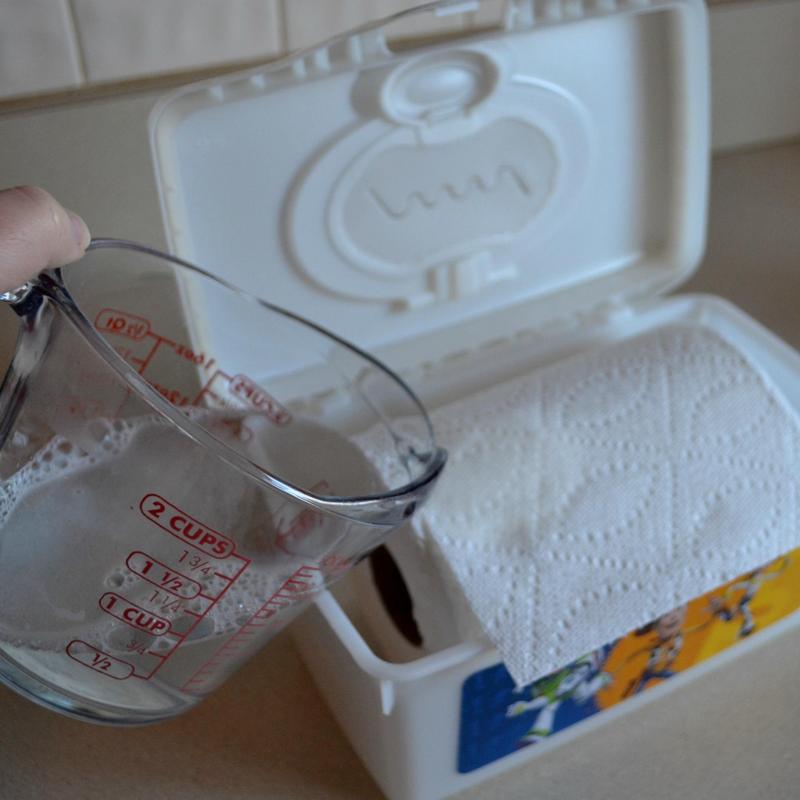 Put your pillowcase in the freezer before going to bed
Trying to sleep on a hot night can be impossible, especially if you don't have a fan or air conditioner. Some people also struggle with getting overheated once they put their head on the pillow. The good news is that you can fix that problem by spraying your pillowcase with a bit of water and putting it in the freezer for 20 minutes before you go to bed. You can also use this trick on your bedsheets.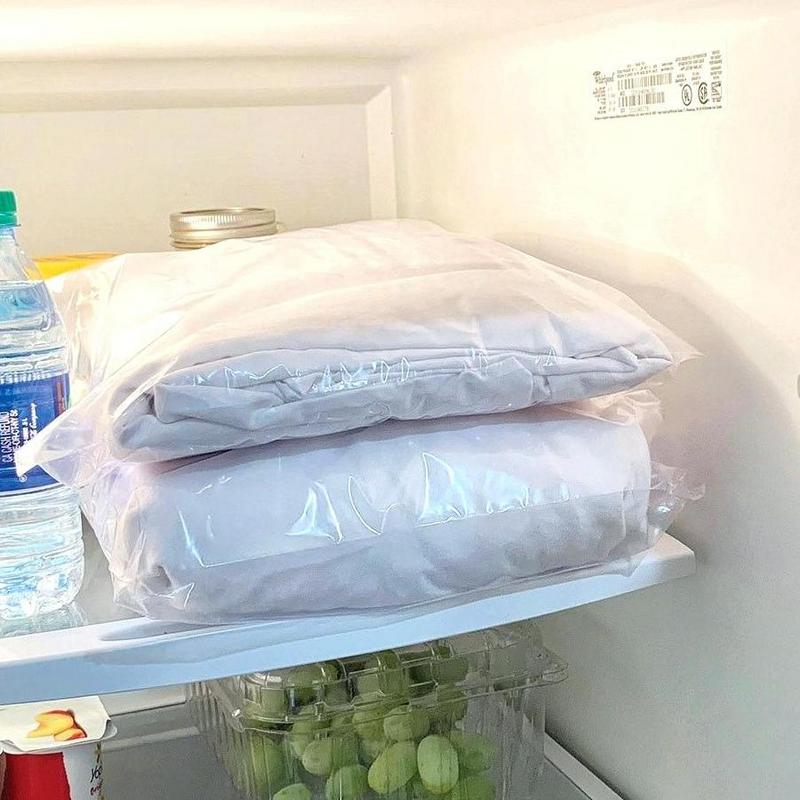 Bring the shine back to your pots and pans with dryer sheet
Pots and pans can become grimy looking due to being used excessively, which leads to burned food getting stuck. Scrubbing your pots and pans with dish soap and scour pads may seem like the best idea, but it can ruin the surface of them. You can get rid of the grime on your pots and pans by soaking them for an hour with some hot water and a few drops of dish soap. Finally, placing dryer sheets underneath the water will make the burned spots flake off when you rinse it.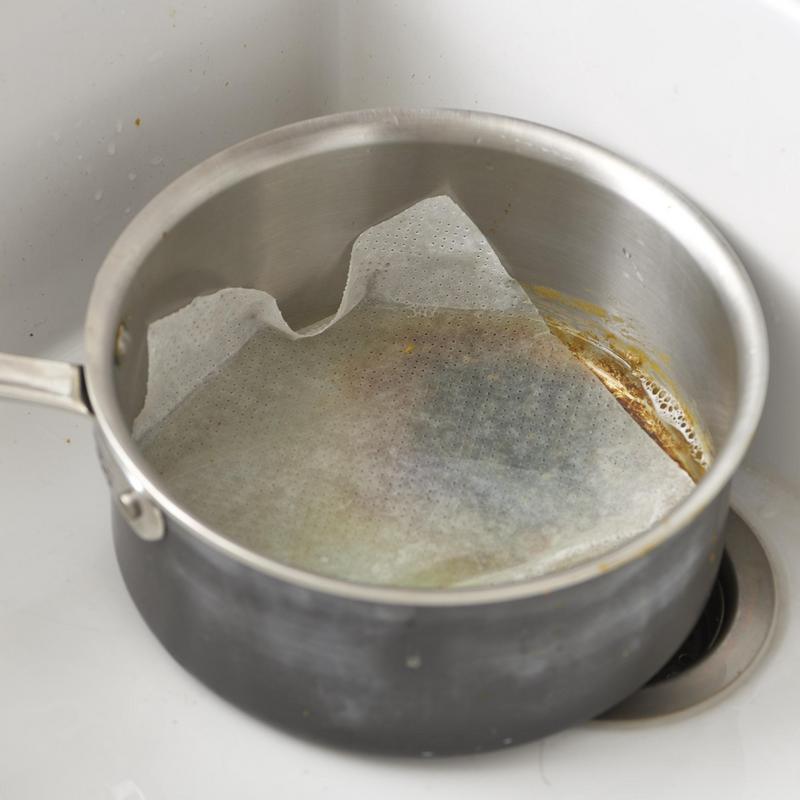 Old dresser drawers are great for under-bed storage
If you are looking for a great way to improve the storage space in your bedroom but don't want to use up any more floor space, consider using shelves from an old dresser and simply slide them under your bed frame to create storage. You can put your clothes neatly in place without having to use up any more space in your room. Just make sure that when you bring those old drawers home they do actually fit underneath your frame.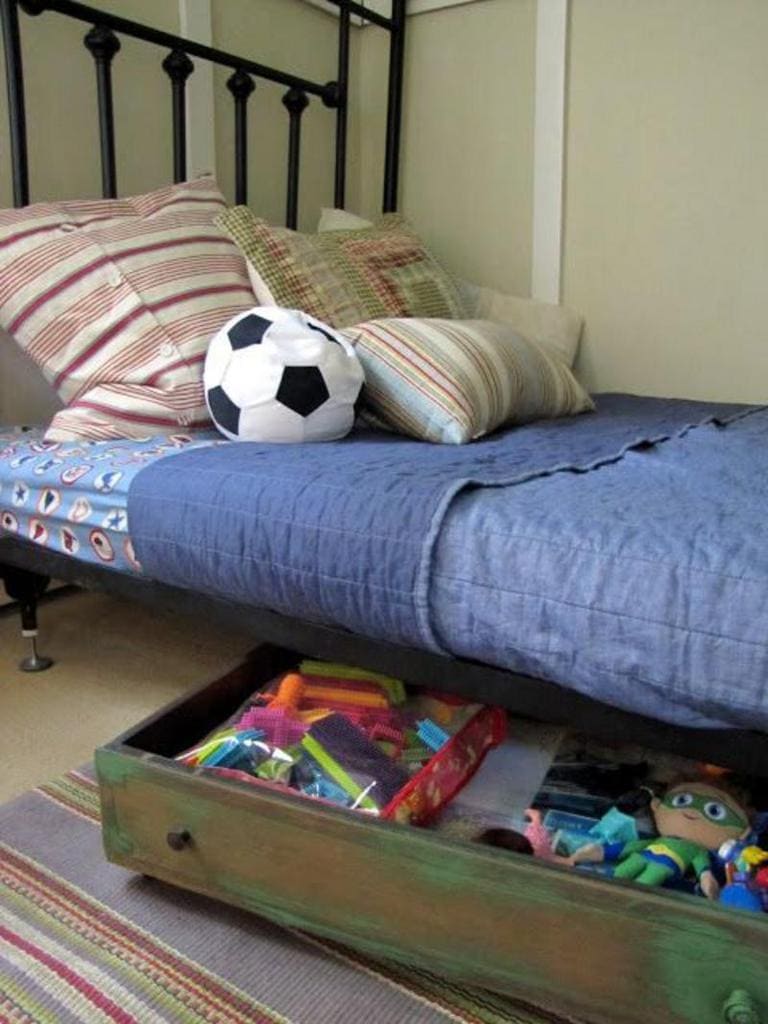 Use a hanging shoe holder to store loose Legos
If you've got a son or daughter who loves playing with Legos, you might be wondering about the right place to put them once your kid is done playing with them. One great way to store Legos, which actually allows you to organize them by color, is to get a hanging shoe holder and hang it on the back of their bedroom door. Just make sure that you also get a safe and sturdy ladder for your child to use in case the hanging shoe holder is too tall for them to reach!