When Meghan Markle and Prince Harry first announced their engagement, we all had high hopes about the two of them joining forces with Prince William and Kate Middleton to form a fab four. And at the beginning, that did indeed seem promising. But soon, rumors began to spring up about a rift in the relationship between Meghan Markle and Kate Middleton.
Of course, not everyone gets along, and there are plenty of differences between Meghan and Kate that could lead to clashes. Meghan grew up in the United States and was a Hollywood star before moving across the pond to marry her Prince Charming. She is an outspoken feminist, a rule-breaker who has her own sense of what's right and what's wrong. Kate, on the other hand, grew up in a wealthy British family. She is a traditionalist and has been poised and proper since becoming a member of the Royal Family.
Here's what Meghan and Kate's body language reveals about what's going on between them.
First appearance
It's possible that the rift began from the very first time that Prince Harry, Meghan Markle, Prince William, and Kate Middleton appeared together. The four were interviewed at the Royal Foundation Forum, and some body language experts already spotted signs of conflict. This picture seems to say it all. The look in Meghan's eyes as she stares at Kate is hard to read, but it could be jealousy or resentment.
Mirroring
During the forum, the two women mirrored each others' posture. Both crossed their legs and folded their hands in their lap. This type of superficial postural mirroring is often a sign of building personal connections. But despite the mirroring, body language experts pointed to other gestures that seemed to show competition between Meghan and Kate, with Prince Harry and Prince William showing discomfort and seeming to stand up for their respective partners.
Wimbledon
Shortly after their first public appearance together, Meghan Markle and Kate Middleton attended the Wimbledon tennis competition together in their only real attempt to become friends. They seemed to be making quite an effort to be friendly with one another, despite their natural personality differences. Some people got excited, thinking that the two Royal wives were going to be great friends, but their body language later said otherwise.
Glaring ahead
As the two women entered the stadium, Meghan Markle followed behind Kate Middleton, a trend that would later be repeated time and time again. While there is no rule that Meghan must stand behind Kate, the two seem to automatically position themselves that way. In this picture, Meghan was caught on camera glaring at the back of Kate's head. Or at least, that's what it looks like.
Close to tears
Even though there were some warm moments between Meghan and Kate, there were also several times when Meghan looked like she was close to tears. She is usually good at covering her feelings with a gorgeous smile, but here, it seems like her emotions were getting the best of her.
Not having fun
As Meghan chats with the woman on her left, there's no denying the fact that both Kate and Meghan look less than pleased to be out and about together. Neither of them look happy, and there sure is a lot of space between them.
Christmas 2017
Even though Meghan Markle was not yet a member of the Royal Family, she joined them for Christmas. Here, Kate looks angry and she and Harry seem to be talking about something that make Meghan very uncomfortable. Just look at how Meghan tightens her grip on Harry's arm.
The Royal wedding
In May 2018, the whole world tuned in to watch Prince Harry and Meghan Markle tie the knot in an extravagant ceremony. As we were all captivated watching the loving couple exchange vows, however, something else might have been going down in the audience.
A Royal eye roll
Even though all eyes were on the happy couple, someone noticed that Kate Middleton gave Duchess Camilla a very obvious eye roll. Of course, we don't know what the glance was about, but it doesn't seem like a positive response to Meghan and Harry's wedding.
Are we done yet?
In one Meghan and Harry's official wedding photographs, Kate seems to be leaning away from the beaming bride. It's one of the rare times we've seen Kate with a smile that doesn't look natural. But maybe she's just tired of posing, and it has nothing to do with Meghan.
How to curtsy
Now that Meghan Markle was officially a Royal, she attended the annual Trooping of the Colour with the rest of the family. It was her first time greeting the Queen in public, so she needed a bit of guidance on how and when to curtsy from Kate and Prince Harry.
Looking away
It seemed that Kate and Meghan were making every attempt to be cordial, but there were still moments where they seemed to avoid making eye contact. In addition, the other women all wore blue to the event, but Meghan seemed to have missed the memo, setting her apart yet again.
On good terms with the Queen
About one month after the wedding, Meghan Markle, now the Duchess of Sussex, went on her first solo engagement with the Queen. The two seemed to get along very well, smiling and laughing together. Perhaps this led to some jealousy on the part of Kate Middleton.
Out of place
Many people noticed that Meghan was standing quite stiffly in a photograph released in July 2018. The picture was taken in honor of Prince William and Kate's third child Prince Louis's christening. Everyone looks at ease except for Meghan, who is holding onto Harry's arm and looks uncomfortable at best.
Attending a wedding together
In October 2018, Prince Harry's cousin Princess Eugenie and Jack Brooksbank got married. Harry was seated between Kate and Meghan, and even though Meghan is making eye contact as Kate speaks, she is keeping her distance. Body language experts also think that her hair touch is a sign of discomfort.
Royal protocol
Even though they might not be best buds, Meghan has been known to look to Kate as an example of how to follow Royal protocol. In this picture from Princess Eugenie's wedding, Meghan seems to be looking right at Kate, who is involved in a different conversation.
The Royal wives
No matter how they feel about each other, Meghan and Kate have to attend a lot of events together, which might not always be comfortable. Here, when Kate slows down to walk next to Meghan, Meghan speeds up and grabs onto Harry's arm.
A somber Meghan
At the Remembrance Day service for World War I in November, 2018, Meghan Markle looked to be near tears as she looked around and mouthed the words. She might have been feeling out of place, but she also could just have been emotional because of the event.
When she's comfortable
In order to better understand how uncomfortable Meghan looks next to Kate, it helps to compare it with an image of her at her best. Here, she and Prince Harry are joking around at the Invictus Games. You can see how relaxed and happy Meghan is.
A relaxed Kate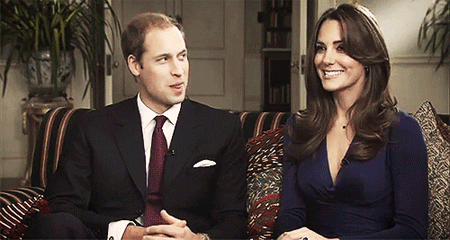 Kate Middleton too has appeared much more comfortable than she does at some of these outings. In this interview she and Prince William gave after their engagement, she is relaxed and happy, smiling ear to ear. She is clearly in her element here.
Meghan and Harry body language
Meghan and Harry's relationship is also very different from Kate and William's, as evident from their body language. Meghan and Harry are always touching each other, with Harry appearing protective of his wife. They engage in a lot more public displays of affection than Kate and Will.
Kate and William's body language
Even though Kate and William are very much in love, they don't usually hold hands or display affection in public the way that Meghan and Harry do. Perhaps this is due to Kate's more traditional tendencies, and the fact that William is higher up in the line of succession.
Christmas 2018
After so much talk about a rift between Meghan and Kate, they decided to prove that things were just fine between them. William, Kate, Harry, and Meghan all celebrated Christmas together, and Meghan and Kate made a point of walking next to each other, smiling and chatting.
The thing with the scarf
At one point during Christmas, Meghan turned to Prince William and tried to say something to him. However, the Prince was busy fixing his scarf for an extended amount of time. Some speculated that he was giving her the cold shoulder, while others said he was just distracted.
A little stiff
It's hard for anyone who marries into a close-knit traditional family to feel comfortable and accepted, and we can only imagine that it is exponentially harder with the Royal Family. In this family photo, Meghan again is said to look a bit stiff and out of place.
The fab four
It seems like our dreams of a close knit fab four are not to be. Whether or not there is tension between the members of the Royal Family, they are clearly just very different people who do not always see eye to eye, just like any other family.
Two different ladies
We love both Meghan Markle and Kate Middleton, but they have very different opinions and come from distinct backgrounds. This understandably makes it hard for them to be fast friends. But they still seem to be able to come together when they need to and perform their Royal duties.
Excited for Meghan's baby
It's possible that all of the rumors about a rift between Kate and Meghan are an exaggeration. Here, Kate gushes excitedly about Meghan's pregnancy and a cousin for Prince Louis.
Reconciliation?
The Christmas celebration seemed to patch things up between Kate and Meghan. They two spent a lot of time together and they look like friends in this picture. Since neither of them can comment on the situation, we'll just have to do our best to guess what's really going on.