Quora the public question and answer service site is allowing companies to pay cash in order to get quality answers for their difficult questions. These rewards will be known as Knowledge Prizes and the current 80 million unique users could quickly grow thanks to these prizes.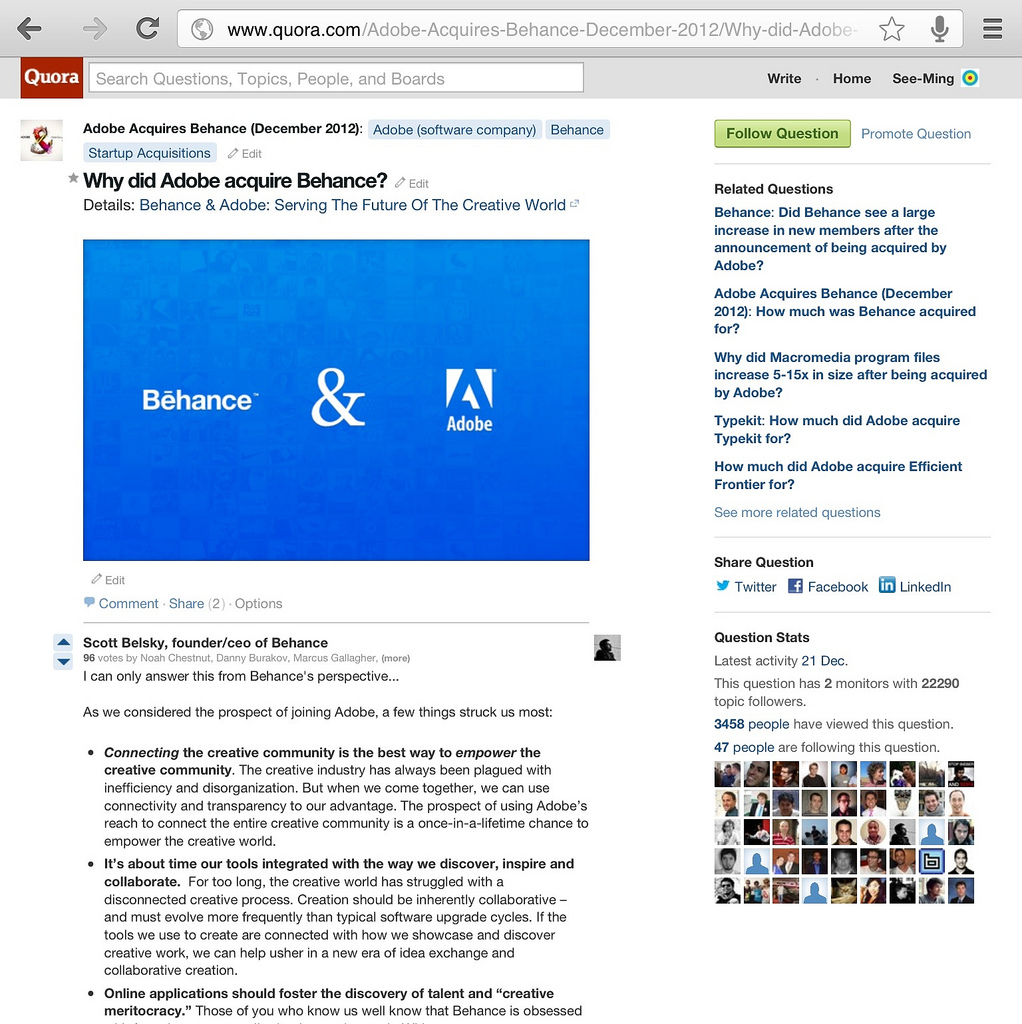 The strange part is that the sponsors who put up the funds and pick the winners can remain anonymous and this is sure to prompt the question, "Who funded the prize? What does twitter need to restart their dormant user base? Was it Twitter? Who else could possibly benefit from the answer to this question? There are also concerns that will use the knowledge prizes as native ads as currently there are no adverts, however this is set to change. Although Quora take a minimal undisclosed fee to host the contest, it insists that this is not to a money making exercise.
Spammers and trolls will try to game the competitions however Quora believes they have this under control, done correctly Quora stand to expand its user and answer base whilst others foot the bill.
Last December the CEO Adam D'Angelo dropped a bomb by disclosing that Quora has 80 million unique visitors a month. After a few years of slow growth December also saw Quora launch an instant hit in the form of Quora Writing Sessions. Quora announces a session a few days ahead of time and users submit their questions to experts or well known figures. The expert answers the questions then posts and comments on them for a further hour. Sessions are luring celebrities which are making a big difference with the average session recording audiences of up to 4 million.
Public Advice
Knowledge Prizes work in the same way to the rest of Quora, they are sent to those users with an interest in the topic and answer ranking is also the same. The only difference is that there is a money prize for the best answer. Richard Henry, product designer explains that the prize is only offered to signify how important the answer is to the sponsor. There is a badge displayed on the winning answer and the money can be donating to charity, this also shows up on the badge.
Quora centers on tech and this is because it is here that the user base is strongest but it also appeals to a wider audience. It is thought that big corporations will use Knowledge Prize as it provides them with access to answers from those who may not be willing to work for a large corporation.