There are Photoshop experts out there willing to lend a helping hand to people and thus fix their most awful picture-related mistakes, but one guy James Fridman, has decided it would be fun to troll people and Photoshop their pictures in a way they never imagined. Just like the genie of old, who used to grant one lucky person three wishes, you have to be very, very careful about how you phrase those wishes. If you're not, you might end up like the people in this article.
You look grate
Sometimes, when you're really into someone, you feel the need to eliminate the competition. Two girls liking the same guy is a recipe for disaster, and can bring out the worst in everyone. This girl, for example, wanted to send this picture to the guy she likes.
But since the other girl in the picture likes the same guy, she decided to make a special request for the photoshopping master. She requested him to make the other girl look bad, while making her look great. And as if that weren't enough, she misspelled great as "grate", which sparked the idea to make her look like she was actually grated with a giant grater. Unfortunately, this is what jealous people get.
Eyes wide shut
From time to time, we all have picture problems involving our eyes. Either they appear to be red, or we accidentally closed them while the picture was taken, or in this case, kept them open. It seems pretty creepy for this girl to be kissing her guy while staring at him, so he asked to close his eyes.
But he never expected for this photoshopping whiz to insert himself into the picture. Instead of making her eyes appear closed instead of open, James just photoshopped his arm into the picture, effectively closing her eyes with his hand. Problem solved! Only not quite in the most conventional of ways, we admit.
Just like a Kardashian
This girl asked James if he could make her look like a Kardashian. The Kardashian women are indeed very beautiful, and many girls aspire to achieve their signature look.
But this girl failed to specify which Kardashian she prefers to look like, and soon she regretted even making the request. Instead of looking like one of the Kardashian girls, she was made into the Kardashian male – Rob Kardashian, that is, complete with the hat, tattoos, and facial hair. That's what you get for wanting to look like someone else!
Taking her out
Another one of those cases where a mean request is met with a clever response, is this one. For some reason, these ladies wanted to cut one of them out of the picture – which is a little mean spirited in our books.
Apparently, we're not the only ones who thought so, because James reacted accordingly. He left only that girl in the photo, and added himself in, saying he "took her out" and they had a blast together. Nailed it!
I'm pregnant!
These days, people can't get off their phones and pay attention to the people with them. The girl in this picture actually had to request a Photoshop edit to make her boyfriend appear interested in her!
So James had a pretty helpful suggestion, adding a speaking bubble that says "Honey, I'm pregnant!". And suddenly, her boyfriend seemed a lot more interested in her (and also a bit shocked). If this is what we need to resort to, something is very, very wrong with the world.
Calling it like it is
This is a textbook example of how people can be sometimes blind to situations. This girl asked to make her friend seem like he's actually having fun with her, because he looks pretty miserable in this picture.
James had the perfect response to help her see the situation a little more clearly. All he did was change the guy's shirt to say "Help! I got friendzoned," which provides with the best explanation of why he doesn't seem happier around her. Hope she gets the hint!
Make him rich
Many people want to marry someone rich. It's a certain lifestyle that some people aspire to, sometimes without regard of who that person is.
And while this girl obviously prefers personality over riches, since she's not dating a rich guy, she thought it would be nice to see what dating an upper class guy would look like. So she asked James to make her boyfriend rich, but he took it quite literally, adding a name tag that says Richard. Here, now you're dating rich!
Brotherly love
All this girl wanted was for her brother to look like he's enjoying their vacation together, and not wrapped up in his phone the whole time.
So in order to make it more realistic, James added a good looking girl walking past them – giving the brother a believable reason to be looking up from his phone. Not quite what she had requested, but at least he looks like he's having a good time now, right?
He's on it
There are times when you take a really nice picture, but there's just one thing in the background that ruins it a little. This is probably why this woman asked James to clean up the graffiti marks on the wall behind her.
While she meant him to clean it up using Photoshop, he took it quite literally and just added himself to the picture with a rag, cleaning up that wall behind her. The graffiti might still be there, but this picture just turned epic.
What man?
This woman was concerned that the guy behind her ruined her photo. Honestly, we don't think there's any harm to the occasional photobomb, but we get why she asked James to edit him out of the picture.
Or rather, she asked him to "do something" with him, which prompted this photoshopped picture. Instead of erasing him, he made him blend into the background and look like another fire hydrant. Now, if you only look at the picture on the right, you may not even notice it's a man.
Style problems
This girl felt that the man behind her was ruining her picture, claiming "his looks" don't quite fit in the background. So this Photoshop master's clever comeback was to simply change up his look.
Instead of the clothes he's wearing in the picture, he photoshopped him into wearing the girl's outfit instead. Now that he looks much more fashionable, similarly to the girl, "his looks" are no longer a problem. And to be honest, he kind of steals the show!
Jurrific
Whatever happened to just kissing your boyfriend? This girl made quite a unique request – she wanted it to look like she was kissing a dinosaur instead of her beau. She even had a preference as to which dinosaur she wanted to kiss!
But instead of replacing her boyfriend with a proper dinosaur, James simply turned him into one. Maybe now she'll appreciate her partner more – but it might be hard to hold hands when he only has three fingers.
Harry Potter fan
There's nothing wrong with being a die-hard Harry Potter fan. Many fans all over the world dress up and cosplay as one of the characters, wearing scarves and robes to fit their house of choice.
We assume that is what this girl meant when she asked to be photoshopped as one of the characters, but her mistake was clear. She didn't specify which of the characters. And just like that, she was Dobby the house elf. How unfortunate.
I want to hold your hand
All this guy wanted was to be holding hands with his girlfriend in this picture. It could have been very romantic indeed, but this Photoshop master had other ideas in mind.
Now they are holding hands – only not each other's hands. They're each holding individual hands, ones that aren't connected to anyone's body. This photoshop is a perfect example of how one can turn any photo from lovely to creepy by adding detached limbs to it.
One and the same
This guy had a legitimate concern. He wanted to use this photo as a profile picture, but also wanted people to be able to tell which one of these people is actually him.
While he could've just edited the other guy out, he opted to ask James for help, and got just what he wanted. He turned the other two people in the picture into him as well. Now there's no confusion – he's simply everyone.
Short shorts
It's hard to tell if you're wearing the right outfit that's appropriate for where you're going. Sometimes you don't discover your fashion faux-pas until it's too late, and already ruins the pictures.
So this guy asked to Photoshop him some long-legged pants instead of the shorts he was wearing. Instead, he got this. Now that everyone's wearing shorts (including an additional guy in the background who wasn't there before), he can relax – now he looks fine!
Just like the Weasleys
This one is pretty darn cute, if you ask us. This guy is the only redheaded member in his family of brunettes (you're not fooling anyone, bottle blonde). So he asked to be photoshopped to match their hair color.
But instead of making his hair brown, James turned the whole family into gingers! Now this guy doesn't have to worry about not blending in with his own family – they're all redheads just like him now.
Too scary
Scary is a subjective matter – something one person finds scary might not be what another person does. This girl asked to add something scary chasing her in the background, and as it happens, Teletubbies are James' version of scary.
Even we have to admit, these creatures are pretty creepy. On the one hand, they look like babies. On the other hand, they look like aliens with antennas. What are you? No doubt we would run away if we saw giant Teletubbies in our backyard.
eyefell tower
People really need to start paying attention to their spelling, if they don't wish to be trolled. When this woman asked to be put in front of the "Eyefell Tower" instead of the "Eiffel Tower", the Photoshop artist just couldn't resist.
He put her in front of a tower, alright, but one that has giant eyeballs falling off of it. And the caption that says "Voilà" is probably our favorite part of this award-worthy picture.
Criticism
This man took a picture with his girl, but then asked to Photoshop her dress to look longer, feeling it was too short for some reason.
James complied to his request and made the dress longer, but he also photoshopped the girl right out of the picture. He cleverly told him that now he just needs to find a girl who's willing to wear this dress and stand next to him, instead of the girl he had just insulted.
A tough battle
This guy took a picture with a goose, and thought it would be funny for some reason, if it looked like he was fighting the goose.
But when he asked James to Photoshop the picture, he didn't really take under account that he might end up on the losing end of that battle. Next thing he knew, he found himself with his head in the ground, and the goose had taken over the entire picture!
Responsibilities
It seems that everyone wants to look like they're part of some action film. When this guy asked James to make him look like he was jumping away from something, he was probably thinking about an explosion or something of the sort.
We're pretty sure he didn't expect the realistic direction this picture got. In real life, the most terrifying thing you will probably ever run away from is responsibilities – an explosion, not so much.
Strings attached
This picture shows just how important people's choice of words really is, especially when it comes to Photoshop requests.
This young man wanted it to look like his head is more attached to his body, because it turned out a little weird in the original picture. James took that very literally, and attached the boy's head straight to his arm. Now that his head is "attached" to his body, he can show off this picture to everyone.
So strong
People often take pictures of themselves, wanting to look like they're holding things in the background. It may be silly, but it can sometimes make for some epic pictures. Who wouldn't want to hold up the Hollywood sign, for instance?
This girl just wanted to look like she was holding the mountain. But instead of relocating the mountains, James relocated her arm to appear much lower on her torso. Now she's holding the mountain, but she might want to see a doctor about that hand coming out of her stomach.
Just what she asked for
We have to admit this play on words is pretty brilliant. This girl had only one request – to make her posterior side look much more on the Kardashian side. She just wanted it bigger!
Instead of getting what she wanted, James merely placed a donkey behind her, which is pretty darn hilarious. We think it makes for a much more interesting picture, and we're also adamant on the fact that this girl looks perfect just the way she is.
Keeping him company
You can say what you like about James, but he does give people exactly what they ask for. This man asked to add a pretty woman in the seat next to him, and he got exactly that.
He got a poster of the bikini-clad Baywatch star, Pamela Anderson, pinned to the seat next to him. It might not be a real woman next to him, but this poster of Pamela has probably kept many guys company on lonely evenings.
Pet me in a Bugatti
We get it. We've all told our friends things that weren't exactly true, to seem like we have something to boast about. But we never really went as far as telling them we have a Bugatti.
This guy has, and then realized his friends would want to see a picture as proof. So he asked James to put him in a Bugatti, only he said "pet me". We don't really need to explain why he ended up as a dog being pet by a hand inside a Bugatti, right?
Looking profesh
There's always that one guy in weddings who takes it too far, has a little too much to drink, and ends up ruining the wedding pictures.
This pissed off groom asked James to do something about his friend Jim, who was kicking it a little too much on the dance floor, and so James did. He put camera equipment all over him and made him look like a camera man. We have to admit, it looks so much better now!
The Curious Case of Benjamin Button
Looking childish can be annoying. People look down at you and disrespect you, just because you don't really look like an adult. This poor guy just wanted what Aretha Franklin has been singing about for years – he wanted respect.
Most of all, he wanted to look more like an adult. And what's more adult than losing your hair? Once James gave him a balding head, no one would ever think of him as a child again. Problem solved!
Wear sunscreen
When you're out in the sun, it's very important to protect your skin. The sun can really damage your skin and potentially cause harm.
But other than that, you might end up looking like these two – a little more red than you wanted to look. This couple got sunburnt and wanted James to edit it out of their picture. So he gave them what they should have gotten in the first place. Some sunscreen to protect their faces from the sun.
One direction, two direction
Some people have the weirdest requests. These guys needed someone to fix their eyes, so they wouldn't face the same direction. Why they didn't want to look like they were gazing the same way?
Who knows? But James had the perfect fix for these two. He simply made their eyes face different directions altogether, making them extremely crosseyed. Well, at least they're not staring in the same direction anymore. Is it better now? Only they can say.
No phone, no selfie
This guy looked at himself in the mirror, and thought he was looking so incredibly snazzy, he just had to take a selfie. But you don't always want people to know you took your own picture (that's what selfie sticks are there for, right?).
So he asked James to make the phone elegantly disappear from his photo. But he not only took the phone out, he always took the guy out – saying without the phone, there would be no picture. We have to admit he has a point!
Up and away
People will do extraordinary things to get a cool picture. These girls were trying for that "we're jumping off the ground all at once" kind of picture, but one girl just didn't play her part.
Instead of going back to the beach and trying again, they decided to ask for Photoshop help from James, who was happy to help. He put a trampoline beneath the girl to make her bounce off the ground, but she accidentally bounced way too high.
Switcheroo
This guy sent a picture and told James to do whatever he wanted. This is where it gets interesting, because we get to see how James' creativity works when he doesn't have any instructions to work with, and he certainly delivers.
He flipped the image, so instead of having a guy wearing a shirt with a girl's image on it, the girl in the picture is the subject of the photo, and she's wearing a shirt with the guy who sent the picture on it. Clever indeed!
Looks delicious
These lovely girls, whom we assume were part of a wedding party, took this beautiful picture framed by a rustic looking window frame.
What otherwise would be an epic wedding picture, was a little bit ruined by a bald guy's head popping up at the bottom. So the girls asked James to make the head go away. But instead of removing it altogether, he turned the head into an ice cream cone for some reason, and it's hilarious.
Don't go chasing waterfalls
As we've said before, people will do anything in order to get an amazing picture of themselves. This guy asked James to make the waterfall seem bigger in the background, so he gave him what we wished for.
Now the waterfall is both bigger and closer – so close it actually covers the whole guy in streaming water. We personally think there's nothing wrong with the original picture, but the photoshopped one is so much better!
Shake it off
This might be the sweetest picture yet. These girls took a picture together and wanted to add their idol, country pop singer Taylor Swift, into their picture.
They're so lucky to be teenagers in an age where it's possible to add your favorite celebrity into your pictures. However, they didn't really specify where they wanted Taylor in the picture, so they ended up getting just her legs in high heels, standing in front of them.
Mirror mirror
Teenage girls can sometimes have the strangest arguments with one another. The girl on the left actually got mad at her friend in the middle for looking at the other friend instead of her.
Oh, the betrayal! To appease the jealous friend, this girl asked James to make it look like she was looking at the right girl. So he just put a mirror there, to reflect her image and make sure she's looking the right way! Not quite what they asked for, but effective still.
Polish
It seems that if you make a simple enough request, there wouldn't be any room for trolling you, right? Apparently not. This guy had one simple request – polish the picture to make it more appealing.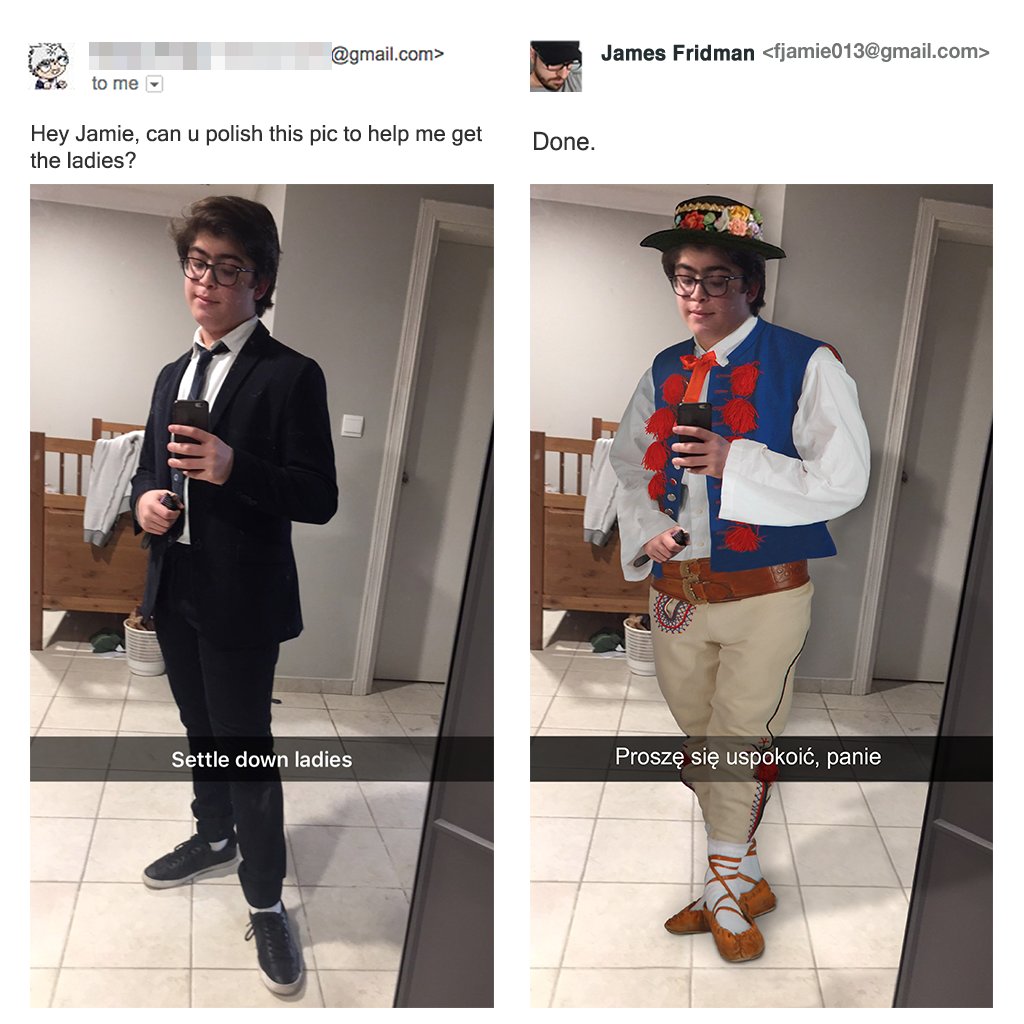 Sounds straight forward enough, but James decided to have some fun with it. Instead of polishing the picture, he simply made the picture look Polish, as in something from the country Poland. And the most hilarious thing about it? He even translated the caption into Polish!
Hands are essential
This beautiful girl took a picture of herself but felt her hand was in the way. So she turned to James and requested him to remove her hand from her face (which we're not even sure is possible) using Photoshop.
Since she asked to remove her own hand, James saw a potential teaching moment and told her she might just need her hand for some things… like hanging onto poles inside a crowded bus, for example.
Hollywood sign
It's always exciting to take a picture of yourself in front of the Hollywood sign. It's one of the best things a tourist could do – especially if you're pretending to hold it.
This girl took a picture in front of the sign, but felt like it wasn't close enough. So she asked James to move the sign closer, and of course – he complied. He just put it a little bit too close than she had expected.
Help, dinosaurs!
People will generally do anything for a cool picture, and what could be cooler than pretending to be on the set of cult dinosaur movie Jurassic Park? Since the backdrop looked like it belonged on the set, they thought – why not throw in some dinosaurs in the background?
Perhaps they shouldn't have asked James to do it, though, because he decided to just give them dinosaur costumes instead. We have to say the end result isn't bad, though! Looks like Jurassic Park to us.
Not as romantic
When you take a romantic picture like this one, you want it to last a lifetime. You can look back on it decades later, show it to your children and grandchildren, and remember how wonderful your relationship was at the beginning.
But this couple wanted to tweak their picture just a little bit to make it absolutely perfect. They didn't want it to look like they were sitting on the edge the bench, so he just moved the woman to the right side – and away from her spouse.
Up in space
We almost feel sorry for this girl, who asked James to Photoshop her into space. She did say it was her dream, and who among us doesn't dream of going to space one day?
But James couldn't help himself and photoshopped her into space… that is, the space key of a keyboard. Maybe she should have been more specific about what kind of "space" she intended when she made the request (like many of the people on this list, really).
Titanic
Poor Oleg! He just wanted to find his other half, and thought it would be nice to do so on the Titanic. We're pretty sure that's a bad idea, because the Titanic might not have been the most ideal of places to meet your future wife.
But since he said he was "hungry for love," James thought it would be nice to put him in a different kind of Titanic – Titanic cafe, where they're serving food all day long! We hope Oleg finds his special someone, wherever he is.
Meet Ariel
Many girls want to be mermaids when they're kids, especially after watching The Little Mermaid. Who doesn't want to be like Ariel, the red-headed rebellious mermaid? Well, Ariel didn't, because all she wanted was legs.
But either way, this lovely girl wanted to become a mermaid, and wore a beautiful crop-top and skirt set to make it work for the picture. However, James thought it would be funnier to make her into an actual fish at the supermarket instead. We hope she doesn't get fried!
Find the differences
Many people ask James to do whatever he likes with their photos, wanting to see what funny thing he'll do next. So when these guys sent in their picture and told him "anything works" he got super creative about it.
He changed 13 little things in the picture and made a find-the-differences game out of it! It takes some time and effort, and we only really found five, so these guys must have spent hours to find all 13!
An act of kindness
James is definitely funny, and has successfully trolled hundreds of people. But every now and then, when people send the Photoshop master requests, they are met with nothing but kindness.
When people ask him to make one of their flaws disappear, he tells them that flaws are what makes them beautiful, and they should accept themselves for who they are. This girl has a skin condition called vitiligo, and wanted James to remove the spots, but instead – he chose to boost her confidence. We need more people like that!
Make like a tree and leaf
Most of the time, the comedy in James' Photoshopped posts comes from the fact that he takes people's generally innocent requests and flips them on their heads somehow. Double meaning, taking things too literally – everything goes with him.
This is a rare case where we can't actually see what this lady might have meant that was not the thing James ended up doing. Did she mean make it look like she's on the tree? Why would she want that? Well, anyway, here's to another satisfied customer.
Going deeper underground
Keylah, because of course that's her name, asked James to get rid of the reflection in the mirror, although we can't imagine why. It looks fine to us. Anyway, his word is bond, and so he got rid of it.
Of course, Keylah probably didn't mean to have it replaced with a window overlooking what seems to be a boiler room of some sort. We don't know Keylah personally of course, but we wish her all the best in escaping the underground cellar her room seems to be in!
Give us your tired…
This young lady here took a very nice photo with The Statue of Liberty, which you may not realize is also known as Liberty Enlightening the World. But alas, other pesky tourists conspired to ruin it by also enjoying their visit to Liberty Island!
What fiends! It's a good thing James was there to save the day, and he just pulled them right out of the photo. Now, we think something else might also be missing now, but we can't quite put our fingers on what it is…
Pretty helpful
In May, 2018, the Disneyland and California Adventure theme parks held Pixar Fest, honoring the animation studio's many amazing works. It appears this lady attended the festivities, and we're sure she had a grand old time.
Sadly, something put a bit of a damper on her fun – the photo she took holding up the Disney California Adventure marquee didn't come out quite right! Never fear, James to the rescue! She wanted to hold the sign, didn't she? Well, she's certainly holding one now, and we're sure fellow patrons thanked her.
Taking a dive
We're thinking the trend of taking overcomplicated senior photos is just about out of control. We mean, why is this senior half-submerged in water like the victim of a mob hit? And considering it ended up looking like she's just on a pile of black dirt, even the execution wasn't that great.
She wanted it to appear like she's in water, and well, there's no mistaking it now. We especially like that her nose is pressed against the glass, and the tuft of her hair sticking out of the door.
'Look out – she's behind you!'
This one here could have gone one of many ways – what could have been about to hit her? He could have photoshopped an enormous meteorite, a doubledecker bus, or even a light gust of wind – but nope, it was decided to be a granny with a frying pan. Brilliant.
Out of all the dangerous things, he chose an old lady on the loose wielding a piece of heavy kitchen equipment. To be fair, we're sure the girl could have gotten away from her pretty quickly.
Photobomb problems
There's a whole host of hilarious photobomb photos on the internet – some better than others. This selfie photobomb here wanted to be altered so it didn't include the less-than-impressed guy in the background – but we think it's perfectly fine with him in it.
In fact, just like James thought too, it's actually a much better photo without the photographer in it at all. Seeya pal! It turned out that you were the photobomber after all.
Her baby boy bae
Any of you lumberjack beard-wearers out there will know the shock horror you get if you ever decide to shave off the hairs on your chinny-chin-chin. To put it bluntly, it's as though you've turned back time to your teenage years – not a good look if you're trying to impress your partner by a hairy manly look.
So, we're not quite sure whether a baby-faced look was exactly what this wife wanted when she asked James to "shave her husband."
Misspelling mishap
Anybody that ever contacts James should definitely run their words through a spellchecker. Otherwise, you're at serious risk of getting back a photo like this one – something entirely different from what you meant, but actually exactly what you asked for.
This girl here clearly wanted her to be petting the "sheep," but unfortunately, her English isn't quite up to scratch. So instead, she's stroking a "ship" with her extra long arm under the sea. You've gotta admire James's photoshop skills in this photo. It's top-notch!
Getting it in the neck
This poor guy wanted a photo that rid him of his "giraffe neck" that all his pals mock him for – and now, they have this brilliant photo to ridicule him for as well! To be fair, James has done an excellent job pointing out that his neck isn't quite as long as a giraffe's like his pals say it is.
However, now we can't help but notice how his neck is actually slightly longer than the average neck anyway. We have a feeling this guy probably regrets ever messaging James at all.
A sweet gesture
As well as funny photoshops that tease and taunt his requesters in the most light-hearted way possible, it seems James also likes to compliment his requesters in an adorably sweet way too.
This beautiful young girl here is unsurprisingly wanting to look more like a Kardashian, but rightfully so, James has pointed out that she doesn't need to change her looks one bit – especially to look more like a Kim K or Kylie Jenner. She is, in fact, perfect just the way she is.
Ripped jeans are in, right?
None of us leave the house without our phones nowadays, so it's no surprise that sometimes the bulge of our phones can ruin the smart look we've got going on in our photos.
This guy here has asked James to photoshop the obvious bulge in his pocket, and thankfully, James has just the skills to do the job. Just like that, the phone has magically disappeared. Here's to hoping that he doesn't mind rocking the ripped jeans look though.
Like father, like son
If you were a child whose height got them down, then chances are you had a wish of being taller. No matter how many greens we ate and how many times we put it on Santa's Christmas list, sadly, our dreams of becoming taller never came true.
Even this little guy's dream was taken from him. All he wanted was for James to make him taller than his dad, but James had other plans. Instead of making the little guy taller, he made his dad smaller – with hilarious results too.
Duck's petter!
Here's another case of someone wanting to be shown petting an animal. This time, the requester wished for her boyfriend to be stroking the cute little duckies in the lake, but yet again, James went in another direction.
Instead of either extending his arm or even bringing the ducks closer, he alternatively put him in the lake – cold, wet, but looking rather pleased with himself indeed. Do you think he was pleased with the result?
Request rightfully declined
For this request, James simply declined doing as she asked. Why? Well, because the woman wanted to cut out the star of the photo! Forget the smiles of the women in the front pew, it's all about the "kid with the glasses" sat a few rows back who obviously wanted to be in the photo too.
So how would he feel if he found out that she was about to be purposefully cut him out of it forever? Thankfully, James decided to give him his own photo instead.
Too tall
Here's another youngster who still has a strong desire to be taller – especially when she's pictured standing next to two of her slightly taller pals. In fact, she dislikes her height so much that she decided to ask James if he can make her taller so she doesn't look so small.
However, it seems like James went a little bit overboard with her request. So much so that she now looks like a huge giant compared to her friends. Is this what she meant? We think not.
Dreams come true
According to this girl here, her one and only dream is to be a cat. So, like us all then? Who doesn't want to be a cool cat? At least for a day anyway. However, her dreams have been swept from right underneath her feet, because unfortunately for her, James has yet again taken her message a little too literally.
Now her photo sees her as a CAT excavator. This photoshop would be perfect for anybody whose dream is to transform into a piece of heavy-power construction equipment. Anybody?
Carpool karaoke
James had plenty of hilarious avenues he could have gone down with this one here. However, he's proved that sometimes less is more. In this case, subtlety is key. The requester wanted her brother to photoshopped so he didn't look so tired, and to be fair to James, he doesn't!
In fact, her brother looks the total opposite of tired. He looks as though he's having the time of his life busting out Queen's Greatest Hits collection – far from wanting to take a little backseat nap.
New glasses, new look
We'd all love to have our favorite celebs photoshopped into our photos, and thanks to people like James, our requests can come true. However, James clearly doesn't like to go for the plainly obvious.
Instead, he makes a joke out of his requests – just like this photo here that sees Queen B and hubby Jay Z becoming one of the family members. The resemblance is uncanny! Good job, James, good job indeed.
Childhood nightmare
Some kids films and TV shows are just downright scary, whether they intend to be or not! For example, the child catcher from "Chitty Chitty Bang Bang" should never have been a character in a family-fun musical – what were they thinking? We had nightmares for years!
So if you were ever for some reason terrified of Thomas The Tank Engine, you might want to look away for this one . If not, be prepared to revisit one of your recurring childhood nightmares. Choo-choo!
Tank troubles
We're not sure whether this guy meant what he said about wanting to be "seen behind a tank" – but what people asks for, they get! Right? Well, technically, James has done precisely what he's asked for. How does this guy know that he's not behind that tank?
He's never gonna know for sure unless he looks behind the tank anyway. We're gonna take James's word on this one – he's definitely behind the tank. We're sure about it. 100%.
Chewie clone
For this poor guy here, James had a whole host of different Star Wars characters to choose from – so we can't on earth figure out what it was that made him think the hairy Wookie Chewbacca was the most fitting choice?
Okay, that's a lie, but yet again, the request has been granted and he has in fact been transformed into a Star Wars character. James has even gone to the trouble of giving his new character a name!… World – met "Curlbacca."
Big Ben
Standing in front of landmark buildings and pointing out your hands strangely is now seemingly an important part of being a tourist. Whether it's at the Leaning Tower of Pisa, the Hollywood Sign, or the Eiffel Tower, you should always expect to see some bizarre tourist poses going on when you visit the world's most popular landmarks.
London's Big Ben is no exception either – but make sure you get it right first time or you might end up with Ben Affleck sat in your hands instead.
Sad student
Clearly this student here has never really known how to express his emotions properly – because he's even asked James to paste a frown on his face for him. However, sometimes, James needs a bit of background subtext to really get the full scope of the emotions behind the image.
So, apparently, this guy's sad look is because it's suddenly dawned on him how much he owes the student loan companies. That for sure is enough to put a frown on anyone's face!
Strike a pose
Whether these two girls meant to strike the same pose or not, we think the original photo is actually rather sweet! That was, of course, until James came along and transformed it into a hilariously twisted photo – a far cry from what the girl was expecting!
Still, she must have found the humor in it somewhere. How can anyone not see the joys of James Fridman's photoshop skills? He's a pure genius! Now, where can we submit our own requests? Bring on the humiliation.