While it's usually used for beauty purposes, apparently nail polish can be used for many purposes, such as keeping buttons from falling off your shirt, protecting labels from smudging, waterproofing matches, and if you feel like getting crafty – even creating stunning DYI items for your home. Some of the things nail polish can be used for may surprise you, and perhaps solve you a problem or two around the house. Check out this list to see all of the different uses for nail polish – ones that have probably never crossed your mind.
Keep buttons from falling off a shirt
It can be really annoying when one of the buttons on your favorite shirt becomes loose. You know it's only a matter of time before the button falls off completely if you don't fix it. It could also potentially create an embarrassment should it fall off at the wrong time, leaving you with an unbuttoned shirt for everyone to see through.
If you don't have the particular set of skills required to sew the button so it stays in its plays, you can actually use nail polish to keep it from falling off. Just use a dab of clear nail polish on top of the button, to keep the thread from unraveling any further.
Prevent an allergic reaction to Metal
Many people have allergic reactions to nickel, gold, or other metals often used in jewelry. Not only can it irritate the skin and cause a rash, it can sometimes even turn our skin green! Sometimes the jewelry we buy are on the cheaper side, as they can often be very beautiful, and some buttons used in trousers and jeans can also turn the skin green if it comes in contact with it.
A helpful thing you can do about this, is coating the insides of the jewelry with some clear nail polish. This should prevent any allergic reactions from happening, and keep your skin from turning green like The Hulk.
Stop shoelaces from unraveling
Most shoelaces and hoodie strings have small clear pieces of plastic at the ends, to keep them from unraveling. But these pieces of plastic eventually fall off or wear out, and we're left with an exposed lace that might eventually being to disintegrate.
To prevent this from occurring, you can paint over the end of the shoelace or string with some clear nail polish, so that they won't fray. It should keep them intact for a while longer.
Keep screws in place
It's always a hassle when screws become loose, like the ones in your drywall, or even the small screws on your glasses. If you're not exactly feeling up to pulling out the working tools and fixing it properly, you can actually use nail polish as a temporary solution to keep them in place.
Or instead, tighten the screws and then paint some nail polish over them to keep them from becoming loose again in the future. The nail polish acts as glue and makes it less likely for the screw to fall out again.
Prevent rusty rings
Most of us keep metal cans in our bathrooms, whether it's shaving cream, deodorants, or other hygienic products. But these cans often leave little rings of rust on the side of your sink or in the shower, which can be a real pain to clean up.
Instead of cleaning them up, try coating the bottoms of these metal cans with some nail polish. This will keep water away from the bottom and prevent those annoying rust rings from forming.
Paint over keyboard keys
In this day and age, we use our computers and laptops more and more – whether it's for work, gaming, or even just browsing the web. But since we use it so much, sometimes the letters and numbers on our keyboard keys can begin to wear off.
A great solution to keep this from happening is to coat the keys on your keyboard with clear nail polish. You'll still be able to see all the letters, but they'll take much longer to wear off.
Keep labels from smudging or running
This is a little helpful trick that can be used in a large variety of things. Not many people realize this, but nail polish can actually keep markers and ink on labels from smudging or running.
It means that if you have any kind of label that requires protection, you can use clear nail polish to guard it from smudging. This can be used for labeling plants in your garden, for instance, to keep it from running when it rains or when you water your plants.
Color code keys
When your keychain is full of different keys, that are used for different things but look the same, you can actually color code them to keep better track of which key you need to use at any given time.
Instead of trying several keys before you find the correct one, you'll just use the blue key, or the red key. You can also use it to color code keys that belong to different house members, or even color code different items in your house. Let your imagination go wild!
Fix small cracks in windows and glass
Another possible use for clear nail polish, is to keep small cracks and chips on your windows or the windshield of your car from getting worse. If you put some nail polish on top of the chipped glass, it can prevent the glass from cracking any further.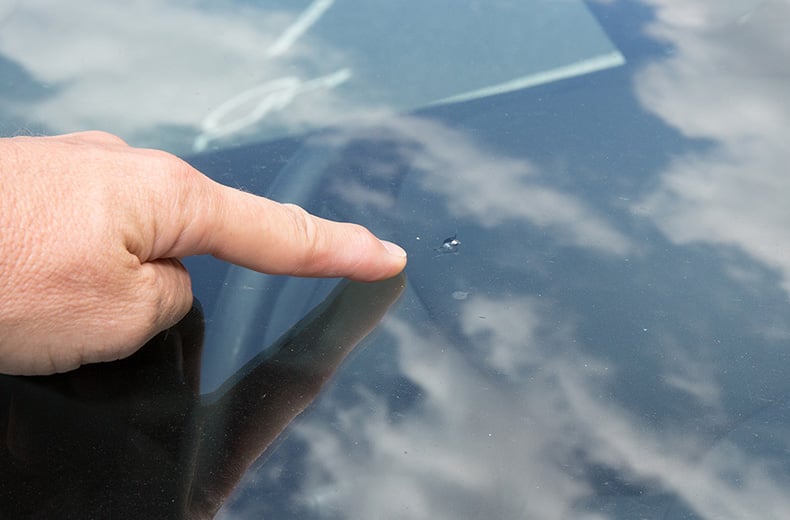 This can be a great temporary fix until you get around to repairing or replacing it. And if you have other chipped glass items you want to keep intact, you can use nail polish for them as well.
Waterproof stick matches
If you plan on going hiking or camping somewhere, it's always a good idea to bring some matches along with you. The problem is, if it rains or if you hike through water, your matches could get damp or wet, which would stop them from working properly.
But don't worry – if you dip the heads of your matches in just a thin coat of clear nail polish, they'll stay dry and also strike normally when you need them. Just don't use any nail polish with glitter.
Stop a run in your tights from getting bigger
Many women know this problem. You're at work, right before an important meeting, and you find out there's a run in your tights. It can be really annoying, since even a small run can turn into a huge one.
But if you cover it with a little bit of clear nail polish, it will prevent the run in your stocking from being completely ruined at the worst time possible. Try it and you'll thank us!
Use it as a liquid bandage
This use is a little controversial, since most nail polishes have chemicals in them. But you could use a non-toxic brand of nail polish as a replacement to a band aid for small cuts and wounds, if there's no other choice around and you're worried about it getting infected.
Clearly, it's not an ideal solution for cuts, as you'd be better using a Band-Aid or Neosporin, but it might be helpful if you're stuck with no other solution for the problem. You can use the nail polish until you can put on a real bandage.
Sealing envelopes
Remember that episode in Seinfeld, where George's fiancée Susan passes away from licking a bunch of poisonous envelopes for their wedding invitations? Well, the scenario in the hilarious show is obviously not very realistic, since envelopes today have glues that are safe to lick.
But since it's not a very pleasant thing to do either way, you can use nail polish as an adhesive, instead of subjecting yourself to that awful glue taste envelopes can have. It keeps the envelope sealed, but it is also easy for the receiver to open.
Repairing holes in air-mattresses
Sometimes air mattresses can get little holes in them, and while they're usually quite thick – the air can slowly come out of the mattress as it deflates throughout the night. It is not fun to wake up in the morning and find yourself flat on the floor.
To prevent it from deflating, you can cover up the hole with a small layer of nail polish, let it dry, and then another layer over it (repeat as many times as you see fit). This could prevent the air from leaving the mattress through these pesky little holes.
Threading needles
One of the most frustrating things that any human being can experience in their life, is trying to thread a needle. It can get really annoying to try and get a string into a tiny little hole in a needle.
So much so, that people might just give up on the whole thing and go to the tailor instead. But apparently, if you dip the end of the thread in just a little bit of nail polish, you'll be able to thread the needle much more easily.
DIY with nail polish
Did you know there are tons of different creative crafts you can use nail polish for? Just try searching "DIY" and "nail polish" on YouTube and you'll end up with a huge amount of videos for beautiful items you can make for your home, your yard, and even your wardrobe.
You can make your own jewelry, create funky magnets for your fridge, and spruce up your shoes, sunglasses, and makeup brushes. The possibilities are endless, so get creative!
Mark levels or quantities on buckets
Another idea for using nail polish around the house, is marking levels and measurements on buckets or cups, or really anything you want. You can mark any clear cup for quantities and create your own custom measuring cup.
You can also mark buckets for the amount of soap and water you need for wiping the floors. Since it won't wear off even if it gets wet, it's the perfect way of permanently marking levels and amounts on items.
Prevent a nail from breaking further
We've all had something like this happen to us, especially those of us who are prone to injury. Sometimes you hit your finger on a hard surface, and sometimes your nail just goes rogue and cracks.
Besides being extremely painful, everything you do can cause the nail to crack even more, leaving your finger exposed beneath it. To keep the chipped nail in place and make sure it doesn't break further, you can put some nail polish on top of it.
Keep stones from falling off jewelry
A common problem with jewelry that has stones in it, is that with time the stones often get loose or even completely fall off. Since not every piece of jewelry is worth going to a professional for, you can fix this at home.
After glueing the stone back in its place, you can finish it off with some nail polish on top, to make sure it stays in its place and doesn't fall off again. You can even put some nail polish on the loose ones, to prevent them from falling off and getting lost.
Seal a wooden surface
Wooden surfaces often get chipped in some places – especially when they're not coated in wax – and those hazardous splinters can potentially cause injuries to anyone who touches the wood.
To keep this from happening, you can coat parts of the surface with some nail polish (you can even pick a color that matches the wood). If there's already a splinter, you can remove it and coat the spot with nail polish, which should stop it from getting worse.
Personalize push pins
There are so many ways that we can get creative around the house. Many of us love a corkboard – whether it's for leaving notes and reminders or as a way to pin up all of those memories and photos from our vacations.
Whatever the case, you could decorate your board even further with some personalized push pins. It really is as simple as painting over the back of the pin and leaving it to dry. Who knows what kind of color combinations you could create?
Revamp your shoes
Thankfully, there are plenty of ways that we can revamp our old shoes without having to fork out on a new pair. Each new season brings a new set of color trends to our door. Nail polish can help us keep up.
Simply tape off the areas you want to change. Then, carefully use a paintbrush to paint over the sections that you want to be the new color. Adding a layer of clear nail polish can help to add shine and make the color last longer.
Customize your glassware
Sometimes, we all long for something a little extra to make our dining set stand out above the rest. Sadly, those custom pieces or colored glass sets can often be pretty expensive. Did someone say "nail polish"? To start, fill a plastic container with water.
Then, drop in the colors of nail polish that you want to use. Take a toothpick and carefully swirl them through the top of the water before dipping the bottom of your glasses into the mixture. Leave to dry – and you're done!
Color your chargers
Our plugs can be a little boring. Ok, it might not be something that all of us have thought, but after seeing what you can do with a bit of nail polish, it might not be long before you want to update some of your own.
Merely cover the plug in whatever color nail polish you like, and you're done! Glitter polishes are great for this. Just be careful not to get it where the plug touches or goes into the socket. At least you'll know who has stolen your charger in the future.
Create little vases
It's not just nail polish that can add some adorable touches to our lives; old nail polish bottles can be just as helpful. Most of them will already be a great color, thanks to the old nail polish inside. If not, they can easily be painted with other polish.
Once they are painted and dry, they can be decorated with any gems, ribbon, or string as you like. Then, find some small flowers or clip of some fake flowers to make a tiny yet chic vase to decorate your house.
Make little rock monsters
Whether you're babysitting, looking after the kids for the holidays, or just want something fun you can add around the house or yard; rock monsters are a great place to start. The fun all begins by searching for the perfect rocks.
Once you have your collection, it's time to start painting. Use different colored nail polishes to cover each stone. When they have dried, draw on faces with a permanent marker and add googly eyes to finish. You can decorate your yard or use them as part of a rock monster hunt.
Customize your headphones
Let's face it; custom headphones can be pretty expensive. While they might look great, we don't always have the money to fork out on a new pair. Have no fear; nail polish is here to save the day yet again. Start by deciding what colors you want to use.
Do you want your headphones to be all one color, or would you prefer stripes? If one color sounds good, then get painting. If you prefer stripes, tape off the different sections and paint them one at a time to keep it neat.
Color your pegs
Have you ever had one of those moments when you just want to brighten up something in your life? Now could be your chance. All it takes are some clothes pegs – wooden ones work best – and your favorite nail polish.
You may need a few coats to make sure the peg is entirely covered. Plus, it's best to make sure each layer has dried before adding another, especially if you want to add patterns. These can be great for hanging photos around your home.
Create your own phone case
It appears as though almost anything can be customized with nail polish. Your phone case is no exception. Blank cell phone covers are usually pretty inexpensive. This is great for people who want to get creative. The best bit?
There are so many ways to customize your cover! The marble effect with water and nail polish can be great. However, you could also color it in one shade, add stripes, or create a drip-effect with a few different colors and some patience.
Make your own earrings
It turns out there are more uses for bobby pins than we ever realized. They have saved many of us over the years, but what about using them as a fashion statement, too? To start, you need some small hooped earrings and bobby pins.
It's a simple craft as you merely paint your bobby pins whatever color you like and leave them to dry. Once you're done, slide them onto your hooped earrings, and you're good to go. Plus, you'll always have a bobby pin when you need one.
Cover scuffs on shoes
It's a sad day when you realize your favorite pair of shoes have a huge scuff. It could act as a constant reminder of the day you tripped on the curb or be a time of mourning as it feels like you'll never wear them again.
If they are a smooth material, then you might only need some nail polish to bring them back to life. Just make sure you choose the same color as your shoes and simply paint over the scuffs. They should be gone in seconds.
Give necklaces a new life
Many of us have plenty of necklaces that have sat on the side or in drawers for years. Sure, they used to look great with a particular outfit, but what if the color is no longer in our closet or we find ourselves wondering what we were ever thinking?
It could be time to take some nail polish and give your necklaces a new lease of life without having to buy a whole new set of jewelry. Then, when you want another change, just paint back over the top.
Protect your faux pearls
They say that diamonds are a girl's best friend, but many people out there have a place for pearls instead. Whether they are on your jewelry, a part of your coat, or even on your buttons, pearls can look great just about anywhere.
Unfortunately, real pearls can be pretty expensive, and the faux ones can start to peel after a while. Be sure to coat your faux pearls in a layer of clear nail polish to help them last even longer and shine a little brighter.
Stop clothes from fraying
It turns out that frayed clothing is actually pretty fashionable right now. Have you seen the number of ripped jeans on the market? However, there is a limit for most people. So what happens when you don't want the frayed effect?
All it takes is a layer of clear nail polish to help keep things in check. This can also be great for people who are worried about their ripped denim getting too distressed or for people who want to make their own frayed clothes without going too far.
Perfect your showers
It can often feel as though there's nothing worse than standing in the shower, trying to find the perfect temperature. How can it go from freezing cold to burning hot lava in an instant? After all, we barely moved the handle. We might have a trick.
Once you have found the perfect temperature, wait for everything to dry and mark where it is in nail polish. It's waterproof, simple, and could save precious moments in the morning when all you want is the perfect shower.
Clean up other nail polish
Many of us reach for the nail polish remover whenever we spill some somewhere it shouldn't be. However, this could damage the surface and remove any varnish on wood or distort the color. What are we supposed to do?
It might sound strange, but adding some extra nail polish over the top is often the way forward. It helps to soften any nail polish that is already there, meaning it can all be wiped away with a soft cloth or paper towel.
Cover up scratches
Even the most careful of drivers can end up with a little scratch or mark on their car. After all, people in parking lots might not always be so cautious as we are, and those small stones can get flicked up and chip our paint job.
There's no need to rush to get your vehicle resprayed if you have a matching nail polish. Just go over the scratch or mark with some of the stuff and leave it to dry. Be sure not to apply too much at once.
Organize folder tabs
If there is one thing that drives many of us crazy, it's spending hours flicking through every page of an unorganized folder. If you're trying to save money on dividers or you're looking for a way to be creative, then we have the answer.
All you need are some strips of card and nail polish. Cut the card so that it's long enough to stick out between each section. Then, mark the end of each piece with a different color polish and watch your disorganized problems disappear.
Make your own necklace
No longer do you have to rely on jewelry you've bought from the store to make a fashion statement. Did you know that a washer and some string could be all you needed to make your very own necklace?
Washers are usually pretty cheap at the DIY store – or you could use those ones that were supposed to be on the furniture, but you had no idea where they went. Simply paint over the washers with nail polish and voila – personalized jewelry at its finest.
Create hair accessories
Of course, there are so many creative ways to use nail polish. Hair accessories are no exception. If you're feeling creative, then it could be time to buy some thin wire and bend your own flowers and shapes before coloring them with nail polish.
If you want to give your existing accessories a new look, then why not paint over the top of them? Either way, your hair can stand out for all the right reasons and match any outfit thanks to some personal touches.