If you thought tractors were strictly meant for mowing the lawn and pushing around stacks of hay, then boy, were you wrong! We've got a list of the strangest and rarest tractors you thought couldn't possibly exist. These funky tractors put showmanship to the test and raise drag racing standards everywhere. Fords, John Deere's, and home-made contraptions couldn't escape our collection of the oddest tractors you'll ever encounter in your lifetime.
[post_page_title]Triceratops Tractor[/post_page_title]
This dino tractor was created in London by artist, Alex "Wreckage" Wright. We think we know where got that nickname from. Clips of the triceratops tractor in action found on the web, first uploaded in 2011, and Alex brings his masterpiece to events like Burning Man to show off his "innovative" style of thinking. We can't even lie- we wouldn't mind jumping on that army green dinosaur and pretending we're a part of Jurassic Park for a while.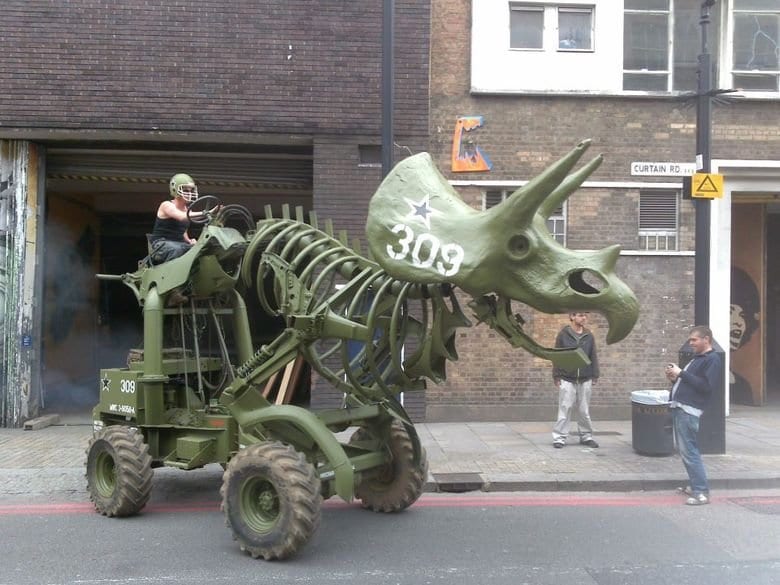 Pages:
Page

1
,
Page

2
,
Page

3
,
Page

4
,
Page

5
,
Page

6
,
Page

7
,
Page

8
,
Page

9
,
Page

10
,
Page

11
,
Page

12
,
Page

13
,
Page

14
,
Page

15
,
Page

16
,
Page

17
,
Page

18
,
Page

19
,
Page

20
,
Page

21
,
Page

22
,
Page

23
,
Page

24
,
Page

25
,
Page

26
,
Page

27
,
Page

28
,
Page

29
,
Page

30
,
Page

31
,
Page

32
,
Page

33
,
Page

34
,
Page

35
,
Page

36
,
Page

37
,
Page

38
,
Page

39
,
Page

40
,
Page

41