Beaver Park
Situated in University Park in Pennsylvania is the giant Beaver Park, belonging to the Pennsylvania State University. It has a capacity of 107,282 which it regularly manages to fill to the brim.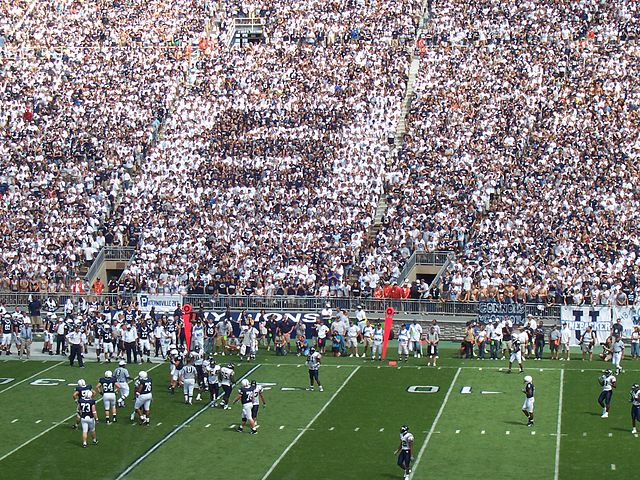 Ohio Stadium
Home of the Ohio States Buckeyes football team, this historic building is often known as "The Horseshoe" due to its odd shape. This 4 hectare stadium can fit 104,944 people through its doors at any one time.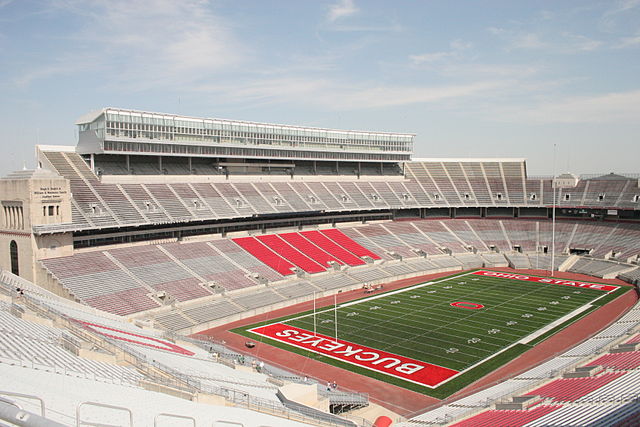 Michigan Stadium
Topping the list is this absolute beast, which is commonly referred to as "The Big House". It's the second largest stadium in the world and the largest in America, with a whopping 109,901 capacity! That's a lot of fans.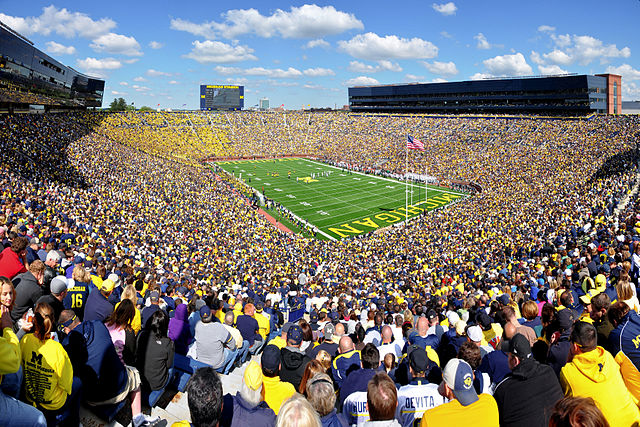 Kyle Field
Last year Kyle Field would have been the third largest stadium in America, yet this year they've downgraded their capacity to 102,733. It's the home of Texas A&M Aggie football team, and has been since 1904.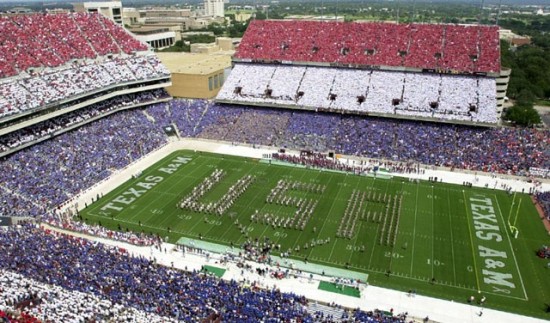 Neyland Stadium
Head over to Knoxville in Tennessee and you'll find the imposingly awesome Neyland Stadium. Several NFL exhibition games have been held here, but it's mostly used for the Tennessee Volunteers football club. 102,455 is its maximum capacity.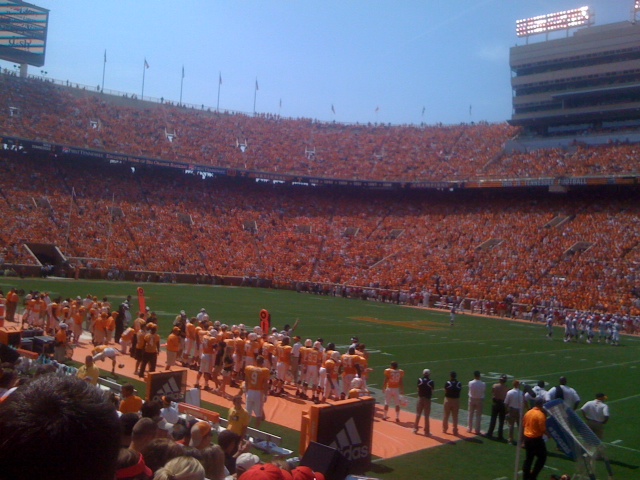 Tiger Stadium
Just behind Neyland Stadium is Tiger Stadium, with a total capacity of 102,321 – that's close! It's known as Death Valley, "Where opponent's dreams come to die." LSU Tigers football team plays here who are thought to have the loudest fans ever!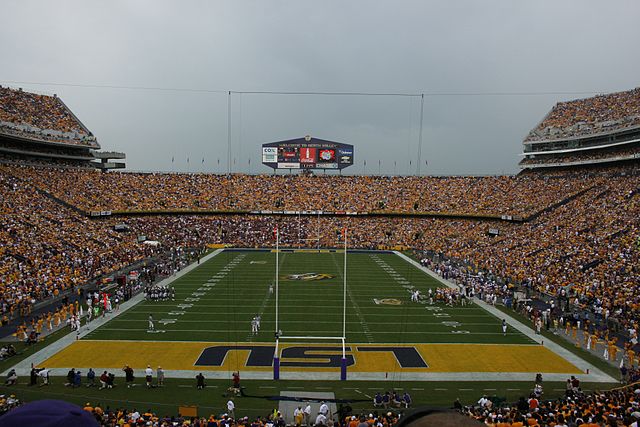 Bryant-Denny Stadium
Home of the Alabama Crimson Tide football team is this beautiful stadium, located on the campus of the University of Alabama. Opened back in 1929 it's been constantly upgraded to fit a total of 101,821 fans inside.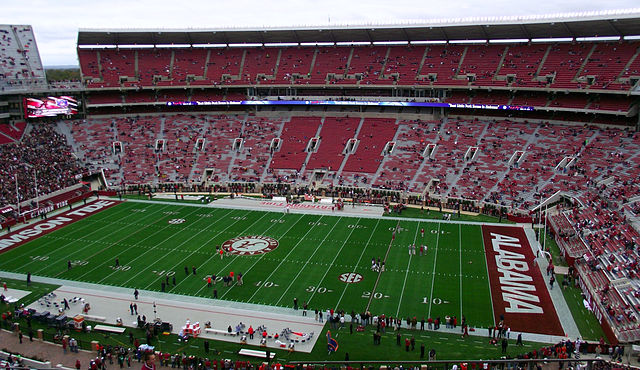 Darrell K Royal – Texas Memorial Stadium
Named in honour of legendary coach Darrell K Royal, and dedicated to the thousands of Texans who fought in WWI, this stadium is something pretty special. The current maximum capacity is 100,119 fans.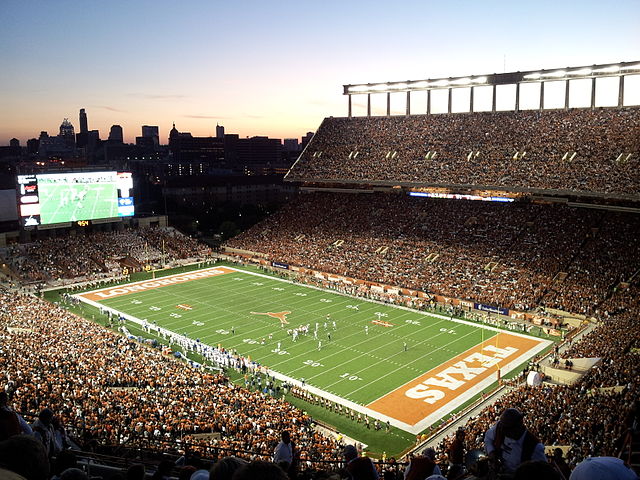 Los Angeles Memorial Coliseum
Home to the University of Southern California's football team, USC Trojans, is this huge stadium. Located in Los Angeles, it was the first stadium to host the Olympic games twice! It can hold an impressive 93,607 people at maximum capacity.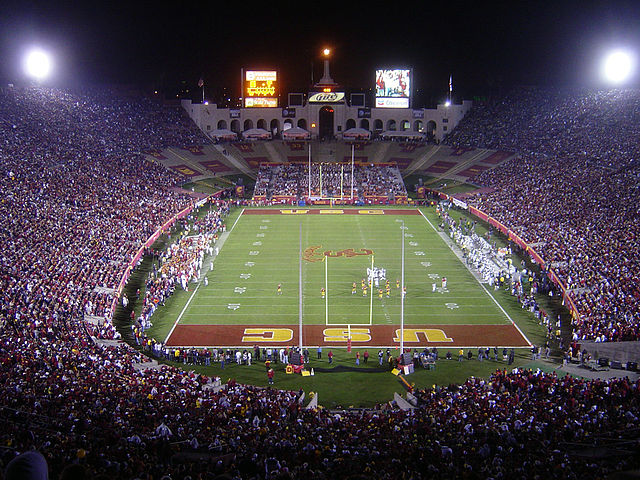 Rose Bowl
Just trailing behind the LA Memorial Coliseum is the Rose Bowl, situated in Pasadena, California. It's home to the UCLA Bruins football team, and was first built back in 1922. It has a maximum capacity of 92,542.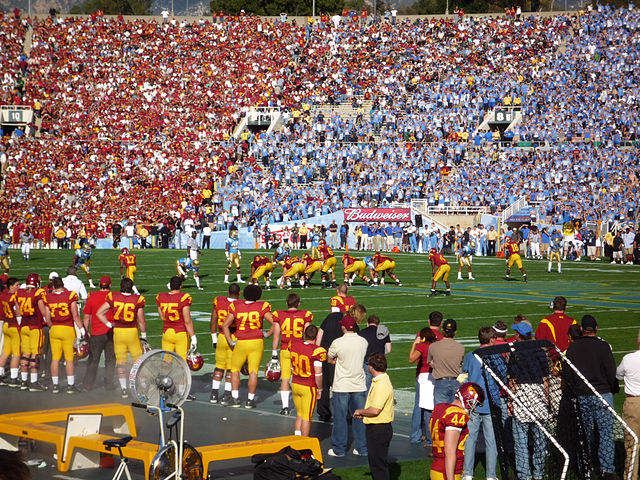 Ben Hill Griffin Stadium
This stadium is known amongst fans as "The Swamp", and is home to the Florida Gators (aptly). Since upgrades in 2003 it has been able to hold 88,548 fans but has a record attendance of 90,916!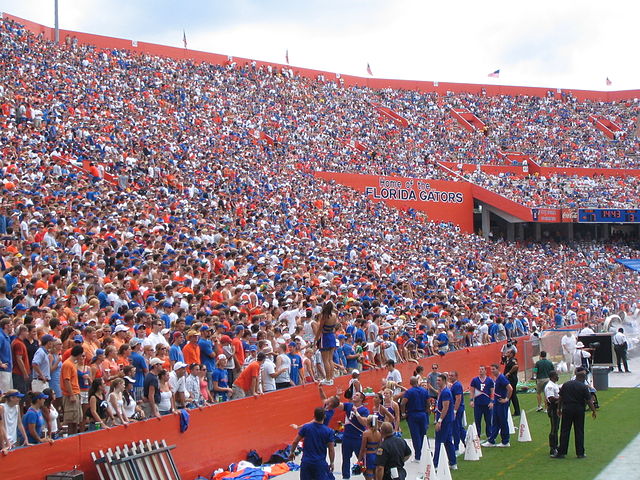 Jordan-Hare Stadium
You'll find the Jordan-Hare stadium on the campus of Auburn University in Alabama. It's the home of Auburn Tigers football team, and has had several refurbs since opening in 1939. It can now seat 87,451 fans at max capacity.
Memorial Stadium
With a capacity of 85,000 but a record attendance of 91,585 (back in 2014) this is one of the biggest stadiums in America. Memorial Stadium is where you'll find the Nebraska Cornhuskers football team.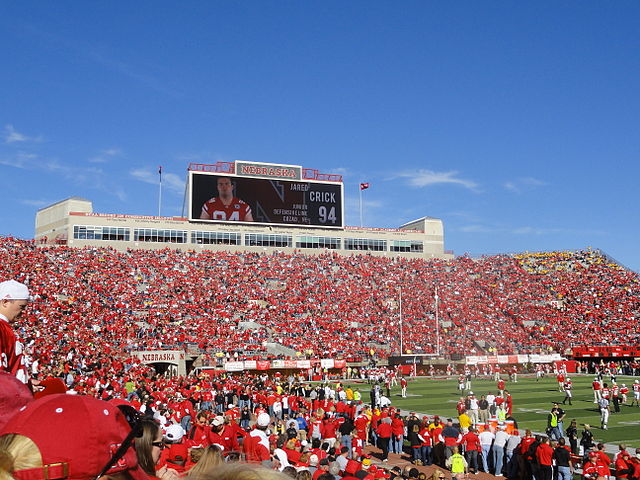 Doak Campbell Stadium
Florida State University is home to Bobby Bowden Field at Doak Campbell Stadium (or Doak for short). Here you'll find the Florida State Seminoles football team and a total of 82,300 fans if it's packed to capacity.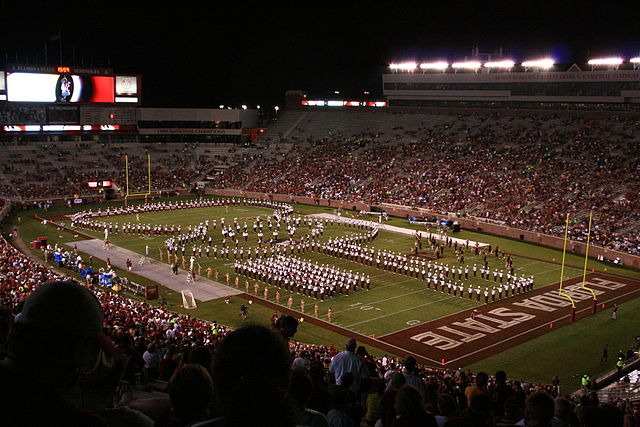 Gaylord Family Oklahoma Memorial Stadium
Not only does this have one of the longest names of any football stadium in America, it also has one of the biggest capacities. The Oklahoma Sooners football team play here, to a crowd of 82,112 if it's a sellout.
Memorial Stadium (Clemson)
Not only is this another Memorial Stadium, but it's also another one with the nickname of Death Valley. How original! The Clemson Tigers play here for Clemson University, aptly. 81,500 is maximum capacity which isn't bad at all.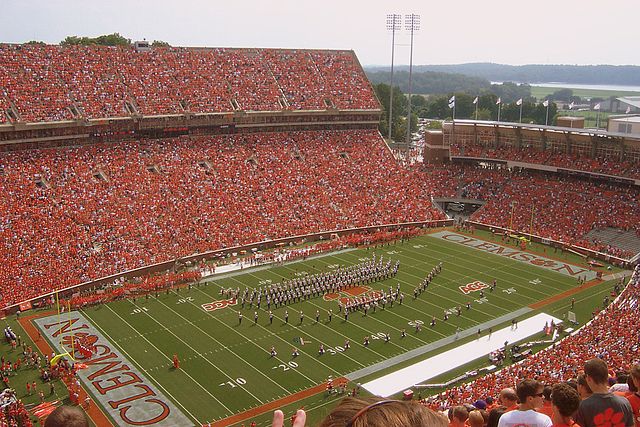 Notre Dame Stadium
No, this isn't in France, it's in Indiana. The University of Notre Dame own this stadium, where you'll see Notre Dame Fighting Irish play. If maxed out then there could be 80,795 fans sitting in the wings.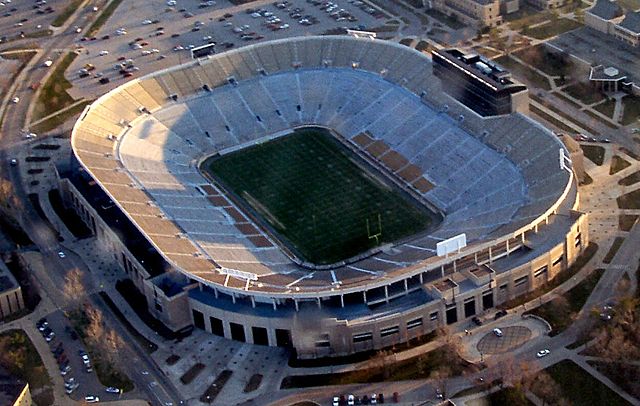 Camp Randall Stadium
Just a smidge behind Notre Dame is the Camp Randall stadium on the University of Wisconsin-Madison campus. The Wisconsin Badgers have played here since 1895, but the stadium wasn't functioning until 1917. It can fit 80,321 fans at maximum capacity.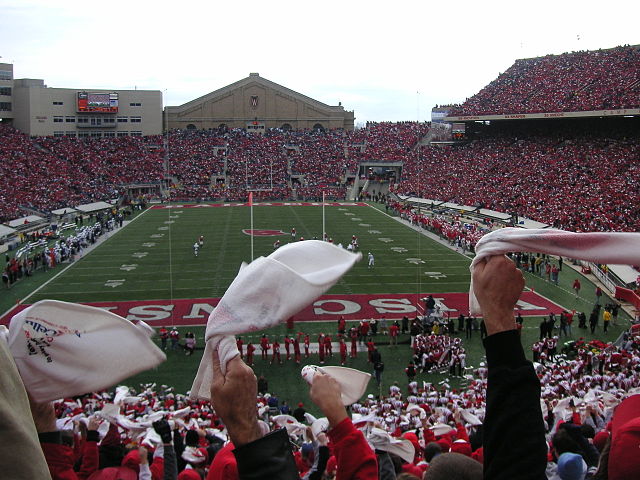 Williams-Brice Stadium
Renowned for its "If it ain't swayin' we ain't playin'" drama back in 1983, the Williams-Brice stadium has some real history behind it. It's grown from a 17,600 capacity up to an impressive 80,250.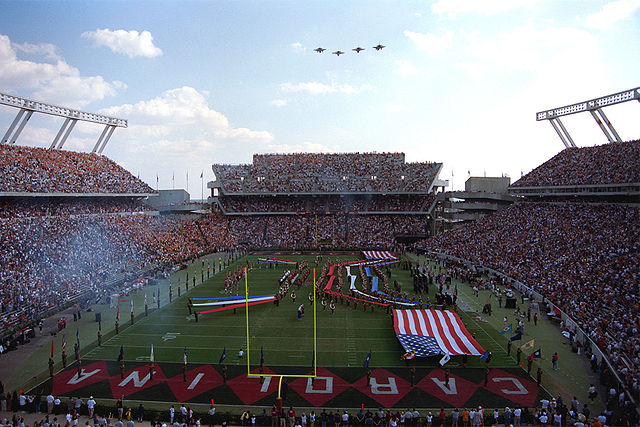 Spartan Stadium
Not to be confused with the Spartan Stadium in San Jose, this is home to the Michigan State Spartans football team. Opened in 1923, this popular stadium can currently hold 75,005 people before it's full.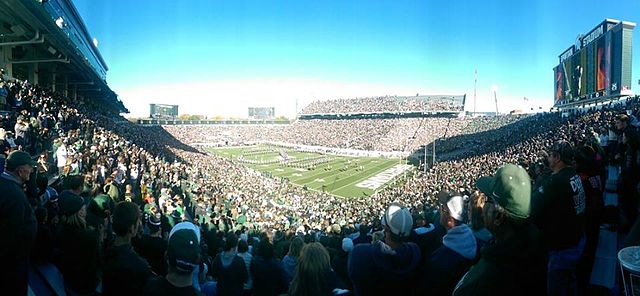 Donald W. Reynolds Razorback Stadium
Another contender for stadium with the longest name, it seems. Situated in Fayetteville, it's home to the Arkansas Razorbacks and has been since 1938. It can hold 72,000 but can be expanded to fit more if needed.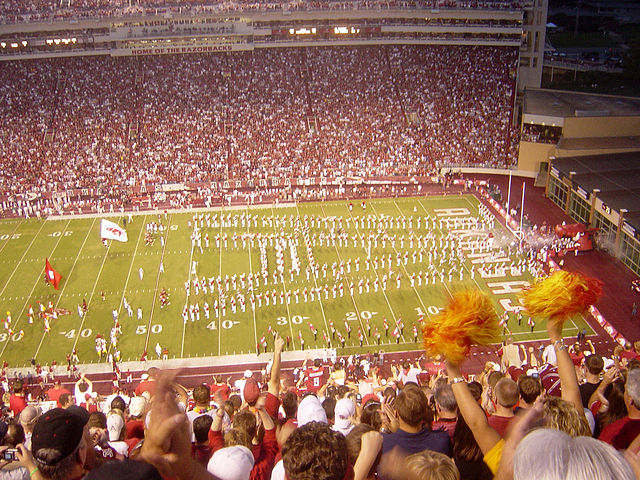 Faurot Field
Climbing up the rankings this year is Faurot Field, in Columbia, Missouri (you'll see why they climbed later on). It can squeeze in 71,004 adoring fans of the Missouri Tigers college football team.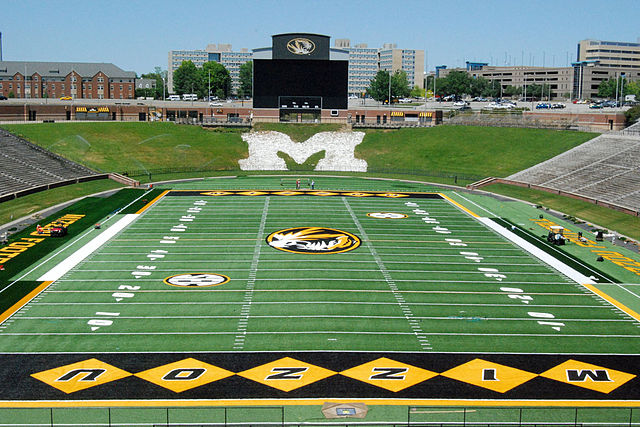 Kinnick Stadium
Another one that has climbed this year too, despite having no upgrades itself since 2006. This stadium in Iowa is one of the largest stadiums in The Big Ten, with a total capacity of 70,585 fans.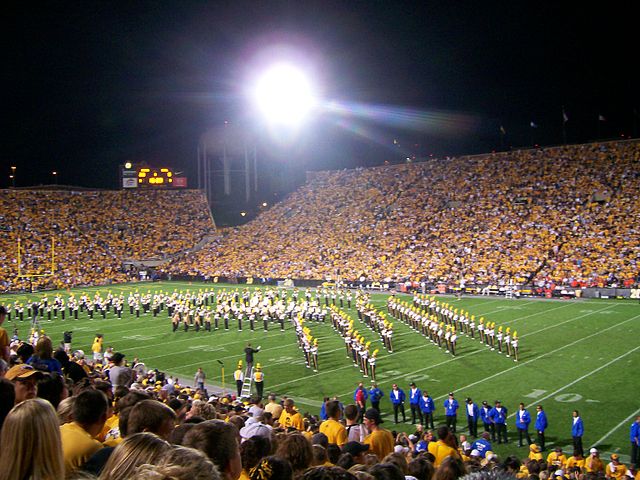 Sun Devil Stadium
Guess which team plays here? It's the Arizona State Sun Devils, of course! This has lost some of its capacity over the years, falling to 64,248 as of this year. It's thought once renovations are complete capacity will grow again.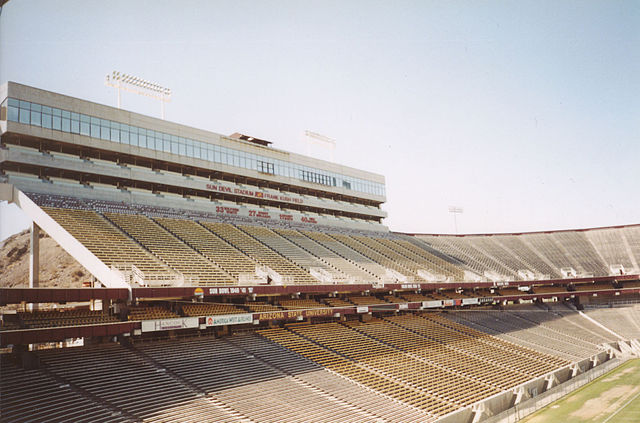 Stanford Stadium
We had to include this one on our list, despite it being quite a way away from the Sun Devil stadium. Simply because it used to have a maximum capacity of 90,000 people! Recent upgrades mean that now only 50,424 people can fit.