How exciting would it be to grow up in a hotel? You'd never have to cook or clean, and you'd basically be on a permanent vacation. Of course, the size of the bill would probably leave you in tears, but that's not important right now. Dylan and Cole Sprouse never had to worry about that when they played twin brothers on the Disney Channel sitcom "The Suite Life of Zack & Cody." The show, which followed the antics of the Martin boys as they grew up in the Tipton Hotel, aired for three seasons between 2005-08.
By the time the series reached its end, most people who watched Disney were familiar with Dylan and Cole Sprouse, and they couldn't bear to see their favorite twins disappear from their TV screens forever and ever. So what have the stars of The Suite Life, who have all had years to move on from the show and do their own thing, been up to since?
Ashley Tisdale as Maddie Fitzpatrick
Maddie Fitzpatrick was the poor girl working at the candy counter. Throughout the series, she formed a close bond with heiress London Tipton, although their differences in wealth and attitude often caused them to clash.
Maddie's money troubles were so significant that she ended up having to work multiple jobs on top of her cashier role, including as a sitter at the daycare center. She was also the object of Zack Martin's affections, but his advances were always rejected in favor of someone more suited to her age.
Ashley Tisdale now
"The Suite Life of Zack & Cody" was just the start of Ashley Tisdale's career with Disney. While she was still starring in the show, she appeared as Sharpay Evans in the Disney Channel Original Movie "High School Musical."
The film spawned two sequels, as well as a spin-off centered around her character titled "Sharpay's Fabulous Adventure." The release of these coincided with her part on animation "Phineas & Ferb," a role which she continued until 2015. Since then, she's moved away from Disney, featuring in shows like the action adventure "MacGyver."
Phill Lewis as Marion Moseby
The manager of the Tipton Hotel, Mr. Moseby's determination for everything to run smoothly was frequently thrown off the rails by Zack and Cody's actions.
In most episodes, he was at his wit's end whenever the twins got up to mischief, although there were times that the three of them managed to get along. With London's parents never around, Mr. Moseby acted as a father figure to the heiress. He was always there for her whenever she needed it, leading to an emotional goodbye once she finally flew the nest.
Phill Lewis now
Phill Lewis had been in the acting game for two decades when he landed the part of Mr. Marion Moseby. He'd starred in all sorts, from legal comedy "Ally McBeal" to sitcom "Married… with Children," and that only continued after he appeared on "The Suite Life."
Following his time on the series, he starred in a wide range of other Disney programmes, including "Good Luck Charlie," "Phineas & Ferb," and "Jessie," though he's since moved away from the channel. Most recently, he's provided the voice of Duper in animation American Dad!
Kim Rhodes as Carey Martin
Mother to Zack and Cody, Carey was a struggling lounge singer trying to cope with raising two mischievous kids by herself.
Her job afforded her the opportunity to live in her own suite with the twins, although their antics nearly got her fired more than a few times. After having her heart broken by her ex-husband, Carey struggled to get back into the dating game during her time at the Tipton Hotel. However, she did have a few love interests on the show, including one that proposed to her.
Kim Rhodes now
When "The Suite Life" ended, Kim Rhodes was free to explore roles outside of Carey Martin. She featured in the horror films "Mostly Ghostly" and "Cyrus," as well as staring on the family drama "Switched at Birth."
However, it's her appearances as Sheriff Jody Mills in dark fantasy series "Supernatural" that's been her most prominent since the Disney show came to an end. She's portrayed the Sheriff sporadically since 2010, and in 2017 filmed a backdoor pilot for a spin-off revolving around her character. However, it unfortunately wasn't picked up.
Brian Stepanek as Arwin Hawkhauser
Arwin was the engineer at the Tipton Hotel and the closest adult friend that the twins had. That was probably because he was incredibly childlike in his behavior, although his intelligence wasn't something to be laughed at.
He had a high IQ and was always coming up with incredible inventions, most of which never entirely went to plan. However, Arwin was probably best-known for his crush on Carey. He was so enamored by the twins' mother that he owned a cardboard cutout of her, as well as a photo surrounded by lights.
Brian Stepanek now
Brian Stepanek has kept busy since "The Suite Life" finished in 2008. He had a role in the comedy series "Nicky, Ricky, Dicky & Dawn" for four years, during which time he also appeared in shows like the sitcom "The Haunted Hathaways."
Some of Stepanek's best-known roles throughout his career have focused on his voice, including playing Gorg Commander in "Home" and Lynn Loud Sr. in "The Loud House." The latter is a character that he still currently plays on TV, with a fourth season of the show commissioned in 2018.
Adrian R'Mante as Esteban Ramirez
Another of Zack and Cody's close friends at the Tipton Hotel was Esteban, or as he liked to remind people, Esteban Julio Ricardo Montoya de la Rosa Ramirez.
He was a loyal employee, but the character's strong Spanish accent meant that people often struggled to hear what he said. He was very light on his feet and even won a dancing competition in the episode "Loosely Ballroom," although his coordination never seemed to be that strong whenever he fulfilled his bellhop duties.
Adrian R'Mante now
Adrian R'Mante has done a fair bit of acting work in recent years, although things went a little quiet after his time as Esteban Ramirez was over.
Around the time that he appeared in "The Suite Life," the actor also had a recurring role in "CSI: Crime Scene Investigation" which lasted until 2009. Once that was over, R'Mante only had a few credits before disappearing from the spotlight for several years. However, he reappeared in 2015 for a spot in "NCIS: Los Angeles," and he's been bagging work ever since.
Allie Grant as Agnes
No-one in "The Suite Life" felt as strongly about Zack as Agnes did. The nerdy student had a massive crush on the Martin twin, and she made no effort to keep her feelings secret.
There were times when she would stop at nothing to get what she wanted, even going so far as to stalk Zack. Unfortunately, Agnes wasn't the only one vying for the boy's affections. She had plenty of competition when it came to winning his heart, and she was bitter to every one of the girls who wanted him.
Allie Grant now
Allie Grant was already known to TV audiences before she appeared as Agnes in "The Suite Life." She'd starred as Isabelle Hodes in the comedy-drama "Weeds," a part that she continued to play during her time on the Disney series.
When that came to an end in 2009, she moved onto another main role, this time as Lisa Shay in the sitcom "Suburgatory." The series was cancelled after three seasons, but Grant hasn't had any difficulty finding work. She now stars in the comedy programs "All Night" and "The Goldbergs."
Robert Torti as Kurt Martin
The fun parent in the family, Kurt was Zack and Cody's estranged father and Carey's ex-husband. Although the twins had a lot of love for their dad, they learned to never rely on him because he was rarely ever around.
His work as a touring musician kept him on the road most of the time, something that Zack greatly admired and wanted to do himself when he was older. However, that didn't stop him lamenting the fact that his father would always put his music before his family.
Robert Torti now
Most of Robert Torti's more prominent roles came before his appearances in "The Suite Life."
Throughout his career, he was a regular in the soap operas "Days of Our Lives" and "The Young and the Restless," as well as the sitcoms "Vinnie & Bobby" and "The Drew Carey Show." These kept Torti busy during the '90s and early '00s before he moved on to his brief work with the Disney Channel. Nowadays, the actor appears mostly in shorts, though he also lent his voice to the video game "Starcraft II" in 2015.
Estelle Harris as Muriel
Quite possibly the laziest maid to ever work in a hotel, Muriel was a former employee of the Tipton Hotel who preferred to sit around instead of doing her job.
She did as minimal work as possible, only pretending to dust or vacuum to stop herself from getting in trouble. The character was central to the episode "It's a Mad, Mad, Mad Hotel' when the employees at the Tipton searched for a treasure hidden in the building. It wasn't until the end that they realized the treasure was actually Muriel.
Estelle Harris now
Estelle Harris has been a busy woman throughout her long career, so it's no surprise that she's taking things easy these days.
After finding fame as Estelle Costanza in the sitcom "Seinfeld," Harris discovered that she had a talent for voice acting. She featured as Mrs. Turtle in various Mickey Mouse cartoons, and more famously as Mrs. Potato Head in the "Toy Story" series of films. The actress will be returning to this role next year when the latest iteration in the franchise hits the big screen.
Caroline Rhea as Ilsa Shickelgrubermeiger
Ilsa Shickelgrubermeiger (on the right) was an antagonist in several episodes of "The Suite Life." As a hotel inspector, her very presence struck fear into the employees of the Tipton, especially Mr. Moseby.
However, he was more than just afraid of the woman. Due to her role as the manager of the Tipton's biggest competition – the Saint Mark Hotel – Ilsa was his nemesis, and he was determined to beat her at every opportunity. Although he wasn't successful most times, he did bring the Tipton to victory against her in a game of bowling.
Caroline Rhea now
Caroline Rhea's part as Ilsa in "The Suite Life" wasn't the first or last role she had with Disney. Several years before the show, she voiced Mrs. Konquist in "Fillmore!," while a few years later she was Linda Flynn Fletcher in over 200 episodes of "Phineas and Ferb."
These characters all came after Rhea first rose to fame as Hilda Spellman on the '90s sitcom "Sabrina the Teenage Witch." Nowadays, she spends less time acting and more time as a game show host, having fronted "Match Game" and, more recently, "Caroline & Friends"
Brenda Song as London Tipton
The heiress of the Tipton Hotel, London lived a lonely life. She went shopping to cope without her father being around, but it never filled the gap he left behind. Luckily, once Zack and Cody moved into the hotel, and Maddie (in the middle) started working at the candy counter, her happiness soon improved.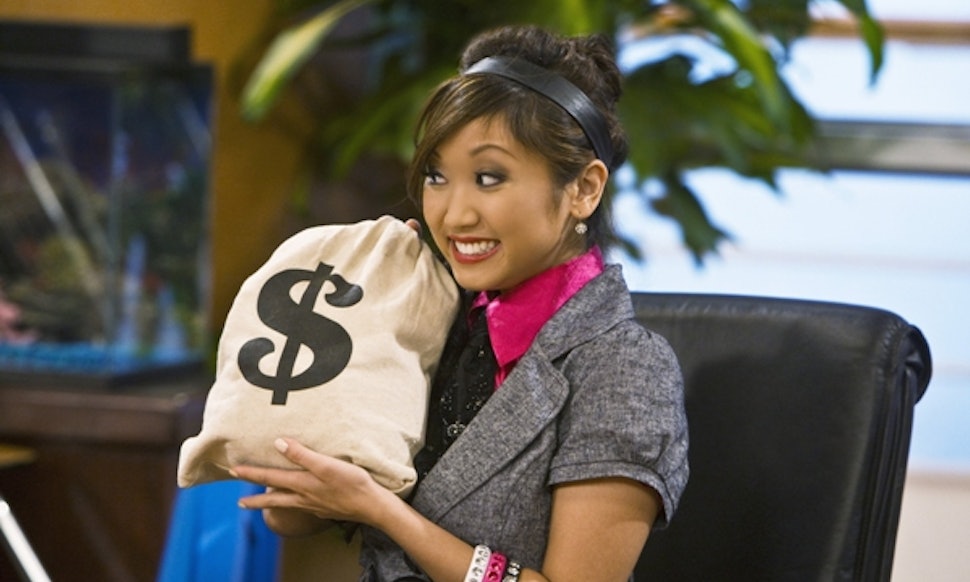 She found friends in these people, gradually learning that money wasn't everything. Her friendship with Zack, in particular, also saw her get involved in a lot of his schemes, though she was always quick to jump ship when things turned south.
Brenda Song now
Brenda Song tried for a long time to find fame before London Tipton came along. She'd had a main part in the sitcom "100 Deeds for Eddie McDowd," as well as recurring appearances on "Phil of the Future."
However, it wasn't until "The Suite Life," and it's spin-off, "The Suite Life on Deck" that she got the notability she'd been looking for. Since then, she's had her pick of roles, including as Christy Lee on biographical drama film "The Social Network" and Daisy on the sitcom "New Girl."
Dylan Sprouse as Zack Martin
The older of the two Martin siblings – by ten minutes – Zack was the one who tended to cause the most trouble around the Tipton Hotel.
Although Cody often got involved in his antics, it was his brother that kept up his mischievous streak for longer. He wasn't as smart as his sibling, but Zack still had plenty of skills that he showed off in his many ridiculous schemes. Most of the time, they involved trying to impress Maddie who he had a crush on throughout the entirety of the show.
Dylan Sprouse now
Playing Zack Martin kept Dylan Sprouse busy for six years. However, after "The Suite Life on Deck" finished, he had to find something new to do with his life. That's when the actor decided to go to college and earn himself a diploma in video game design.
Wanting to focus on his education, Dylan stopped acting, preferring to stay away from the spotlight until he was ready. He eventually returned in 2017 via a series of short, indie movies; some of the first things he'd filmed without his brother.
Cole Sprous as Cody Martin
The more intelligent Martin brother, Cody was incredibly dedicated to his education. He applied himself where his sibling wouldn't, regularly coming out with good grades and being distraught whenever he didn't receive an A+.
Cody started off very geeky in the show, but as he matured, he started to develop interests outside of his homework, such as girls. He never had a major relationship in "The Suite Life," although he did attract the attention of characters like Agnes, Rebecca, and twins Janice and Jessica.
Cole Sprouse now
Similar to his brother, Cole Sprouse went quiet after he finished on "The Suite Life." He too focused on getting a degree, although his was in archaeology. The star got involved with excavations and lab work during his time away, but he eventually missed being on TV.
That's why he made a sensational return to the spotlight in 2017 when he took up the role of Jughead Jones on teen drama "Riverdale." It was clear how much he'd matured over the years, hence his clean sweep at the 2018 Teen Choice Awards.
Victoria Justice as Rebecca
Victoria Justice may have only been on one episode of Suite Life of Zack and Cody, but she sure made an impression. The young actress played a girl named Rebecca, who Cody ended up having a crush on.
In this episode, called The Fairest of Them All, Zack and Cody need money for new bikes, so Cody enters a beauty pageant to claim the prize money. He ended up crushing on Rebecca, another contestant, and he wanted her to win instead.
Victoria Justice now
Victoria Justice did not spend much time on Disney Channel, but she moved quickly on to Nickelodeon where she was on Zoey 101 alongside Jamie-Lynn Spears. She later had her own series, Victorious, in which she starred alongside Ariana Grande.
Unfortunately, those two sitcoms were the height of her career, and though she is still popular as a fashion icon and Instagram star, the jobs seem to have stopped rolling in. She did star in the adorable rom-com Naomi and Ely's No Kiss List in 2015, though.
The Rosso twins as Janice and Jessica Ellis
Camilla and Rebecca Rosso might only have appeared in seven episodes of the The Suite Life, but they were memorable ones. These talented identical twins are originally from England, and were discovered by chance during a live taping of the show. One of the executive producers spotted the then 12 year-old girls and immediately recognized their potential.
On the show they play two posh British girls whom Zack swoons over and does everything to impress. Unfortunately for him however, the girls prefer Cody.
Camilla and Rebecca Rosso now
The Rosso twins may have been discovered on The Suite Life, but that was far from the last time these girls would be in the limelight. In 2009 the two starred in the movie Legally Blondes, a spin-off comedy of the classic Legally Blonde. It was even co-produced by Reese Whiterspoon, the star of the original movie.
However, the girls turned their focus more to music in later years, and formed a band together with two of their sisters. Tragically the twins' mother passed away in 2015, and the girls have since stepped away from the spotlight.
Alyson Stoner as Max
Max was yet another small but charming character on The Suite Life. As a good friend of Zack and Cody's, this tomboy is actually named Maxine but prefers to go by Max. She is great at sports and dancing and also harbors a secret crush on Zack and even goes on a date with him.
Alyson Stone was only 13 at the time and portrayed this confident tomboy perfectly. And as much as the Zack and Cody liked her, she could also be quite bossy which was showed in several episodes.
Alyson Stoner now
Alyson Stoner didn't just pretend to be a good dancer for her role as Max- she really is one in real life. Thanks to that talent, she went on to land a role in the famous dance street dance themed Step Up series.
Besides movie roles, she has also danced in music videos for stars such as Missy Elliot and Eminem. Her love for music doesn't just extend to dancing, she has also ventured into singing and has lent her unique voice to several movies she has played in.