When you think of Hollywood, what comes to mind? Perhaps you immediately imagine the giant Hollywood sign and the iconic Walk of Fame. Perhaps you think of palm trees and Pinkberry. Perhaps you think of movie sets and Disneyland. Or perhaps you think of celebrities and celebrity couples. In the world of Hollywood, celebrity couples truly make the world go around, and there's no couple quite as adorable as Mila Kunis and Ashton Kutcher.
These two actors shared their first kiss on-screen together, before going their separate ways and finding love in other people. However, they soon made their way back together, and they have now been married since 2015 and become a true Hollywood power couple. The couple now has two children together, which is why they need an awesome house to boot…
The power couple
When Mila Kunis and Ashton Kutcher first appeared alongside each other on the hilarious sitcom, That '70s Show, everyone knew that there was a spark between them. They played an on-and-off couple in the show, and it was clear to see that their connection wasn't purely a work of fiction. They shared intimate moments on screen together, and everyone hoped they would become a couple in the real world.
In the end, fans had to wait over a decade for this to become a reality, but everyone agreed that the wait was so worth it! Mila and Ashton have since become a Hollywood power couple, and everyone loves to keep up with their relationship and their family. If you were wondering whether they had a comfortable house to live in, though, you can rest easy knowing that they certainly do.
Keeping it private
This beachside property is actually Mila and Ashton's second home. They are the proud owners of a very private mansion near Beverly Hills, but it's believed that they spend a huge portion of their time at this beach house. Here, they can truly unwind from city life and spend time with their kids on the beach.
Thankfully, this house is also a bit secluded. With their very own private driveway, they don't have to worry about any unwelcome intruders. Celebrities often spend top dollar on luxurious vacations in exotic locations. But with parasols and white wooden cladding, Ashton and Mila have created their very own giant beach hut, they can visit whenever they like.
Light and airy
Although Mila and Ashton's whole house is overwhelmingly beautiful, it doesn't compare to the unending views from their windows. With the sea on one side and mountains on the other, this couple and their family can stare in wonder from every room in their house.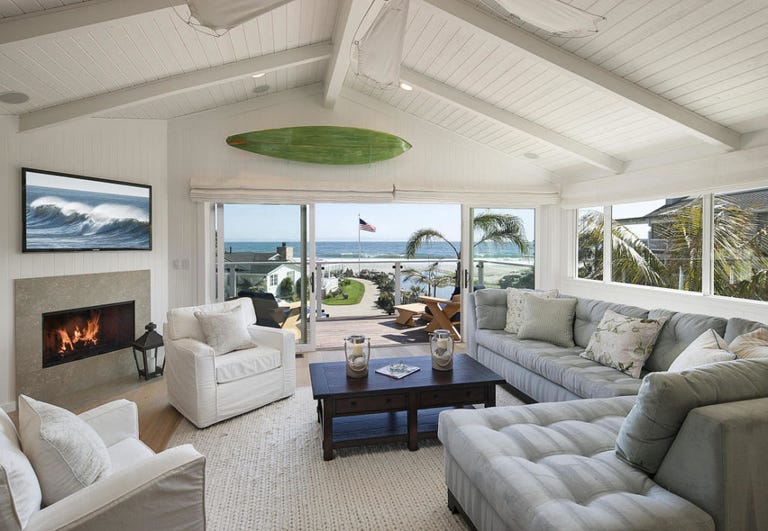 From their light and airy living room, they have the chance to sit down on the plush, neutral couches, and take in the beach. On those colder nights, they can even light a fire and watch the sunset. The large windows give them all the view they could ever need. And like many in beach houses, the couple have chosen to keep the whitewashed walls and cladding.
Cooking up a storm
While we don't know who does the cooking in the Kutcher-Kunis household, we do know that whoever chooses to cook up a storm in their beach house has everything they could possibly need. This modern kitchen has barstools as well as a dining table, for casual and formal options.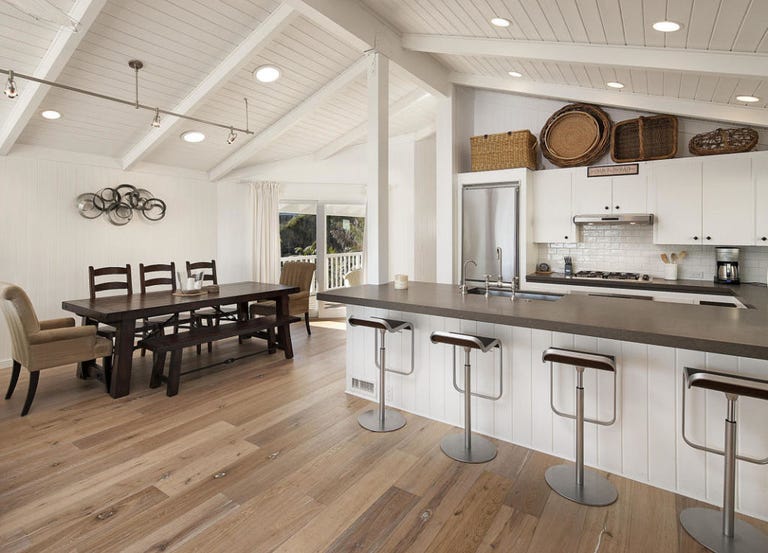 While the wooden ceiling and island bring the seaside vibe into their home, they have also made it as modern as possible. With black, brown, and steel detailing throughout the house, these little additions add a splash of color to the white abode. Once they've plated up their food, their adorable family can make their way to the dining table with the windows and doors wide open.
Resting their heads
No celebrity home would be complete with a bedroom – or six – and Mila and Ashton have more than enough bedrooms to keep themselves and their children happy. This is one of their many bedrooms, and you can see that they have kept the seaside theme running throughout.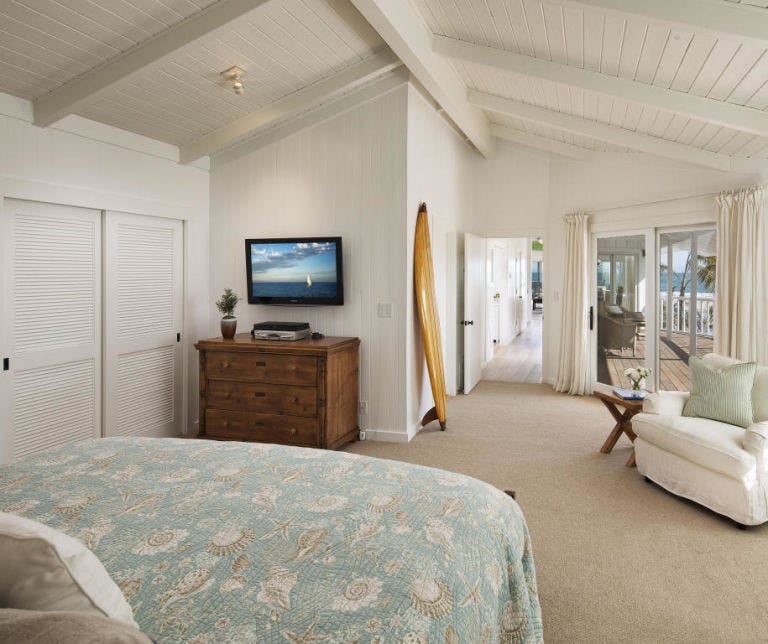 With white accents and up-cycled wooden dressers and tables, it's like you're already on the golden sand and walking past beautiful driftwood. This bedroom also has direct access to the incredible balcony area that offers amazing and endless views. Of course, there's also a surfboard thrown in for good measure! Honestly, we can't think of a more relaxing way to wake up in the morning.
Just chilling out
With two young children and a Hollywood career to uphold, Mila and Ashton must struggle to find time to appreciate the small things in life. Thankfully, their beachside property offers them the perfect opportunity to do so.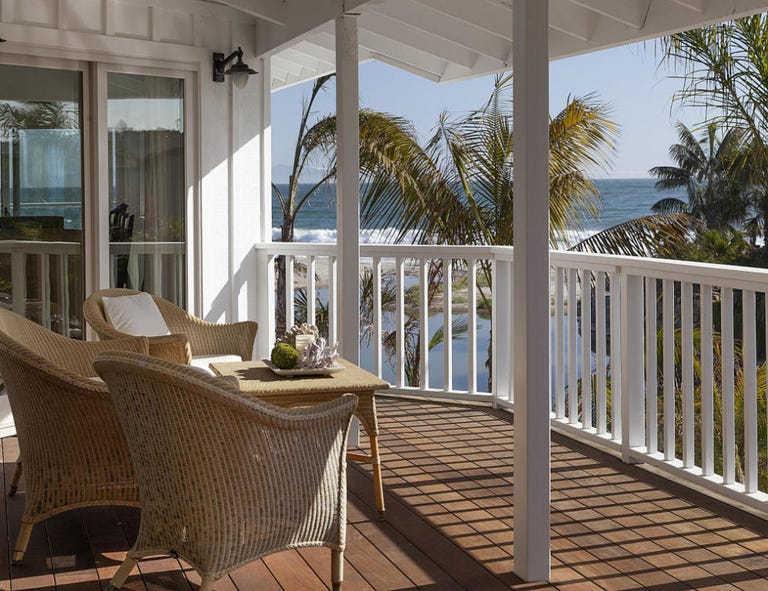 After a hard day's work, they can put the kids to bed, and then chill out on their balcony to watch the sun go down. With wicker chairs and unrestricted views of the ocean, they can enjoy a glass of bubbly while catching up on their day. What could be better than that?
Ready for bed
If you didn't know that this property was by the beach, this bedroom would be a great indicator. With white walls, white ceilings, and white furniture, there is no doubt about the fact that this Hollywood couple have tried to embrace the seaside as much as possible.
This bedroom has obviously been designed with their children in mind, and the bunk beds give their son and daughter the chance to invite friends over for a playdate. As if that wasn't enough, they even have their very own couch to enjoy when reading a bedtime story.
A guest room
While they have six bedrooms on offer, it seems as though Mila and Ashton have tried to take advantage of all the space they could possibly use. They have transformed this guest room into one that offers a double bed, a single bed, and a plush couch for their guests to lounge on.
With nautical stripes and floral arrangements, they have managed to bring the outside into the room in one truly impressive feat of interior design. Once again, this bedroom has direct access to one of the many balconies on offer.
Right on the beach
Although we know that this beach house is located in Santa Barbara, it looks as though it's perched on the beaches of the Caribbean. With palm trees, clean walkways, white balconies, and lush green grass, Mila and Ashton have oodles of outside space to enjoy with their kids.
To the side of their house, lies a lagoon, while just a short walk down a set of stone steps will have them wiggling their toes in the sand. With children to entertain, this must offer hours of endless laughter. However, it doesn't end there…
Extra space
As if one living room wasn't enough, Mila and Ashton also have the chance to enjoy a second living room. While this one may be smaller, it also seems quite a bit cozier. With blankets, cushions, rugs, and another fireplace, we can imagine the Kutcher-Kunis family love to snuggle up here on a Sunday afternoon.
Whether they watch their own movies and TV shows on this television screen remain to be seen, but we sure hope a few episodes of That '70s Show are put on every so often. After all, you have to go back to where it all began sometimes!
The ultimate sleepover
This is just another of the six bedrooms Mila and Ashton's beach house has to offer. While they have chosen to abide by the seaside aesthetic for each room, they have also added little touches here and there to give each room something special.
For example, this guest room looks like it's ready for the ultimate sleepover. With yellow and blue cushions, fancy linens and blue accents and decorations, these little pops of color and luxury truly take this beach house to the next level. We wouldn't mind staying in this room!
Taking a dip
Although Mila and Ashton's beach house doesn't come complete with a swimming pool, it's fair to say that they have endless options when it comes to taking a dip. They can wade in the lagoon; they can swim in the sea; or they could simply relax in the hot tub that rests in their backyard.
Shielded from their neighbors, the couple can enjoy a romantic evening to themselves in the bubbles, or they could splash around with their children. All we know is that their beach house is the ultimate getaway and one that we could only dream of.
Summers in Santa Barbara
Celebrities love to set up shop in California, and Mila Kunis and Ashton Kutcher are no different. This beach house in Santa Barbara certainly ticks of all the boxes for a perfect family getaway – whether for a weekend or for a whole summer.
With a private drive, six bedrooms, six bathrooms, 3,100-square-feet, views of the mountains, and direct access to the beach, it was well worth the $10 million these two decided to pay out. From the outside, you can see just how the beachside mansion fits into the world around it, and we bet their lives are now full of sandy toes and salty kisses!
Plenty of space
As you can see, this beach house is not only gorgeous, but also giant. The vast property has plenty of space for the family of four to enjoy and they never have to worry about running out of room; that's for sure.
Not only is there enough distance between them and their neighbors, but there is a great deal of grassy areas for the kids to run around and get some energy out. We can just imagine them tiring themselves out and then Ashton carrying the little ones to bed.
The ultimate bachelor pad
Although Mila Kunis and Ashton Kutcher are now the apples of our eye, they haven't always been an item. During the early stages of his career, Ashton made a name for himself as the ultimate Hollywood bachelor. He was linked to multiple women, and he was known for painting the town red when he wasn't working.
He would attend high-profile parties, he would rub shoulders with some of the biggest names in the business, and he would woo the ladies with his charm. To match this charming personality, Ashton bought the ultimate bachelor pad. He purchased this modern LA mansion after his first marriage came to an end in 2013, but sold it for a whopping $12 million in 2014 after he asked Mila a very important question.
A shared abode
Before Ashton tied the knot for the second time, he was married to the actress Demi Moore. The couple were married for an incredible eight years – despite the rather large age difference. During this time, Ashton and Demi decided to invest in some real estate and solidify their life as a couple.
They bought this 1,800-square-foot Hollywood Hills home back in 2009 for just under $1 million, and they spent a huge amount of time relaxing in the pool and looking over the City of Angels. Although they officially divorced in 2013, Ashton and Demi continued to co-own the property. In September 2018, Ashton eventually relinquished his share of the property and decided to hand it over to Demi's daughter, and his former step-daughter, Rumer Willis.
Mila's mansion
However, Ashton isn't the only one who previously owned an impressive abode. Before she tied the knot to her former co-star, Mila was the proud owner of this Hollywood Hills mansion. She bought the home in the early stages of her career, and she was incredibly proud of the fact that she was able to afford such a house after moving from Ukraine at such a young age.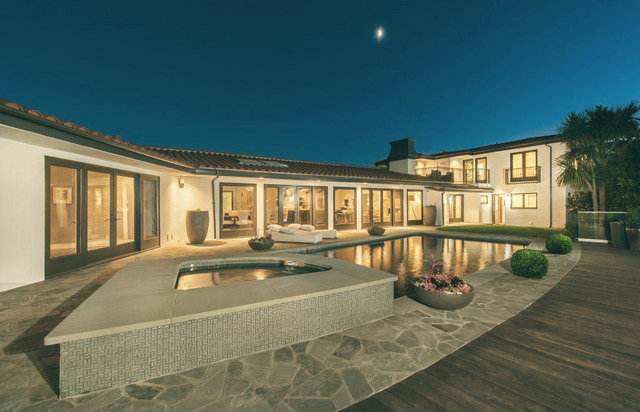 She had only ever dreamt of living in a house like it, and it was truly something special to her. She decked this mansion out with a modern aesthetic and made sure that it was as light and as airy as possible. However, she eventually had to say goodbye to this house when she moved in with Kutcher…
A modern aesthetic
When things started to heat up with Ashton, Mila knew that she had to make a decision. They were engaged, and they wanted to take their relationship to the next level. They ultimately decided to both sell their bachelor and bachelorette pads, and Mila put this modern mansion up for sale.
She listed the house for a whopping $3.9 million and set her sights on something much bigger. If she was going to raise a family with the man she had known for most of her life, she wanted it to be perfect.
Second home
Though they spend most of their time at the beach house, it is not their primary home. In fact, they have another extremely private house, also in the L.A. area. Like the Santa Barbara property, they have have a private road leading to their estate, and it is relatively secluded.
This makes sense so that they can keep unwanted company from stumbling into their area. It can still happen, but thankfully they seem to be able to keep to themselves.
Beautiful mansion
Unlike the seaside home, their Beverly Hills mansion has not been opened up to the public, so there really aren't any pictures from the inside. That doesn't mean we don't know what it looks like.
The Kunis-Kutcher duo purchased beautiful mansion back when they were expecting their first child for just over $10 million. The couple definitely likes their privacy because it is in a gated community with guards and it's surrounded by tall trees. A peek inside would be nearly impossible.
Private people
One thing is for certain about this adorable couple is that they seem to be very private. While they're not afraid to show off some PDA here and there and to talk about their love life in interviews, they really value their privacy as well.
We can only imagine that it must be hard to have a normal life when you're two of the biggest stars in Hollywood, but Mila and Ashton actually manage to do this pretty well.
Invasion of privacy
While clearly Mila and Ashton want their privacy, that doesn't mean they always get it. People will go out of their way to try and get photos of them at their home or pics of the inside.
One time when some workers were there doing some repairs or installations, someone was able to snap this photo from a distance. To us, this seems like a total intrusion and invasion of privacy, especially since they didn't even get any good views of the house. But to each their own.
Can't avoid the cameras
It looks like no matter how hard they try, there's no way for them to avoid the spotlight entirely; people are always going want to take photos of these two. The second they get off their private property, the flashes of cameras begin to shine in their faces.
They can't even go for a coffee run without someone noticing. It's no wonder they have such secluded homes. At least it seems like they take the attention well – perhaps it's because Mila drinks two coffees at the same time.
Baby bump watch
A specific time when the paparazzi is extremely interested in this couple, Mila specifically, is when they're expecting. The second Mila was spotted wearing baggy clothes, people assumed she was pregnant and they started the baby bump watch.
We can imagine that every time they stepped out, there were people waiting outside their property to see if her belly had grown at all. Photos were snapped regularly as her pregnancy progressed. Joke was on them, though, because the couple was able to keep a secret through it all.
Due date dilemma
Mila and Ashton have been spotted out and about with their cute kiddos, but that doesn't mean two-year-old Dmitri and four-year-old Wyatt live high-profile lives in the spotlight. Mila has always said that she wants to keep her personal life as private as she possibly can.
After all, we've already mentioned how private their homes are; the two also had a secret wedding. One thing that they were miraculously able to keep on the down low was the due dates of their children. Pretty impressive for such huge celebs.
Finally a couple
At least we finally got to see these two become a real life couple. They've known each other for 20 years and it took forever for them to finally start a romantic relationship.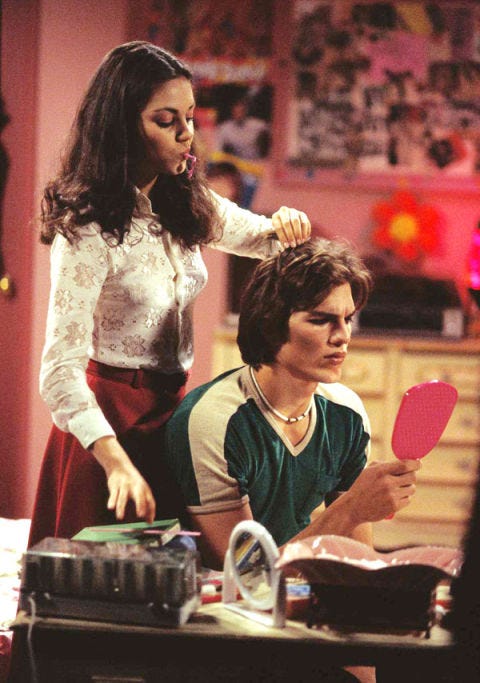 We loved them as Jackie and Kelso, and it's like they were destined to be together from the begging – everyone knew that chemistry wasn't just acting. Now, they've got two gorgeous homes and two gorgeous children. They may be private people, but that doesn't mean we don't love them anyway.
Moving on
Something we can't help but wonder is if they will expand their brood any time soon. While there are usually rumors about these two, they are always eventually either confirmed or denied. Perhaps if they have another child in the future, they will purchase another amazing house with eight bedrooms.
That way, Ashton and Mila will have two for themselves, and each of their kids will also have two as their own. These two homes are so spectacular, however, we understand if they never choose to move again.