Life can be boring at times, when all we do is serious things like work and run errands. And having the outlet of acting foolishly can bring in a lot of funny moments to our lives. Pulling harmless pranks on our friends and family can be a lot of fun, and what greater harmless prank is there than the photobomb?
Photobombing is the fine art of inserting oneself into other people's pictures in an unexpected manner, effectively ruining them – but also making them a lot funnier. You can either jump in front of the camera, or you can hang in the background with a funny facial expression. Either way, it would create a hilarious moment, and picture, for everyone involved.
---
---
The concept of photobombing actually date back to the 1800, but they've become increasingly popular in the past decade. There's so much buzz around photobombs, especially when they're performed by celebrities. We absolutely love it when famous people photobomb others, because it gives us a glimpse into their more playful nature.
And whether they do it to their fellow celebrities, or they surprise fans who don't even know a celebrity is behind them, it can be incredibly amusing. These celebrity photobombs are so hilarious, we can't even decide which one is the winner – but you can be the judge of that. Keep reading to see the most epic celebrity photobombs ever taken.
---
Benedict Cumberbatch
Anyone can photobomb someone's picture, but British actor Benedict Cumberbatch has mastered the art to the point where he's considered to be a "photobomb expert". Just by taking a look at this picture, you can tell Benedict knows just how to turn a serious U2 group photo into a hilarious and viral event by jumping behind it. And it's not the only time he's done it – he also photobombed Meryl Streep, the one and only, while she was taking a selfie at the Oscars. It made people laugh so much, his fans took to photoshop and started adding his image to all sorts of pictures, as if he's photobombing them.
Jimmy Fallon and Jon Hamm
It was in 2014, when comedian Jimmy Fallon added a segment to his talk show The Tonight Show called Celebrity Photobomb. The host took celebrities down to Rockefeller Center, for the special purpose of photobombing unbeknownst tourists. These people were just trying to take a nice family photo a the top of the building with that New York City view. They didn't even realize that Jimmy Fallon and Mad Men actor Jon Hamm were standing right behind them as they did. We can only imagine their reaction when they came back to their hotel and looked at the pictures they took during that day, to suddenly find they've been photobomb by two major celebrities.
Emma Stone and James Corden
Actors Emma Stone and James Corden didn't only insert themselves into Andrew Garfield's picture, they did so with elegance. They creeped up behind him and surprised him at the very last minute, making for a funny (and creepy) picture. Emma and Andrew actually dated each other on-and-off for four years before calling it quits, but this picture makes us wish they were still a thing. Just look how adorable this pair's dynamic is around one another. Adorable, we say!
Jesse Tyler Ferguson
Jesse Tyler Ferguson is another celebrity photobomb expert, with plenty of photobombing experience. It's the Modern Family actor's theatrical way of doing it that really grabs everyone's attention. Ex-couple Orlando Bloom and Miranda Kerr were posing for a picture on the red carpet, and Jesse Tyler Ferguson just couldn't resist throwing himself, quite literally, into the couple's picture. We can certainly see why talk show host Conan O'Brien said Jesse may have a photobombing problem – he just can't help himself!
Zooey Deschanel
We're strong believers in karma, so we weren't surprised at all when this photobomber got his. Jesse Tyler Ferguson thought he was safe when he posed for a very cute photo on the Golden Globes red carpet, but Zooey Deschanel had other ideas for this photobomber. Not only did the adorable actress photobomb him with grace, she also gave him a set of bunny ears! But we have to admit Jesse is so charming, he can even pull off bunny ears and still look good.
The Hoff
Julia Roberts and Javier Bardem are not only actors, they're also A-list celebrities. So we can't think of many other celebrities who would dare to barge into their pictures on the red carpet. But David Hasselhoff – The Hoff himself – is just so cool, he can photobomb anyone and it would still be okay. The Baywatch actor even managed to make them smile when he inserted himself into their lovely picture – and we would be smiling too!
Lady Gaga
Lady Gaga didn't just photobomb Katy Perry, but she did it in the most hilarious way. The Lady realized she was in the shot, when her fellow musical artist was posing for pictures on the red carpet and she was waiting her turn. So she put on her best Joker face, and managed to thoroughly creep us out making that face to the camera. This doesn't even seem like a photobomb, is seems like a scene from a horror flick, and we're totally Gaga for it.
Rihanna
The incredibly cool singer Rihanna proved she can play this game, and joined the photobombing league with this hilarious photo. As she noticed the cast of family comedy Full House trying to take a selfie together, she seized this perfect opportunity and stroke a pose for the camera too. These actors probably only realized afterwards that their picture featured the gorgeous looking Rihanna in the back, and we're sure they laughed when they saw what she did.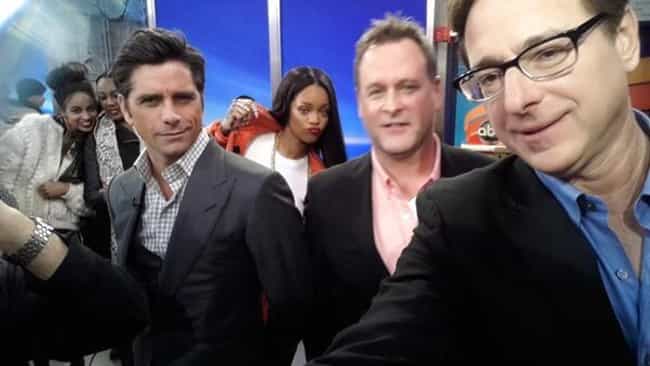 Chris Hemsworth
This vacationing couple was just taking a picture of themselves by the pool, with this gorgeous view behind them. We really wish we would be there instead, and not just because of the amazing scenery (or the fact that we badly need a vacation). This couple weren't alone, as their friend, dreamboat actor Chris Hemsworth, inserted himself into the background. He posted this picture to his Instagram, writing, "Hey guys get out of my shot" – and they realized their friend had stolen their thunder.
George Clooney
Actor George Clooney is widely known for his affection to pulling elaborate pranks on his co-stars on set, as well as his real life friends. So we're really not surprised to see him acting goofy as he photobombs famous director Steven Spielberg and the Seinfelds! Comedian Jerry Seinfeld may be an extremely funny man, but in this photo George Clooney is the real star, because we just can't help but laughing out when we see his face.
Benedict Cumberbatch, #2
You might have noticed something strange about this picture, like two Benedict Cumberbatch instead of just the one. Well, the one getting his picture taken with talk show host Graham Norton, and actors Timothy Spall and Miranda Hart, is actually a wax figure in the image of the popular actor. You can find the actual Benedict behind them, photobombing himself. We've already said Benedict Cumberbatch was a photobomb expert, but now we're thinking of declaring him the photobomb king. Because photobombing your own self takes real talent.
Sarah Hyland
Modern Family star Julie Bowen plays a mother of three children on the show, and as one does, she ends up yelling at them quite a lot when they get up to reckless things. This photobomb by her co-star Sarah Hyland, who plays her daughter Haley on the show, is just plain brilliant! It's just the kind of thing Haley would do to her mom if she were to photobomb her, so we give Sarah extra points for hilarity.
Jennifer Lawrence and Michael Fassbender
There was a time when actor Nicholas Hoult was dating Jennifer Lawrence, and they actually met while filming the superhero action film X-Men: First Class. Jennifer and her X-Men co-star Michael Fassbender decided to have a little fun with Nicholas on the red carpet, so they both crashed his photo. And honestly, we can't think of a funnier way to photobomb someone. No wonder Nicholas Hoult can't keep the smile off of his face (though that might also have something to do with his then-lady-love Jennifer).
Nicolas Cage
This photo is so hilarious, it actually generated its own meme about photobombing. The woman in it just wanted to take a picture with her baby and suddenly Nicolas Cage was behind her, waving hello at the camera. The Ghost Rider actor probably just thought he was surprising a fan, but he ended up as a meme for his photobomb, with people saying he'll play in anything these days. Poor Nicolas. You're welcome to photobomb us anytime.
Joe Jonas
What are siblings for, if not to joke around at each other's expense? It's always fun when you're sibling is trying to take a lovely picture with his date, and you realize you have the perfect opportunity to ruin the picture. Singer Joe Jonas felt no remorse when he inserted his silly face into his brother's picture. We're not sure his brother Nick, or singer Demi Lovato, would appreciate Joe stealing their thunder like that.
Cara Delevingne
Model and actress Cara Delevingne is very close friends with fellow actress Sienna Miller. The two have been rumored to be so close, it actually caused trouble in Cara's former relationship with Michelle Rodriguez, causing the two to split up. Well, we can definitely see that close bond between the two in this picture. Only a true friend would photobomb another friend in such a hilarious way, and we're absolutely loving Cara's sense of humor.
Zach Braff
Wedding photos are a big deal for a couple getting married. It's those pictures you hang onto for the rest of your life, to show your children and grandchildren how happy you were on your special day. But this couple would have one more story to tell the grandkids, after Scrubs actor Zach Braff photobombed their wedding picture. He was just passing by when he saw the perfect opportunity to give this couple a special wedding gift – a celebrity in their wedding album.
Dustin Hoffman
In this picture, The Graduate actor Dustin Hoffman proves that you're never quite too old to give a person bunny ears. Not even if that said person is Dame Judi Dench. The fact that she's a Dame isn't stopping this famous actor from unleashing his inner child and giving her a set of ears, for a picture that would make waves for generations. You need to have some major courage to do this, so hat's off to Dustin.
Wil Wheaton
Wil Wheaton saw an opportunity that he simply couldn't pass, when a group of people gathered around to take a photo of themselves. The actor, known for playing Wesley Crusher on the sci-fi show Star Trek: The Next Generation, thought he'd surprise these people with his face added to their picture. We would definitely laughing if we were these guys, and we suddenly found Wesley Crusher making a hilarious face in the back of our picture.
Darren Criss
Darren Criss was feeling playful when he decided to photobomb his Glee co-star, Lea Michele. The stunning actress with the voice of an angel was posing for a picture on the red carpet of American Horror Story: Freak Show premiere. When Darren saw Lea taking photos, he didn't think twice and leaped into the frame, causing Lea to burst into laughter. And it was thankful that he did, as she had just been apparently snubbed by actress Jessica Lange, who brushed right pass her when she tried to greet her.
Kelly Clarkson
If we're lucky enough to meet a celebrity in real life, we usually embarrass ourselves completely. We can't help it when we get so starstruck! But it seems that celebrities can also get starstruck when they meet other famous people. Take Kelly Clarkson, who saw talk show host and comedienne Ellen DeGeneres and her wife Portia de Rossi taking a picture. She decided to secretly join in on the picture, and did nothing to hide her excitement of the starlets.
Kristen Bell
You've gotta love Kristen Bell. The adorable actress who currently stars on the NBC fantasy comedy The Good Place, is usually the smallest (and most hilarious) person around. But she still somehow managed to be seen in the back of this picture, and she definitely makes a great addition to it. The look on her face is priceless, as she photobombs Adam Sandler, Olivia Munn, and Black-ish actor Anthony Anderson. Now that's a fun picture!
Jack Black and Dustin Hoffman
Angelina Jolie is one of the biggest stars in the world, with major talent, charity work, and unparalleled beauty. The actress looks gorgeous on the 2008 Cannes red carpet, taking photos of herself and her baby bump (while she was carrying twins Knox and Vivienne). Fellow actors Dustin Hoffman and Jack Black decided to have a little fun, and pulled a photobombing double act, their heads popping up from behind Angelina. When she realized they were there, she just laughed out.
Justin Bieber
Katy Perry gets photobombed yet again, and this time while taking a photo with her then-husband, British comedian Russell Brand. As if Russell doesn't have enough of a "deer caught in headlights" kind of look in this picture, singer Justin Bieber manages to out stage his facial expression with a crazed look on his face. His face makes this photo so creepy, we have to hand it to him for pulling off a legendary photobomb.
Emma Stone and Andrew Garfield
This photobomb actually has an awesome story behind it. Back when Andrew Garfield and Emma Stone were dating, they were cozying it up while having dinner at a restaurant. And when they noticed someone was trying to secretly take their photo (while pretending to take a picture of her friend sipping tea), they just went along with it and posed for the picture. They photobombed their own picture, outsmarting the secretive fan, and they did so hilariously.
Jon Hamm
Jon Hamm the photobomber strikes once again! This time he's interrupting a photo of January Jones and Kiernan shipka, his former on-screen wife and daughter on the AMC hit Mad Men. It's such a unique family moment, when the dad sneaks into a picture taken of a mother and daughter. Jon plays the role of the embarrassing dad perfectly, in this epic photobomb. We're pretty sure Betty Draper would have none of that from Don!