As a child, some of our fondest memories involved coming home from school and getting all of our toys out to play with until it got dark outside. Nowadays, children have plenty of technology to keep them occupied, but when we were growing up, it was a different story. We had dolls, soft toys, action men, soldiers, toy cars, and books aplenty. It's time to search those boxes in the attic and see what childhood toys you have lying around. You never know what they're worth!
Teddy Ruxpin
One of the famous toys in the world, Teddy Ruxpin was a children's toy of a talking bear that debuted in 1985. Considered as groundbreaking for its time, the bear could move his eyes and mouth while playing tapes from its cassette deck that was installed on his back.
It was one of the first toys produced to simulate real-life animal behavior and movement. In the height of his popularity during 1985-1986, the Teddy Ruxpin was the best selling toy in the United States, although its newer, modern version still captivates children all over the world. If you wish to by the original one, it will cost you around $400.
Lite-Brite
The Lite-brite was originally released by Hasbro in 1967 and was specially designed to teach little children how to spell correctly. However, this toy had a unique way of showing it through creating your own words and by using various templates.
It was a fun family-friendly toy that allowed multiple users to gather around and share in the experience. While the toy itself can be found on eBay for $150 in a boxed, mint condition, his other props will cost you a fortune. Refilling its paper, lights and bonus pegs could cost over a $1000. That's not too bad for a game that hasn't been popular for decades, we'd say.
Beanie Babies
This lovely line of toys was released in 1991 in several variations of animals, enjoying a massive success among the young audience due to it's feel which felt 'almost real' to some.
The beanie babies enjoyed a revival towards the end of the 1990's. Today, one of the rarest models is worth a fortune as the first edition Princess Diana baby is worth almost $475,000! We should have kept our own back then.

Pez Dispensers
Today, the famous Pez Dispensers are considered as a part of America's greatest pop culture icons, featured in many films and TV shows throughout the years.
However, you probably didn't know that these American symbols were originally from Austria. The Pez were famous for their sets of comic books characters, Star Wars, and Pokemon Dispensers. These days, you can find yourself an almost unlimited source of these goodies online for only $8000.
Barbie
Probably the most recognizable toy in the world, Barbie has become a worldwide franchise in every form of media since 1935.
While many of you have some dusty, old dolls boxed up somewhere in your parent's garage, there are others who collect rare editions of these beauties, that could be yours for only $1500. If you think that's rare, try acquiring one of the first edition Barbies, whose price could reach up to $20,000.
Cabbage Patch Kids
Created by the talented 21-year old Xavier Roberts in 1978, this line of sculpted dolls soon started a craze amongst the young generation back in the 80's.
It soon went to become an extremely popular toy during that era and is considered today as one the successful doll franchises in the United States. As part of this 'patch kids' mania, you can find this original 80's Cabbage patch doll for just over $5000.
Strawberry Shortcake Dolls
Strawberry Shortcake started originally as a brand character in a modest scale before being sold to a Canadian Television program.
While she was initially planned to be on greeting cards and posters, strawberry shortcake soon became an entire franchise spanning over toys, TV series, movies, and even computer games. Those of you who still miss it can find this rare item of the brand in her unopened, original package for almost $1000 on the internet.
Original My Little Ponies
Originated in 1981 by Hasbro, My Little Pony sold very well in the 1980's reaching almost $160 Million. Over the years, the series enjoyed numerous revival which produced several re-launches of this little ponies.
Several countries manufactured their own version to this brand, with caused them to be unique, extremely rare and expensive. Comparing them to this item, it is actually a bargain as it costs only $600. So what are you waiting for?
Care Bears
The Care-Bears were first released as toys in 1983, based on their appearance on greeting cards in the United States. The bears were an immediate success, which resulted in a 3-season TV show that was aired between 1985-1988.
Following the show's popularity, it soon went into Syndication in many other countries around the globed and spawned three TV movies which were based on the series. Even today, the Care-Bears are still a success amongst young and old fans alike. This one costs about $5000, while you can also acquire a collection that costs $9000!
Skip-It
If you were a kid during the 1980's. you definitely remember the super-fun Skip-It.
Often perceived as a fusion between a children's toy and exercise equipment, Skip-It appeared on advertisements in many children's programs and became an instant success. It went on to be sold in millions of copies and was included in Time magazine 100 greatest toys. This toy enjoyed a revival during the 1990's, and you can't find one for only $60.
Easy Bake Oven
The Easy Bake Oven was introduced to the world in 1963 and is considered to be one of the last toys that are constantly manufactured until this day.
It has a toy oven. which works with packets of cake and small pans. After mixing water in the pan, it is pushed into the Easy Bake Oven, which removed the cake from the other end. The original toy from 1964 is on sale for only $400, while the super treat center costs around $4,500.
Troll Dolls
These furry-haired plastic dolls of Danish origin were first introduced to the American audience in 1960.
The trolls enjoyed a moderate success until they experienced a renaissance the 1990's, selling millions of unit and appearing movies and video games. Following the trend of returning back to vintage toys, they came back into our lives and even has their movie's theme song sung by no other than Justin Timberlake. This original Troll doll is up for grabs in just $699.
Hot Wheels
All of the boys in our neighborhood wanted these Mattel-made toy cars. In addition, you could buy yourself a separate racing track set and enjoy it with your friends.
While our passion still lies in miniature cars, we now have the money buy them. If you are interested in 13 extremely rare hot wheels from the seventies, you can find them online for a little over $3000. Other retro fanatics might want to buy this lot of hot wheels for $8,500.
Sonic the Hedgehog
Whereas Nintendo was ruling the video games market with the famous Super Mario Bros. franchise, Sega eventually developed their own memorable character of Sonic the hedgehog.
Following several titles and an animated series, Sega decided to release a Sonic Doll figure in order to increase its sales. The figure ultimately became a retro must-have for every nostalgia buff and collector in the world. Now, you dream of defeating Dr. Robotnic together!
Star Wars Action Figures
Following the geeks wildest dreams, Lucasfilm has distributed a line of actions figures based on the original Star Wars trilogy.
While many toys from the series franchise were eventually distributed over the years, the original set became one of the collectors' most acquired positions. This set of nine action figures from the original movie campaign in 1977 is up for grabs on the market for $2000. We know you want it!

Transformers
While the films by Michael Bay in the 2000's may pop up into our younger readers minds, the Transformers first were actually originated in Japan in 1984 as an animated series and a toy franchise.
The series was an instant success with millions of sales of Optimus Prime, The Transformers and the Decepticons. Today, you can go back to your carefree days of adolescence by purchasing the original Voltron Club Lion set for $1300.
American Girl Dolls
We all wanted to have it when we were growing up, and we still dream about it today. Although this American Girl Dolls could be found at reasonable prices online, some people just want more.
If you are indeed a big fan like us, you should know that the largest collection of the American Girl Dolls in the world is for sale on eBay, and only for the small price of $25,000. So what are you waiting for?
Furby
Although it seems that he was always around, the wonderful furry owl-like creature was actually released only in 1998.
Upon its release it became a massive hit amongst children, selling over 30 million units during the first three years. While the Furby is still being manufactured today in an updated version with several new features, many nostalgia buffs just want the original, who could reach to over a $1000 on Ebay.
Webkinz Stuffed Animals
One of the few 'modern toys on our list, the Webkinz stuffed pets were released in 2005 by the Canadian toy company Ganz.
Webkinz managed to rise above the others with a unique feature of providing a secret code with each purchase for the Webkinz website. With the code, the buyer could operate a virtual version of his pet on the website. Today, this collection of pets is offered for sale for $1300
Woody
Toy Story was the animated movie that began it all. The fan-favorite trilogy by Pixar studios, whose debut came out in 1994, became one of the most successful and groundbreaking franchises in the world.
While younger fans became acquainted with the series over the years, figures of the characters from the movies eventually became extremely rare. As you can see, a figure of Sheriff Woody is listed on the internet for over a $1000.
Peanuts
Schroeder was a character created by Charles M. Schultz for the 1951 classic comic strip Peanuts.
While some of you may not recognize him, others will definitely know that he is a friend of the famous character Charlie Brown. Today considered a rare item, this set of Schroder and his piano with the Ludwig Van Beethoven figure is in mint condition, and can be found on several bidding sites for $2000.
Batman
The 1960's version of the Batman animated series is already hailed as a modern classic of Television, while this original action figure from that era is definitely a rare relic of the past.
As it turned out, many fans of the superhero around the globe, children and adults alike, are willing to pay quite a hefty sum to secure this vintage little piece of childhood nostalgia, and only for the price of $15000.
Millennium Falcon Lego
In case you haven't figured it out, Lego has been probably the perfect toy for decades now.
The ability to create your own things, location and scenarios secured its legacy and place in the collectors' hall of fame. When Lego and Star wars unite – it is a match made in heaven, and now even you could have the Millenium Falcon Logo set on eBay for almost $25,000. But what is that price comparing to your favorite childhood memories?
Mario Kart 64
If you grew up in the 90s, then you were around during the video game revolution of Nintendo 64.
There were many popular N64 games, but among the top tier ones was Mario Kart 64, a game that made racing look like the funnest thing on the planet. We are talking about rainbow roads in the sky, and throwing turtle shells on your opponents to make sure they fell behind – at $2,500, we think it's a steal after all these years – don't you?
HitClips
Before mp3 players and IPods existed, let alone IPhones, IPads, and Androids, there was a certain something called HitClips.
This was a tiny little device that enabled you to play one minute clips of your favorite pop songs. You could bring it to school, and place it to your ear and jam out all day long with your friends. You can find them for around $100 right now, which is a lot more than they were back then.
Super Soaker
We're getting excited just reading the word "Super Soaker" – how could we not? These things were pretty much a funnest things you could play with on a hot sunny day with your friends.
They were essentially a series of the ultimate water guns, and if you grew up on the west coast, you'd be hard put to find a household with children that didn't own at least one of these. These days, they can sell for around $600 – and with summer coming, we're actually considering buying one.
Moon Shoes
When you look at picture of the classic Moon Shoes, you can't help but feel a certain sense of 90s nostalgia.
There's just something about the way toys were made in that time period that exuded fun, innovativeness, and ultra vibrant and wacky colors. The funny thing was that the products didn't always work, but when they did, it was marvelous – and going for about $200 today, that's what these shoes were like back then.
Gameboy Color
"Hey man, check out what I got for my birthday last night." "Woah! What is that?" "Cool, right? It's a Gameboy Color.
Like a regular gameboy, but smaller, more compact, and with color – in the game, and on the Gameboy itself." "Wow! I'm so jealous!" We didn't quite memorize that dialogue word for word from our childhood, but that was more or less how things went when the Gameboy Color, now valued at around $1,700, came onto the scene.
Sega Genesis
There were a series of video game consoles that came out toward the end of the 20th century, and they simply blew everyone's minds at the time.
One of these was Sega Genesis, which came out around 1990. The graphics of the video games were pretty awesome, and the jet black color of the console made it look extremely cool. Which games such as Street Fighter and Sonic the Hedgehog under its wings, we're not surprised it's valued currently at $1,000.
Nintendo NES
Before Sega Genesis came out, the kingpin of the video game scene was none other than Nintendo NES.
Perhaps the most popular NES game was, of course, Super Mario Brothers, and this added to its grand popularity. Nintendo has certainly gone through many phases of technological growth, from the NES, to the N64, to Gamecube, and more – but there is something truly perfect about the way the 80s NES was – simply exhilarating to play, we totally support its current $1,300 value.
Dear Diary
If you were a young girl in the 90s, there is a good chance you owned one of these devices.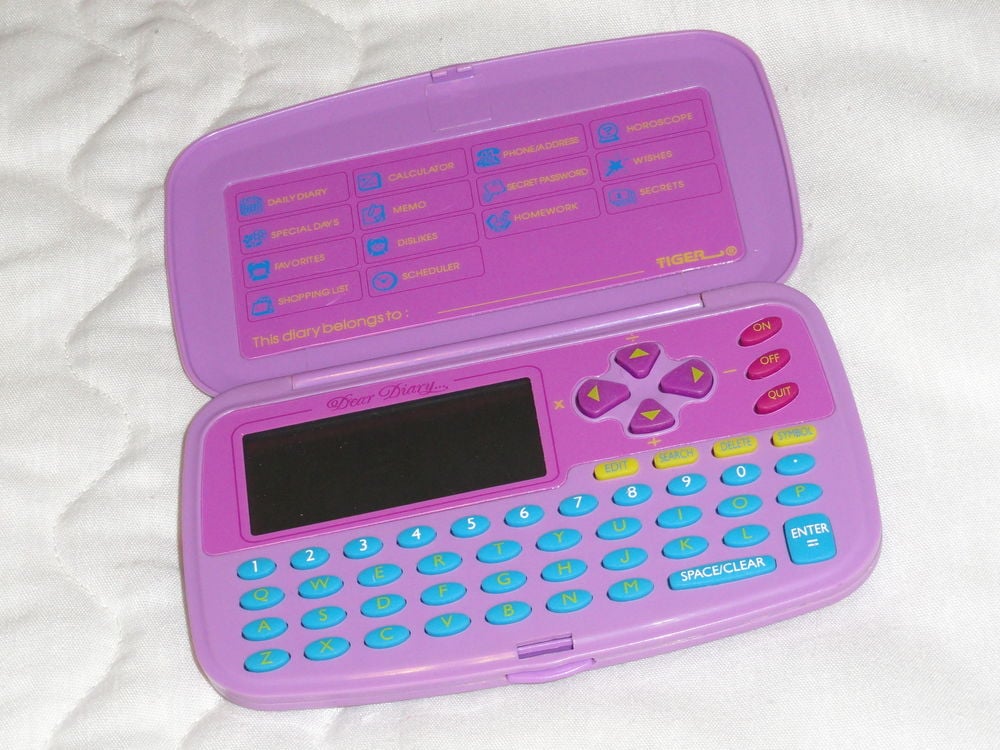 Anyway, writing in a diary is something that a lot of people liked to do when they were kids – but for some people, a neat little technological device such as this made this act a little bit more fun. With its cool little buttons, it was almost a precursor to cell phones – and that's why it's currently valued at $200.
Talkboy
In the early 1990s, Tiger Electronics manufactured The Talkboy, a portable cassette player that was very practical for many individuals before the age of CD players.
It's currently valued at $130, and although we know it's hard to imagine a time where something like a cassette player may have seemed necessary, believe us – people have always needed their music on the go. Also, the fact that this thing was portable was considered a huge breakthrough at the time – and did we mention it's also a recorder?
View Master
Ahhh, nothing like the good ol' View Master. No joke, but we're not sure if anything quite like this thing has ever existed since, and we're pretty confident it will stay that way.
Currently valued at $430, there is nothing that can beat the excitement a young child feels when they place their eyes on the View Master lens, knowing that they have no idea what they're about to see. And then, of course, they get to place another slide in there, which is just as fun.
Polly Pocket
With its name coming for the original pocket-sized dolls, the Polly pocket became a production line of dolls and other accessories.
As a result of that, many toy companies manufactured different Polly dolls such as the Fashion Polly dolls and the bluebird dolls. Due to lack of popularity, the production of the dolls ceased in 2015, turning the remaining merchandise into collectors' items on eBay and Amazon. This 1995 edition of Fashion Show Polly Pocket will cost you around $700.
Tamagotchi Pets
Back in the day, this Japanese invention took the entire globe by storm. Everywhere you looked, you would see hundreds of people staring down, taking care of their virtual pets.
Although its grace slowly faded towards the end of the millennium, The Tamagotchi pets made a come back to all those retro and vintage collectors. You can find this toy in mint condition unopened for a fairly expensive price of almost $2000.
Pokemon Cards
Revered as one of the greatest pop cultures phenomena in the world, Pokemon toy sales outgrew most of the classics due to their diverse fan base of geeks and machos.
Where if it's on TV or a video game, Pokemon does not seem to fade away. For those of you who'd like to acquire a complete set of Pokemon cards from 1999, it could cost you up to $6000. If you wish to have the hologram card people, you'll have to say goodbye to almost $7500.