Many of us have grown to know and love the royal family over the years thanks to their incredible work all around the world. Plus, the younger royals are starting to come to the forefront of the media attention, and they look like they mean business. We now have a generation of Windsors that have brought the royals back down to a relatable level. Their events teamed with their charity work have made them some of the favorite royals since Princess Diana. Will they be able to keep it up? As they continue to spread the joy, their family continues to grow. Now there is about to be another addition: Meghan Markle.
---
---
Only, it seems as if this actress could be in for more changes than anyone before. Growing up in Hollywood means Meghan has always been surrounded by change. Just take a look at the likes of Kelly Osbourne, Emma Watson, and Robert Downey Jr. These famous faces have all completely transformed over the years from youngsters to fully-fledged Hollywood stars. Meghan has learned to adapt and go with the flow thanks to her time on the red carpet, but just how far has she come in her complete transformation? Plus, will she be able to keep adapting now the royal rules are set to change her life? Only time will tell…
Changing her ways
Many stars have changed over the years as the fashions come and go. One minute it could be all about those chunky highlights then the next you need natural looking hair to stay ahead of the times. What about clothes? Jeans are back then they're gone, stripes are sometimes a thing, and occasionally it's acceptable to wear your sweatpants out of the house. If there is one person that has been under the microscope for her incredible change, it's Meghan Markle. From actress to duchess, how has one person been able to keep up with such a transformation? It seems as though she has been practicing for years…
Carving an identity
Rachel Meghan Markle was born on August 4, 1981, in Los Angeles. However, having a Caucasian father and African American mother left the youngster feeling confused. In fact, the star recalls a time during seventh grade when she was given a form to fill in about her details, but there was one question that left her stumped – her ethnicity. Meghan had no idea what box to tick and opted to leave the answer blank. It wasn't until she spoke with her father many years later that Meghan learned how to make herself stand out from the crowd. Now, she has grown into a strong, independent woman who loves everything about her background!
Freckle envy
Many of us grow up with freckles, but Meghan admits it always left her feeling confused. How was she supposed to know where she fit in, let alone how to work her natural looks? However, it was after talking to her dad that the future royal learned to love her additions. Meghan reports that her dad asked what the night sky would look like without the stars. According to the actress, this is the mantra she now uses to describe her freckles as well as inspire others.
Starting young
It isn't always her dreams of acting that have kept Meghan going. No, this star has been fighting for feminism ever since the tender age of 11. After the boys in her class made comments about a commercial aimed to help women in the kitchen, young Meghan returned home to write to as many powerful women and female politicians as she could. Her letters were so powerful the commercial was changed from being aimed at women to the nation in general.
Returning to the dream
According to many sources, Meghan Markle has always dreamed of becoming a princess. In fact, the youngster first visited Buckingham Palace when she was still in school as her class took a field trip across the pond. Could this have been a sign of what was yet to come? Many people would have thought it was just another tourist taking yet another picture with the famous building. However, many now consider it a sign that Meghan and Prince Harry were destined to be together.
Finding her feet
It can be tough being a teenager as the struggles of fashion and looking good become more and more important. With no sign of Buckingham Palace in her sights just yet, Meghan was one the leading fashionistas in her neighborhood. At 17 years old, Meghan was rocking her natural curls rather than the sleek shoulder-length 'do we are so used to seeing today. Maybe her curls could be set to make a comeback after all these years? Although, we're not sure it would fit the image.
First taste of stardom
Back in 2005, Meghan Markle made one of her first appearances on the red carpet – and what a look it was! Before the days of the sparkly dresses and glamorous heels, this actress arrived with a baseball cap and slogan tee. To top it off, Meghan even brought along an oversized purse as she rocked her natural makeup look. Her style has certainly changed over the years as her hair and makeup have become an important part of her look.
Briefcase girl
Meghan wasn't always the star that we know and love today. In fact, her life was the complete opposite. Before landing any major roles, the actress was the "number 24" briefcase girl on the TV game show Deal or No Deal. Meghan would stand for hours as she waited for someone to choose her number. Unfortunately, it was one of the most unpopular briefcases on the show meaning the young star would often be waiting around for most of the day. If only the contestants knew they were talking to a future royal all those years ago…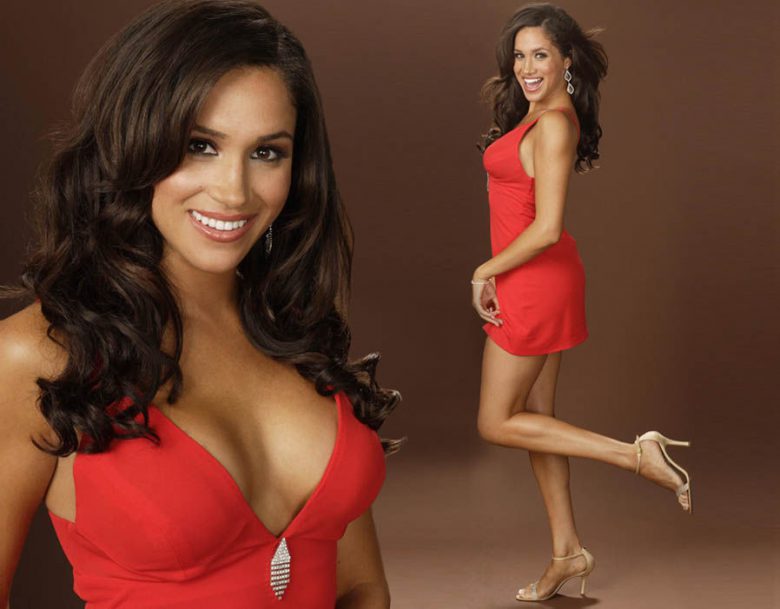 Born for pearls
The noughties were a crazy time when it came to defining your makeup. Glitter, colored mascara, and loud eyeshadows were all part of the craze as everyone tried to stand out from the crowd. Meghan Markle was no different. In fact, this actress opted for some blue 'lids, much like her late future mother-in-law, Princess Diana, used to rock. To top it off, the actress also accessorized with some fake pearls for the occasion. It seems as though Meghan might have been a princess in waiting all this time.
Travel bug
Although Meghan is used to traveling for work, she has always admitted that she loves a staycation. Why? Meghan has reported that it means you can catch up on the world around you, take in your local city, and avoid the cost of any travel. While money might not be an issue for much longer, it looks as though Meghan will have to get used to traveling to keep up with all her royal duties. After all, she will be in the world's public eye once she's become the newest face of the prestigious royal family.
Changing 'do
Shortly before landing her career-defining role on the legal drama Suits, Meghan was still climbing her way through Hollywood thanks to her smaller parts. As her career began to take off, so did her need to adapt to the times. Long gone was the darker 'do we grew to recognize and in came the lighter, straighter haircut of the time. However, it wasn't long before the actress returned to her previous style. It looks as though this was one change too far.
Suited and booted
Landing the role of Rachel Zane on Suits did more for Meghan than change her career. For the first time, she was given a character that she felt made a real difference to the world. In fact, the actress reported that the part would have usually gone to a blonde woman. However, her confidence landed her the chance to create a new "dream girl." Meghan marks it as a huge moment for many families as they now had a leading biracial character on their TV screens rather than the typical cast found on the sets of Hollywood.
World of modeling
Shortly after breaking into her life-changing role on Suits, this actress was inundated with offers to model, and who could blame the photographers? Long gone was the innocent actress that had been hiding behind a briefcase. Now, the world was getting to see the serious side of Meghan that had lay in wait for so long. The snaps first emerged in 2013 after Meghan signed up for a shoot with the magazine Sharp. The world was quickly falling for the new star.
Bachelorette number one
Before the big royal wedding, Meghan enjoyed a bachelorette very unlike the one for her first wedding. Before her first trip down the aisle, it is rumored that the bride-to-be enjoyed four days of partying and playing games, and was even having fun on the beach just hours before the big ceremony. The actress even found time by the pool to relax with her mom before saying "I do" later in the day. Although she may have had fun, Meghan's latest bachelorette was far tamer as the girls enjoyed a weekend at a spa instead. Far more royal.
Need for privacy
It seems as though Meghan's need to keep her life private won't be much of a transformation when she becomes an official royal. The actress has always tried to keep her private life away from the media, especially following her divorce from actor Trevor Engelson back in 2013. The press was quick to try and dish all the dirt they could find about the split but were left disappointed when the actress refused to speak. At least this is a skill she has been practicing for years.
Brand new look
Coming out from her divorce marked time for a change for Meghan. After all, this is the perfect excuse to spice up any look. However, it was certain facial features that got everyone in the world talking, Had she had cosmetic surgery? Many rumored the actress had undergone a nose job while others added they believed Meghan had got filler injected into her upper lip. Hollywood can be the ground for many transformations, but did she head under the knife?
Silver fox
Back when Meghan was still in Hollywood, the actress was free to do and wear whatever she liked – including filming a rather intimate scene with a fellow actor on Suits. So it might be no surprise that the actress was used to showcasing her pins in plenty of show-stopping dresses over the years. From lace numbers to mini skirts and everything in between, Meghan has always been at the forefront of fashion as she makes her own style come to life.
Love of the nation
It may be no surprise to hear that Meghan was building herself quite the fan base from all her hard work. As well as winning everyone over with her time on Suits, Meghan had plenty of online followers that couldn't wait to keep up with the star's moves. However, they weren't her only fans. Meghan was gaining a number of suitors that all wanted to walk her down the aisle. Unfortunately for them, it looks as though there was only ever one man that could steal this lady's heart.
Woman in red
2016 marked the final year before Meghan found herself tangled into the royal family, and she was determined to continue being the star we have grown to love over the years. So what did she do? Rock the red carpet, of course. Meghan wasn't here to blend in as she arrived with a full face of makeup including some deep red lips and a set of false eyelashes. Although she rocked the outfit, Meghan's makeup bag is about to be in for an overhaul.
Blind date
The royal engagement may have been announced in November 2017, but Meghan had been dating Prince Harry for over a year before there was a ring. According to the actress, she didn't know that much about the prince before they met. All those rules and regulations from the royals were still yet to come! The feeling was mutual – Prince Harry barely knew anything about the actress either. However, all it took was one blind date, and the pair fell head over heels for one another.
Selfie Queen
Meghan was once queens of the selfies when it came to her Instagram account. However, it looks as though becoming a real-life royal has created a huge change in this star's life. No longer will she be able to post whatever she likes to the internet. Instead, Meghan must go through the royal social media accounts to get herself online. Will she be able to stay away from the camera, or is this one change too far?
Fitness fanatic
This star has always loved to keep on top of her fitness, with yoga and jogging being her two most favorite sports. In fact, Meghan would often share snaps of herself twisting into all kinds of poses on Instagram before her account disappeared. However, now she is part of the royal clan, we won't be seeing any more snaps of Meghan during her workouts. In fact, Meghan's dress sense has already changed a lot since her engagement.
Rekindling an old love
Doing yoga isn't a new passion for Meghan. According to the star, she first fell in love with the sport when she was a child thanks to going to classes with her mom. As the years continued to pass, Meghan carried on bending and flexing into all kind of poses until she got the perfect Instagramable snaps to share with the world. Although Meghan will continue with her stretching, we won't get any more behind the scenes access. Now we just have to live with the ones we already have instead.
Time to blog
For many years, Meghan ran a travel, health, lifestyle, and food blog named The Tig. Here, she gave fans an insight into her life as well as creating a community of love. Her blog gave everyone a chance to see the inside details of the star's life that we don't usually get to see. However, the site was closed down shortly after her engagement to Prince Harry. We once got to learn all the in-depth thoughts of Meghan, but now her transformation means she is set to lead a much more private life.
Clothing line
Back in 2017, Meghan put her fashion foot forwards in more ways than one as she began designing clothes for Reitmans, one of the leading fashion retailers in Canada. As well as developing the outfits, Meghan even went as far as to model many of the looks that quickly became hits all around the world. The news may have been out about her star-studded relationship with the royal family, but Meghan was determined to continue doing her own thing.
Continuing to fight
Meghan's battle for women's rights may have begun back when she was still a child, but the actress has admitted she will always be at the frontlines of any debate when it comes to getting women what they need. Prince Harry, Prince William, and Kate Middleton have been highly involved in the mental health charity Head Together. Although Meghan supports her fiancé, she also wants to use her newfound fame to continue fighting for feminism.
All white
Long gone are the days of lace dresses and skyscraper heels. No, this future royal has now adapted her fashion to suit the standards of the royal family. Now, we are much more used to seeing Meghan dressed in conservative outfits, such as a matching white coat and beret combo. Plus, the colorful makeup is now a thing of the past. Instead, Meghan opts for a much more natural look that compliments her flowing hair with ease.
Father/daughter love
Meghan was once incredibly close with her father, Thomas Markle. However, this future royal now has more to worry about than her family relationships; she has to think about the entire royal family, too. So when it was revealed her father had staged a photo shoot with the press following a recent heart attack, Meghan was forced to boot him from the wedding party. It seems as though her transformation to the top may have affected more people than anyone once thought.
Change of pace
Before this actress was the star of the show, she nevertheless stood out wherever she went. However, it looks as though the future royal is now much happier to tone down the outfits and blend into the crowd. To top it off, we no longer get to see Meghan rocking the red carpet as we once did. Instead, we see the star on the arm of her new beau as the pair now come as a package. No more are there the show-stopping dresses. Now it's all about those neutral colors.
Keeping it natural
It isn't just Meghan's wardrobe that has had an overhaul since moving into the royal house – her makeup bag has also been wiped of all colors and bold shades. Instead, Meghan now opts for a more relaxed style, such as a low-hanging bun and natural lip shades. To top it all off, Meghan no longer wears her signature false eyelashes. Instead, the former actress keeps it calm with some natural-looking mascara and a touch of eyeliner.