Clint Eastwood rose to fame in the 1960's as the embodiment of the all-American Macho in cult classics including the TV series Rawhide and Sergio Leone's Spaghetti Western Dollars trilogy. He later became known as Harry Callahan in the famous Dirty Harry series, while appearing in many different genres. Upon switching to being behind the camera, Eastwood became an award-winning director while remaining active in politics and other issues.
Here are some juicy stories behind his career, marriages, ugly divorces, rumors and children. 
---
After serving in the United States army during the Korean war, Eastwood decided to move to Hollywood at a friend's advice to pursue a career in acting. That passion will become a signature mark for Eastwood as it will motivate him in everything he touches.
After a brief period of small roles in the movie industry, Eastwood rose to fame in the 1960's as the embodiment of the all-American Macho in cult classics such as the TV series Rawhide and The Man With No Name in Sergio Leone's Spaghetti western Dollars trilogy. He later became known as the anti-bureaucratic Harry Callahan in the famous Dirty Harry series, while also appearing in many different genres. Over time, the actor would follow his dream to switch places and to work behind the camera.
The talented Eastwood became an award-winning director while exploring different themes and genres in films such as Unforgiven and Million Dollar Baby. Eastwood was also always involved with music, as he played and sang occasionally and was known as a devoted fan of Jazz and Blues. His love life was always making news, as this symbol of masculinity was known for his numerous relationships with women through the years.
Many of his children chose to follow his footsteps and to pursue similar interests such as acting, filmmaking, and music. His passion was also for politics and the actor and director had a brief stint as Mayor of his city of Carmel-By-The-Sea, California during the 1980's. Even today, Eastwood is still a full-fledged movie maker while still remaining active in politics and other issues. Here are some stories behind the good and the bad Clint Eastwood. Go ahead, make our day.
Before the scandals: a heavy baby
Clinton Eastwood Jr. was born in in 1930 in San Francisco, California to a working-class family who originally descended from the legendary Mayflower. Shortly after he was born, the hospital nurses gave him a unique nickname. They nicknamed him "Samson" and the reason for that was his unusual weight. Eastwood weighed almost 12 pounds when he was born, almost double than an average baby.
Role of a lifetime
Although we are all familiar with his legendary role as The Man With No Name in Sergio Leone's Dollars trilogy, Clint Eastwood was not the first choice for the part. The role was offered first to Famous figures such as Charles Bronson, Henry Fonda, and Richard Harrison. Harrison was, in fact, the one who suggested Eastwood for the part. Although Leone wasn't keen on signing him for the lead role, he eventually cast the enthusiastic actor who wanted to diversify his acting career.
Successful director
Throughout his life-spanning career, The extremely talented actor and director won a total of four Academy Awards. He won Academy Awards for Best Director and Best Picture for his movies Unforgiven (1992) and Million Dollar Baby (2004) while receiving nominations for Best Actor for both of them. In addition to that, Eastwood has also earned numerous Academy Award nominations for other great movies such as Mystic River, Letters From Iwo Jima, Changeling, and American Sniper.
Actor and Mayor
After disagreeing with the governing body in his beloved town of Carmel-By-The-Sea, California, Eastwood then announced that he would run for office as the town's Mayor. Against all odds, he won the municipal elections in 1986 and was a governor for two years. During Eastwood's term, he focused on constructing local amenities such as its library and car parks. In addition, the actor also helped to revitalize small businesses in the area. After two years in office, the actor decided to go back to filmmaking but is still very much interested in politics.
Saving a friend
In contrary to his ultimate anti-hero character in the Leone's Dollars trilogy, Eastwood actually saved a few lives. During filming, He and his co-star Eli Wallach did a scene where a bridge was supposed to explode. Eastwood sensed that something was not right, and he urged his co-star to retreat to a safe place, to which Wallach agreed. A minute later, the bridge was accidentally blown up due to a confusion on set. Wallach could have died if it weren't for Eastwood's advice.
His marriages
Over the years, Eastwood's name has been involved with many famous and less known women, such as Catherine Deneuve and Peggy Lipton. Although he had countless relationships and affairs in his life, Eastwood was only married twice. He married his first wife Maggie Johnson, who was a swimsuit model, in 1953. After having two children together, they divorced in 1984. His second wife was former TV hostess Dina Ruiz, whom he married in 1996 and divorced in 2014 (we'll come back to it with many more juicy details).
Wayne vs. Eastwood
Clint Eastwood used to act in Westerns with John Wayne. During one scene when Wayne was filming, there is a saloon fight including a bunch of different adversaries. At one point, Wayne's character has the chance to shoot another character in the back, and Wayne refuses to do so. When told that Clint Eastwood would have done it, Wayne said "I don't care what that kid woulda done, I don't shoot 'em in the back."
Met first wife on a blind date
Clint Eastwood's first marriage was to one Maggie Johnson who Clint met through a blind date. They were quickly engaged and married, but the union proved to be tumultuous. Clint thought he was too young to get married, and so he called the marriage off. While he was engaged to Maggie, Eastwood had an affair with another woman and allegedly got the woman pregnant. The resulting child was given up for adoption.
Another relationship
Eastwood met actress Sondra Locke in 1972 and they began dating while he was still married to his first wife, Maggie Johnson. Locke, who was also married at the time to a close friend, moved to live with the actor in his home in California. From the beginning, Eastwood did not accept her close relationship with her husband, whom she had a strong relationship and friendship. After a few years, Locke and Eastwood had separated. Unbeknownst to her, Eastwood was unfaithful to her for most of the time.
The other family
Initially, The actress was unaware of Eastwood's infidelities until she was contacted by a journalist, who then informed her about his other family. It was later revealed in an expose article by Star in 1989. The tabloid reported that Eastwood was having an affair with flight stewardess Jacklyn Reeves for a number of years. As a result of their relationship, Reeves bore him two children (Scott and Kathryn) although the birth certificate reportedly said: "Father declined".
A shocking book
Sondra Locke was Clint Eastwood's long term girlfriend who lived with him for over 13 years. The two met while on the set of The Outlaw Josey Wales, and while Eastwood was still married. Locke ended up writing a tell all book that got released in the mid 1990s titled The Good, the Bad, and the Very Ugly, and revealed a whole wealth of information. One of our favorites – Clint Eastwood allegedly liked to be called "daddy."
Bedtime talk 
There are some other shocking secrets from Clint Eastwood's life hidden within the pages of the book. One of these revelations includes the fact that one night, Clint started having fun with Sondra Locke, and his version of bedtime talk was asking her if she had flossed. He also allegedly did not like to keep up with the news, having no idea who Barbara Walters was for instance.
 The dirt is out
Locke clearly had a bone to pick with Clint Eastwood, and even went so far as to claim that Eastwood forced her to terminate two of the pregnancies he caused her, as well as forcing her to become sterile. In an interview with People Magazine, a friend of Clint's says that he would not be surprised if this was true, given that Eastwood is a moral person and believes that a mother and a father should be married.
The lawsuit: "sabotaged my career" 
A huge lawsuit whereby Sondra Locke sued Clint Eastwood ensued due to the fact that she claimed that Eastwood single handedly sabotaged her directing and filmmaking career. After a palimony suit – which is like a divorce settlement but between two unmarried people cohabiting for a long time – the couple settled out of court. Clint's representatives said that he was happy with the decision, while Locke held a press conference saying she will never have to work again.
The payoff
Clint Eastwood bought Sondra Locke's former husband Gordon Anderson a house in Bel Air, California. Anderson, a sculptor by trade, had never consummated his marriage with Sondra despite marrying her in 1967. Anderson was always in the picture, and him and Sondra behaved more like close friends or even siblings than they did a married couple. It was quite an odd situation by any means.
Girlfriend 33 years younger
Clint Eastwood has been dating a woman named Christina Sandera since 2015. However, it is interesting to not that Sandera is a whopping 33 years younger than Eastwood. The two met while Sandera was working at a hostess at the hotel that Clint owns. Recently divorced, her ex husband said in court papers that Sandera has a problem with drinking and as well is typically only out for money.
A gorgeous daughter
The American actor has been spreading his glamor genes very well. His gorgeous daughter Francesca his making a name for herself in Hollywood as a model and an actress. The redhead beauty is the daughter of Eastwood and Frances Fisher (Famously known for her role in James Cameron's Titanic). Francesca is double trouble, appeared as a model in many famous magazines while securing slots in movies such as Outlaws and Angels. We can't wait to see what she's up to next.
Not so shy
Francesca Eastwood, Clint Eastwood's daughter, has been really getting in the news a lot lately, mainly for all the movie roles she has been reprising, including Fargo and Outlaws and Angels. However, she is also getting more noticed for her figure, having lost a ton of weight and getting certain parts of her body allegedly surgically enhanced. She is certainly looking amazing – and hopefully is planning another role.
Married to Jonah Hill's brother for a week
An interesting fan fact, Clint Eastwood would probably like to forget. His daughter Francesca is only 23 years old and was already married twice. Her first marriage didn't last long and was annulled after a week. The happy husband by the was was no other than Jonah Hill's brother.
Marriage ended because of a TV show
Dina and Clint Eastwood were the couple everyone wanted to be. However, the two split in a fiery breakup, allegedly due to the fact that Dina and her daughters Francesca and Morgan were on a very popular reality television show. Clint is a man who enjoys his privacy, so we can only guess how upset he must have been to have cameras and producers running around his house constantly. Clint then went on to date his ex-girlfriend, Erica Fisher, causing Dina to check herself into rehab.
Daughter #2: The cover girl
Alison Eastwood is the one who got married to the aforementioned wood cutter. The couple actually had a Country Music Television reality show filmed about them and the Stacy's wood sculpting business. Alison is one of Clint's older daughters, and has herself appeared in several of his movies. She went to study acting at UC Santa Barbara, but for unmentioned reasons was unable to finish. However, she does do a lot with animal rights. She also has several not so PG photos. She also was on a cover of a Playboy magazine in 2003.
The military service
He was drafted by the United States Army in 1951 during the Korean War and was supposed to be sent to battle. Allegedly, Eastwood managed to avoid his posting to war by charming a high-rank officer's daughter and was sent instead to be a lifeguard in Ford Ord, California. These skills came in handy as he used them when a plane he was flying on crashed in the ocean. Eastwood swam three miles to shore and later confessed that he thought he might die.
The same poncho
As it turned out, Eastwood actually wore the same poncho in all of Sergio Leone's Dollars trilogy – A Fistful of Dollars, For a few Dollars More, and The Good, the Band and the Ugly. In addition to that, Eastwood commented that he never washed it. When being asked about it, the actor replied that he would wash the poncho it would fall apart. Despite all of that, Eastwood still has the poncho until this day.
Practicing meditation
Eastwood revealed that in contrast to his public gritty, hard-boiled image, he had actually been meditating for more than 40 years. In his words, he practices transcendental meditation almost every day that helps him in to keep himself in balance. Eastwood explained that although he does not believe in any organized religion, he believes in any self-help that could help him. He also commented that although he considers himself agnostic, he can sympathize with religious people.
Dangerous stunts
When Eastwood filmed The Eiger Sanction in 1975, he took his psychical abilities to the limit. Before the shooting, he realized that his stunts were too dangerous for his stunt double to perform and decided to perform them all by himself. Eastwood then underwent exhausting training, including climb courses, mountaineering, and rope climbing. While today all of us are accustomed to special effects and CGI, the film had no special effects and Eastwood did all the dangerous stunts by himself.
The next president
Reportedly, The American actor considered himself for the presidency during Ronald Reagan's first term. During an interview, Sondra Locke, one of his former partners recalled that it happened when they passed the white house in their limousine. Eastwood then turned to her and said that, "all of this could be theirs". Eastwood himself remembered seeing Reagan speaking to the fellow actors as the Screen Actors Guild president, saying to himself that Reagan could be a great politician.
Local hero
While he is considered an all-American hero, The revered actor and filmmaker also earned the title of a local hero. While attending a Gala event before a golf tournament he was due to participate in, Eastwood recognized one of the members, 50-year old Steve John, choking on a piece of cheese. The actor ran to him and performed the Heimlich maneuver which saved his life. John later revealed that the actor looked at him and knew what was happening to him within seconds.
Like father, Like Son
Eastwood's youngest son Scott was a result of his relationship with flight attendant Jacelyn Reeves. Due to the fact that he looks almost like the younger version of his father, it only seemed reasonable for Scott to follow his father's footsteps in show business. Scott appeared in many of his father's films Including Flags of Our Fathers, Invictus and Gran Torino. Today, the young Eastwood can be seen in Suicide Squad and the future installment of Pacific Rim.
Stranger than fiction
After acting in Hollywood for many years, Eastwood finally fulfilled his desire and went to work behind the camera as the director in Play Misty For Me in 1971. His directorial debut is a psychological thriller about a female fan who stalks a radio jockey (portrayed by Eastwood). However, life became stranger than fiction for Eastwood as a real-life stalker broke into his house. The stalker was a disturbed fan who claimed to be Eastwood's son, and he forced the actor to contact the authorities.
Estranged daughter
Back in 1964, Eastwood an affair with the actress and stuntwoman Roxanne Tunis after meeting on the set of the TV series Rawhide. Unknown to him, Tunis became pregnant but managed to hide it from him. It was later revealed to him that she gave birth in June of that year to his daughter Kimber. Over the years, Kimber and Eastwood's relationship has been rocky and she even described them being "Estranged from each other".
The secret
Apparently, once Eastwood learned of his daughter's birth he tried to hide her existence. Unfortunately for him, hiding such a big secret in a small town like Hollywood is nearly impossible. Years later, the secret was revealed to the public in a published article by the Enquirer in 1989. Various sources claimed that Eastwood's first wife, Maggie Johnson, was completely aware of Kimber's existence. According to them, Eastwood and Johnson were conducting "kind of an open marriage".
The French connection
Throughout his life, Eastwood has been receiving consistent critical praise in France and has many fans there. Surprisingly, some of his films were even more successful and critically-acclaimed there than in the United States. As an appreciation, the country has awarded the American actor two of her highest honors; in 1994 he received the recipient of the "Commander of the Order of Arts and Lettres and in 2007 he was awarded the Legion medal of honor.
Changing his views
Clint Eastwood has been a lifelong supporter of the Republican party ever since his first presidential vote to Dwight D Eisenhower. However, In his later years, Eastwood changed his political views and said that he now leans toward the Libertarian party. He accounts this change of point of view due to a growing sense of anti-bureaucracy and to his age. In this matter, Eastwood commented that to his belief, the government should stay out of people's way.
Father figure
In a recent interview, Eastwood admitted that despite his status as 'the ultimate cool guy' he was still considered a 'dork' by his younger children. He recalled that they would ask him to drop them a few blocks before their school location so they won't be seen with him around their friends. After a few times, Eastwood began to realize that they were actually embarrassed by him. He said that only later in their lives, they would understand who their father really was.
Runs in the family
Music surely runs in the veins of the Eastwood Family. His oldest son, Kyle, chose to follow his father's passion for music and he became a professional Jazz musician. Kyle plays on electric bass, fretless and double bass, and composed various pieces for his father's movies such as Mystic River, Million Dollar Baby and Letter From Iwo Jima. Kyle said that his father was very supportive of his career and of his serious approach to music.
One take
Clint Eastwood became famous in Hollywood for being frustrated by directors in movies he played in. Eastwood would often comment that he was bothered by directors insistence to re-shot scenes multiple times until perfection. When the actor began directing in the 70's, he decided to avoid doing all the things he hated as an actor, meaning he would usually film only one take for each scene. As a result, he would often finish filming on time and within the budget.
Secret operation
In the 1980's, Eastwood was involved in a semi-scandal involving President Reagan and National Security. Apparently, he read an article about a Colonel lieutenant called James "Bo" Gritz. Gritz, who was a Vietnam-decorated green beret, had been trying to raise money for a secret operation in Laos in order to rescue American whom he claimed were POWs. Eastwood contacted Gritz, who asked him to direct a movie on the Thailand border as a diversion for them to sneak into Laos.
The plot thickens
Eastwood had agreed to fund the mission and he and Gritz met with Reagan to discuss the operation. Although eventually being asked by a member of the National Security Council not to pursue any further, Gritz and Eastwood continued with the plan. After an ill-fated training day in Eastwood's farm, the actor then decided to withdraw from the project. Gritz continued on his own and was eventually captured during his mission in Laos. He was later released.
Advocate of legislation
Few people know that the all-American hero is, in fact, an avid supporter of firearms legislation since 1973. Although he made most of his career by often portraying trigger-happy characters, Eastwood has a strict firearm control policy and believes that there should be a mandatory waiting period before owning one. He himself commented that these themes of anti-firearms and anti-violence could be seen in his last westerns, especially in the 1992 Academy-Award winning film Unforgiven.
Interview with Barbara Walters
Eastwood conducted a special, intimate interview with Television hostess Barbara Walters for her show in 1982. During the conversation, which took place on Eastwood's private ranch, they spoke openly about his persona and his reluctance to reveal his life completely to his partners during their relationship. Walters commented about his 'reputation' for being a secretive partner, in which Eastwood then admitted that to his belief, knowing everything about your spouses is not always a good thing.
The flirt
According to Eastwood, there are things that should be kept as secrets. The actor smilingly added that knowing everything about your partner could be boring, and also wondered about these women's motivation to all know about him. Walters replied to Eastwood, saying that she understands that there's a middle between a person public and secret life. The actor then tried to flirt with Walters, saying that they should both "Check it out and see how it goes".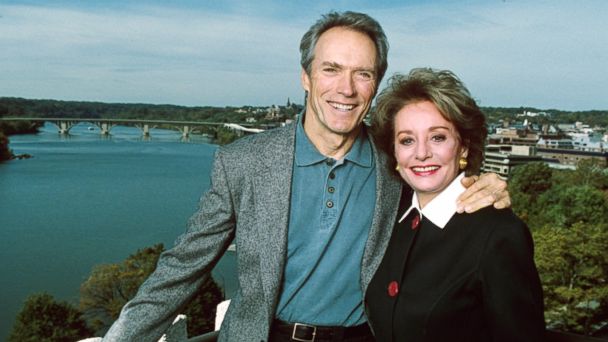 Barbara's regret
Walters was shocked by flattered, and she offered him to 'take it slow' by starting doing several interviews and to see how it goes from there. In her words, she was surprised when Eastwood called her the next day, asking to take her on a date. Walter declined his offer, although she commented on that interview in her "30 years, 30 mistakes" special program in 2006. She then revealed that she later regretted not accepting his proposal.
Friends in high places
While filming his 1997-political thriller Absolute Power in Washington D.C, Eastwood originally planned to shoot outside the Treasury Building when suddenly a fire broke inside. While the citizens were evacuated from the area and many surrounding streets were closed, Eastwood's filming went according to plan. As it turned out, because of Eastwood's image and friendly relationship with the secret service the film crew was allowed to film what they needed. In their words "you can only film because of Clint Eastwood".
The special script
Megan Rose, who worked as a story analyst for Warner Bros. studios, claimed to have given Eastwood a script called The William Munny Killings in 1983. According to her, Eastwood bought the script at her advice after Francis Ford Coppola passed on the project. He then promised to pay her a finder's fee if it will be filmed. After several years and a series of box-office flops, Eastwood decided to finally give the script a shot.
A gold mine
Dring that time, Rose was unemployed for a year due to suffering from Lyme Disease. In 1991, after reading the script again, Eastwood called it a "gold mine" and decided to change its name to Unforgiven. When the film went into production, Rose approached Eastwood, reminding him about his promise for her finder's fee for the script. To her amazement, Eastwood denied that any promise took place as said that the script was simply offered to him a writing sample.
Missed success
The film went on to become a huge success, both critically and financially, earning Eastwood two Academy Awards and is considered today as a modern classic. Rose was devastated and suffered a nervous breakdown. Every time she remembered it, she began to cry. According to her, he would have never seen the script if it weren't for her advice. Nevertheless, Rose added that she forgives him for what he did and still believes in him.
Daughter #3: Morgan
Morgan Eastwood is the youngest one of the Eastwood daughters. The product of a union between Dina Eastwood and Clint Eastwood, Morgan is 20 years old. She appeared in several of her father's films, but other than that, had a relatively un-noteworthy childhood. One would say that she even had a normal childhood, but come on, let's be real, no one living in the Eastwood household has a normal childhood.
Daughter #4: Kathryn
Kathryn Eastwood grew up with no spotlight and none of the perks that any of her half sisters got. This is because she was born out of wedlock while Clint Eastwood was having an affair with her mother. In fact, Clint refused to claim the children as his own for a very long time. Perhaps proving the Clint is indeed not the father, Kathryn's birth certificate even says "Father: Declined."
Learning from the best
In the Eastwood family, directing is indeed a family business. The American actor and director collaborated with his daughter Alison Eastwood, who is also a director herself, in the productions of her film Battlecreek. Alison is the daughter of Eastwood from his first marriage to Maggie Johnson, and she appeared in several of her father's films such as Midnight in the Garden of Good and Evil as a child, before deciding to work behind the camera.
The next James Bond
Clint Eastwood declined an offer no one else could refuse. After 1971's Diamonds Are Forever, Sean Connery declared that he wouldn't be coming back as James Bond. Before deciding on Roger Moore, The Secret agent's role was then offered to Eastwood, who chose to dismiss it. The actor recalled that while he was flattered by the offer and the generous paycheck, he felt it was "somebody else's gig" in his words. Eastwood also believes that James Bond should be played by a British actor.
Made his day
In the beginning, Eastwood was not even considered to play his famous role of detective Harry Callahan in Don Siegel's Dirty Harry. While initially, the producers thought of Robert Mitchum and Steve McQueen, they wanted Frank Sinatra for the part. Eastwood was eventually asked to play the character and been told that Sinatra couldn't participate due to a hand problem that prevented him from holding a gun. Eastwood then commented that it sounded like a "pretty lame excuse" and told the producers he'll take the part.
Pursue the dream
Eastwood's interest in show business initially started while he was in the army. During his service, his friends encouraged him to move to Los-Angeles in order to pursue an acting career. In 1954, Eastwood moved to Hollywood signed a contract with Universal Studios almost immediately. He started in small B-movies and reportedly was fired from one of them for having a too prominent Adam's Apple. Eastwood eventually got his big break when he was cast in the hit TV series Rawhide.
A talented musician
In addition to his many qualities, Eastwood is also known to be an accomplished musician and singer. He's been active since the 1960's, the actor released numerous albums over the years and also sing occasionally in his own films. Learning from a young age, Eastwood is a talented piano player while focusing mainly on blues and jazz. In later years, we could hear him lending his voice to the title track of his 2008 Gran Torino.
The empty chair
After being revealed as the "mystery guest", Eastwood gave a speech during the final hour of the 2012 Republican National Convention. Most of his speech was improvised, and it became famous for addressing an empty chair that represented the Democratic candidate Barack Obama. Eastwood then finished his speech with a reference to "Go ahead, Make my Day" The famous quote from the Dirty Harry series. While the speech was well-received during the convention, the overall responses from the media were eventually mixed.
Family ties
In 2012, The old school Macho man was a part of a reality show which premiered on the E! Channel. The show, that took place in their house in Carmel-By-The-Sea, was called Mrs. Eastwood & Company and centered around Eastwood's then-wife Dina and their family. The series also documented Dina's efforts to manage a South African group a cappella group called Overtone, whom she met during the filming of the movie Invictus. Eastwood himself only appeared in three episodes of the show.