There are many things that can make a movie or a television show great. Sometimes it's the extraordinary performances of the cast members, and sometimes it's the exceptional screenplay that allows these actors and actresses to flourish on screen. And then there are times where the thing that stands out to us more than anything is something as simple as a car. It might seem crazy to say, but there have been many cars in the history of film that were just as famous as the cast members – and sometimes even more famous.
---
---
Think about a movie like Back to the Future – the story was fantastic, and the characters were iconic. But without the silver DeLorean, which also happened to be a time machine, the movie never would have been possible. And who didn't get chills when Doc Brown revealed that it could fly as well? There have been many vehicles just like this in the movies and television shows we've seen. The world of Hollywood is a place where anything is possible, and natural boundaries can be stretched – and many cars that seemed mundane on the surface actually had special powers most of the time, as you'll soon see.
Ghostbusters – 1959 Cadillac Ecto-1
Everyone knows that when there's something strange in their neighborhood, the people they're going to call are none other than… You already know the answer – Ghostbusters. This is because they aren't afraid of any ghosts, and that's why they are the heroes of the hit 80s film Ghostbusters, as they drive around town looking for ghosts to vanquish at every turn. Yes, that's right, they drove around town, and if they didn't have their iconic 1959 Cadillac Ecto-1, they may not have gotten to the ghosts in time. As funky as it looks, the unsung hero of the Ghostbusters film is their car – and ever since the movie came out, it holds a special place in people's hearts.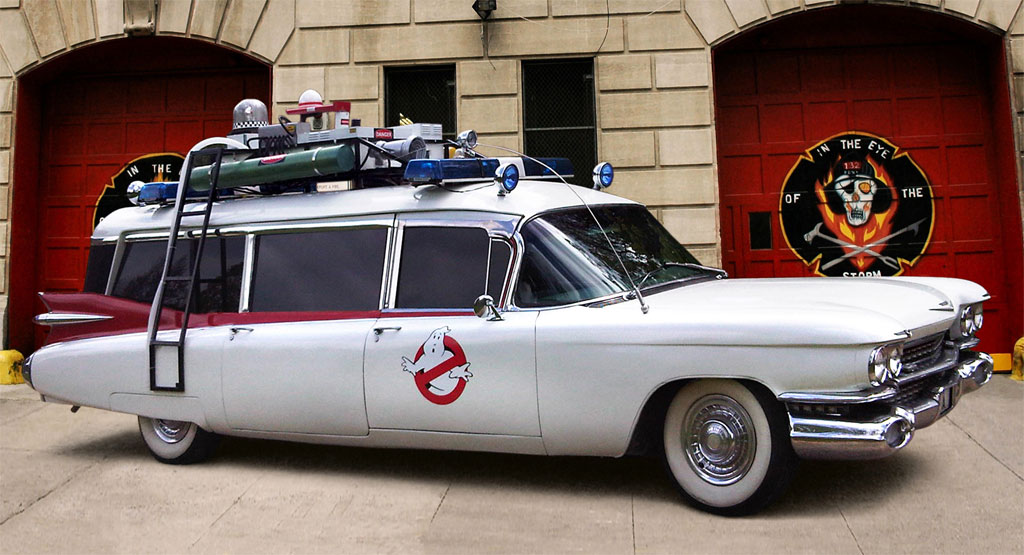 Chitty Chitty Bang Bang – 1910 European Grand Prix Racer
Okay, we should be a little bit more particular about this car – it was merely based on the 1910 European Grand Prix racer – the nature of the car in Chitty Chitty Bang Bang had a much wider purpose than being just a mundane car. In fact, the entire premise of this classic fantasy film was based around the fact that this was a magical car, full with all sorts of special gadgets and gizmos. Tinkered on by Caractacus Potts, played by the wacky and talented Dick Van Dyke, the most notable thing about this car was its marvelous ability to fly high in the sky – and this was before CGI came around.
The Love Bug – 1963 Volkswagen Beetle
There have been many movies centered around cars that had mysterious minds of their own, and one of them was The Love Bug. People loved this Disney movie when it came out in the 60s, and they're still talking about Herbie, the intelligent 1963 VW Beetle, and it's fictional race car driver Jim Douglas. In fact, people loved the film so much that filmmakers made a rebooted sequel in 2005, called Herbie Fully Loaded, starring Lindsay Lohan.
Scooby Doo – Mystery Machine
If you've never heard of Scooby Doo, stop what you're doing at once, and go watch an episode. Just kidding, you should keep reading this, but afterward – go check it out. Perhaps one of the most iconic cartoon shows of all time, Scooby Doo was a dog who was essentially the mascot of a band of crime solvers, whose car of choice was the turquoise Mystery Machine van. When you had Fred, Daphne, Velma, Shaggy, and Scooby on the case, you knew it would eventually get solved.
Starsky and Hutch – 1975 Ford Gran Torino
Another show that was a huge television series a number of decades ago that was later rebooted into a modern day film was Starsky and Hutch. Here we have another pair of police detectives, David Starsky and Kenneth "Hutch" Hutchinson, who rode around the streets of California in a 1975 Ford Gran Torino, nicknamed the "striped tomato." This car was especially beloved to Starsky, and he certainly regarded the car to be one of his most prized possessions.
Batman – Batmobile
Over the years, there have been many variations of Batman on screen, whether it be the classic television cartoon, or any of the real life movie adaptations. And although they were all extremely different in their own regard, there was one thing that always stayed the same. The Batmobile – the constant, the sleek jet black vehicle that Batman drove when he didn't feel like flying (even though he technically couldn't fly). Here are a couple of the Batmobiles we've seen over the years.
The Italian Job – Mini Cooper
The Italian Job was such a successful movie in 1969 that a reboot was filmed in 2003, starring Mark Wahlberg and Charlize Theron. And although many people only saw the new one, a lot of the themes from the original movie were brought back, such as the Mini Coopers. A handful of them, each of them in different colors, are utilized throughout the movie, and are in fact vital to the success of the operations of our main characters, due to their speed, and uniquely compact size.
Knight Rider – 1982 Customized Pontiac Trans Am
The name of the car in classic NBC series known as Knight Rider was known as the Knight Industries Two Thousand, but everyone knew the car better under it's alias name, KITT. This was a supercar that had a voice of its own – and not just any voice, but the voice of Mr. Feeny from Boy Meets World (actor William Daniels). Although intelligent, KITT still needed a driver, and who better to take the wheel than David Hasselhoff himself.
The Monkees – 1966 Pontiac GTO
When Beatlemania hit back in the 60s, Americans were looking for an answer – and so a California production company recruited four talented musicians to become the Monkees, a rock band who would also be the stars of their own television show. There were a few memorable things about the show – the characters, the songs, and of course the car that they'd drive around in. Indeed, it was always a "pleasant valley Sunday" when they'd ride around in that 1966 Pontiac GTO, also known as the Monkeemobile.
National Lampoon's Vacation – 1983 Wagon Queen Family Truckster
Another film that was rebooted in the modern era, the original National Lampoon's Vacation hit theaters in 1983, and there was one car that actor Chevy Chase, the lead star, could be remembered riding around in – the good old Wagon Queen Family Truckster. After a shady car dealer destroys their family's Oldsmobile Vista Cruiser, they are forced to then drive the Truckster cross-country – and this car would slowly but surely grow on audiences around the world.
Blues Brothers – 1974 Dodge Monaco
It's very fitting that one of the most iconic movies of all time, which starred one of the most classic character duos of all time, would also display one of the sweetest rides of all time. That's right, the Blue Brothers image would never have been complete had they not had their 1974 Dodge Monaco, better known as the Bluesmobile. It had formerly served as a police car, but now the Brothers are off doing their own thing, and this car is their perfect chariot.
Ferris Bueller's Day Off – 1961 Ferrari 250 GT California
One of the most famous and popular movies of the 80s was none other than Ferris Bueller's Day Off, starring the young and budding Matthew Broderick. The basic premise is that Ferris has decided to ditch school for a day with his girlfriend, Sloane, and his best friend Cameron. He rides around town with a 1961 Ferrari 250 GT California, who he has pressured Cameron to steal from his father's garage, much to Cameron's horror when the car gets in a real fix at the end.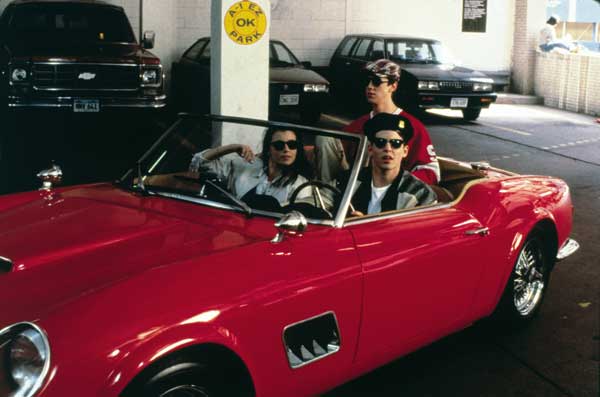 Smokey and the Bandit – 1977 Pontiac Trans Am
Perhaps the role that Burt Reynolds is best known for is his portrayal of Bo "Bandit" Darville in Smokey and the Bandit. In the film, Bandit is on a mission to drive his 1977 Pontiac Trans Am all the way from Texas to Georgia in just 28 hours, bringing 400 cases of Coors Light with him in the process. This movie is one of the all time classics, and the Burt Reynolds-driven car was perhaps just as memorable in the grand scheme of things.
Bullitt – Bullitt Mustang
The title of this movie is in reference to the main character, police lieutenant Frank Bullitt, who does a lot of chasing throughout the movie – and when we say chasing, we mean driving. Frank drives an appropriately named Bullitt Mustang, and it gets displayed for everyone to appreciate throughout the film, including when he chases down two mob hitmen, and become a part of one of the longest and most famous car chases ever filmed.
Mad Max – 1974 Customized Ford Falcon XB Interceptor
It seems that this list is absolutely filled to the brim with movies and television shows that originated in the 60s or 70s, and got rebooted later in the new millennium. Mad Max is another one of these, with the epic 1979 film spawning a cult following and eventually inspiring the modern day Mad Max in 2015. Set in a bleak and violent future, the movie is known for its everlasting car chases and battles. But these cars aren't normal cars – they look more like machine guns on wheels.
Dukes of Hazzard – 1969 Dodge Charger
Dukes of Hazzard was a show about Bo and Luke Duke, or as everyone famously (or infamously) calls them, "two good old boys." They were members of the Hazzard county police department for a number of seasons back in the early 80s, as well as in a 2005 reboot film. They handled their policie business in unorthodox ways, but perhaps one of the most iconic things about them was the 1969 red Dodge Charger they would drive around town in.
Christine – 1958 Plymouth Fury
Christine was a horror film that came out in 1983, created by John Carpenter, and based on the Stephen King novel. The whole movie focuses on Christine, who is actually a highly intelligent and vicious car. The fact that the actual model of the car is a 1958 Plymouth Fury adds to the memorability of the movie, but the main thing that people remember when they think about Christine is the creepy way that "she" changed her teenage driver's persona – and it wasn't for the better.
Back to the Future – 1981 DeLorean DMC-12
"You made a time machine… Out of a DeLorean?" This classic quote said by teenager Marty McFly in the 80s epic Back to the Future sheds light on his incredulity, but it also pretty much sums it up. The entire premise of the movie is based around the adventures that inventor Doc Brown and Marty get involved in when they decide to travel through time. It truly is a trilogy for the ages, and the flying DeLorean time machine is absolutely timeless (no pun intended).
Goldfinger – 1963 Aston Martin DB5
Perhaps one of the most popular fictional characters of all time in none other than James Bond, or Agent 007. There have been many adaptations of Bond, but one of the best was played by legendary actor Sean Connery. But when it comes to the Bond films, it's not enough to just have the actor and the British accent – you've got to have the fancy car, and Connery had that with his 1963 Aston Martin DB5 that he drove around in Goldfinger, the 1964 film.
Magnum P.I. – 1978 Ferrari 308 GTS
Many younger audiences know Tom Selleck mainly for his portrayal of Richard, Monica's temporary boyfriend on the hit comedy sitcom, Friends. But there are many of you who perhaps better know him as private investigator Thomas Magnum, who would drive confidently around the state of Hawaii in a souped up, 1978 Ferrari 308 GTS, looking for leads to solve his next case. Flanked with his two sidekicks, T.C. and Rick, Magnum was always on a mission to restore justice.