Terry Crews
Terry Crews actually got his start, not as a football player or actor – his first love was art! Crews attended Western Michigan University on an art scholarship before switching to a football one. We love that he is as sensitive as he pretends not to be on film. Crews was drafted into the NFL in 1991 when he played for the Los Angeles Rams. He retired from football pretty quickly thereafter, in 1997. As an actor, we have seen him in White Chicks, The Expendables, and Brooklyn Nine Nine.
Kurt Russell
Kurt may be known for his acting skills, but he played minor league baseball for years before getting serious in the acting world. We are very pleased that he chose acting, though, as we get to enjoy his presence in films like Silkwood, Escape From New York, Elvis, Stargate, Guardians of the Galaxy Vol. 2, and The Fast and the Furious franchise. We also happen to know a lot about his personal life since he has been linked to our favorite blonde, Goldie Hawn, for like ever.
Dwayne "The Rock" Johnson
The Rock got his name from his days as both a football player and wrestling contender. He played football for a very short time for the Canadian Football League, but swiftly turned his attention to professional wrestling. He turned to acting in the 1999 with a short appearance on That '70s Show. He has since catapulted to superstardom with roles in The Scorpion King, Ballers, The Rundown, Fast Five, San Andreas, Moana, and Jumanji: Welcome to the Jungle.
Chuck Norris
Prior to appearing in many action films, Chuck Norris was an honest to goodness karate champion. Norris holds a black belt in Judo and Brazilian Jiu-Jitsu, and has won many championships. Norris took his martial art knowledge and applied it to his business ventures as well as his time as Walker, Texas Ranger. He kicked major bad guy behind with his mad skills and everyone absolutely loved it. Norris has also managed to get to the top of the New York Times Best Seller list… twice!
Jason Statham
Throwing it back to the early '90s, Jason Statham was a part of England's British National Diving Squad. Jason spent 12 years on the team before turning his sights to acting. Now we know Jason as the bad guy (most of the time) in films like Fast & Furious 6, The Expendables, The Italian Job, and Mechanic: Resurrection, to name a few. Jason also dabbled in some modeling in his earlier years, modeling for Levi's and Tommy Hilfiger.
Ronda Rousey
WWE starlet Ronda Rousey is signed with the wrestling organization and is doing very well for herself as she is the Raw Women's Champion and has been since the inception of the program. Ronda's acting gigs came in recent years in films like The Expendables 3, Furious 7, Entourage, Blindspot, and Mile 22. Ronda is seemingly doing everything right and she will probably be sticking around for a while in the entertainment industry. Everyone is REALLY looking forward to seeing where she goes.
Shaquille O'Neal
Everyone knows Shaq for one reason or another. The incredibly successful basketball star played for the Orlando Magic, Phoenix Suns, Cleveland Cavaliers, and Boston Celtics prior to retiring from the game. He has been in commercials, television shows, and films after his b-ball career ended. He played himself in Scary Movie 4, The House Bunny, and Jack and Jill, as well as lending his voice in films like The Smurfs 2, and The Lego Movie. His television time was spent on shows like Fresh Off the Boat and The Simpsons.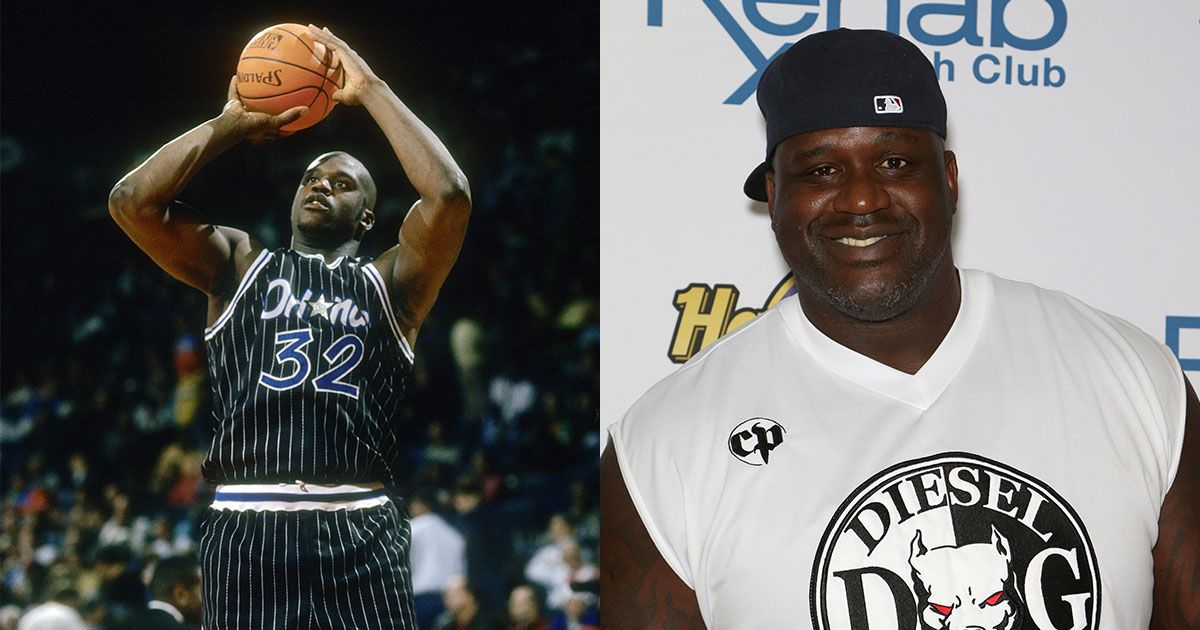 Jason Lee
The Dogma star, as we know him, got his athletic kicks in by being a professional skateboarder (yes, that is an actual thing and there are people other than Tony Hawk involved). Lee's skate dreams were not realized to his liking, but he did get Kevin Smith's attention, the man who got Lee's career up and running with the Mall Rats. Jason has since stared in the show My Name is Earl and is known for his comedic timing and dark sense of humor.
OJ Simpson
OJ was a supremely loved running back in the '70s and '80s. He played for the Buffalo Bills, the San Francisco 49ers. It was in the early '90s that OJ shot to infamy with the death of his ex-wife and his acquittal of all charges related to her and her boyfriend's death. It was robbery that ended up getting him put behind bars. His acting career, funny enough, was during his early years in football. He landed roles in The Klansman, The Towering Inferno, and Capricorn One.
Stacy Keibler
If we are being honest, Stacy is known more than anything as being George Clooney's ex-girlfriend, but she's got more claims to fame. During the years that she was in professional wrestling, she was a part of World Championship Wrestling and World Wrestling Entertainment. After her time as a wrestler, Stacy went to find herself in film and television. She was on How I Met Your Mother, George Lopez, and Psych and she was also a contestant on the dance competition show Dancing with the Stars in season two.
Kareem Abdul-Jabbar
Jabbar and the Los Angeles Lakers go hand in hand. He played basketball for 20 years before retiring, an impressive feat for any player. Throughout his athletic career, however, Kareem also played alongside Bruce Lee in the film Game of Death, as well as in the film Airplane (where he played himself, which is honestly the best). These days, Jabbar is known for his expertise in all things jazz, as well as being a commentator for TIME magazine.
Bruce Lee
The late great Bruce Lee developed his own version of martial arts called Jeet Kun Do. He started with the art as a form of self-defense due to bullies. When he moved to the US, he turned his sights to film thanks to a producer who noticed Bruce's incredible skills. Bruce sadly passed away at the young age of 32, but not before he left us with a good several films and television appearances to catalog his mastery in martial arts.
Burt Reynolds
Burt Reynolds was a legendary actor, known for his roles in films and shows like Gunsmoke, Dan August, Deliverance, The Longest Yard, and Smokey and the Bandit. The star was known for his tumultuous relationships, specifically with the beautiful Loni Anderson. However, we are here to talk about sports! Burt played football for Florida State University back in the 1950s, short lived, but totally worth noting. Unfortunately, Reynolds passed away in early September, 2018 at the age of 82, but his legacy will certainly live on.
Andre the Giant
Andre the Giant, also known as André Roussimoff, his given name, was a professional wrestler in addition to being an actor. The 7 foot 6 inches man was a force to be reckoned with in sheer size alone. Andre passed away in 1993, but before his early passing, he landed roles in films like The Princess Bride, The Goonies 'R' Good Enough, and The Greatest American Hero. His height might have been his biggest claim to fame, but everyone loved him and his acting, as well.
Caitlyn Jenner
As the most talked-about star on this list, Caitlyn Jenner, previously known as Bruce Jenner, became an Olympic decathlon gold medal winner back in 1980. The world knows her better now as Caitlyn who was married to Kris Jenner, the matriarch of the Kardashian family. The reality television show showing the lives of the Kardashian-Jenner clan put him (later her) on the map. Whether going by Bruce, the athlete, or Caitlyn, the television star, one thing is for certain: she loves her family.
Mark Harmon
Mark was the quarterback for the UCLA Bruins and brought them to Rose Bowl victory under his charge. Harmon switched gears into acting thereafter, landing roles in The West Wing, JAG, and most notably his longstanding role on the show NCIS. We also love his smaller cameo roles in films like Freaky Friday, Chasing Liberty, and Weather Girl. He has had a steady acting gig going for a while and seems to be living his best life, which is all anyone can really ask for.
Michael Jordan
Michael Jordan is arguably the most well-known basketball player of all times. Even those who do not follow basketball probably know his name. Jordan played for the Chicago Bulls at the height of his career. His movie crossover happened in 1996 when he played himself in the film Space Jam. There is little more satisfying than seeing a beloved athlete play himself alongside cartoon characters. Looney Tunes and Michael Jordan in one screen? Yes, please!
Hulk Hogan
Hulk Hogan is one of the biggest names in American wrestling. The WWE champion has not changed his look in years but has used his wrestling fame to grow his own fame through television and film appearances. Some of his notable roles were in Rocky III and Suburban Commando. His most recent in-your-face appearance was in his own reality show, Hogan Knows Best. The show and his family life didn't end too well, but we will always know him in the best light.
Lawrence Taylor
Lawrence Taylor does things his own way, which also means he does what he wants whether it was good for him or not. The New York Giants linebacker and Hall of Famer was an astounding athlete, but he was also way too fond of substances that were not too good for the body. Unfortunately, Taylor let substance abuse and his drinking probably get the best of him and this eventually ended his football career. He later went on to star alongside Al Pacino and Jamie Foxx in Any Given Sunday.
Chuck Conners
Talk about a Jack of all trades, Chuck Conners played basketball for the Boston Celtics, baseball for the (then) Brooklyn Dodgers, and later for the Chicago Cubs. To top that all off, Conners was also drafted into the NFL as a player for the Chicago Bears, although he never ended up playing a game. Still, impressive! Connors followed up the spots with a long career in television and film. Most notably, Chuck played the role of Lucas McCain in The Rifleman.
Joe Namath
Joe Namath's name is synonymous with football. He was the quarterback who won the Super Bowl for the New York Jets and the NFL Hall of Famer directed his skills towards acting and hosting once he retired from football. In 1969, Joe was the host of The Joe Namath Show, obviously, followed by The Love Boat, The Brady Bunch, The Simpsons, The Dean Martin Show, and Broadway productions like The Damn Yankees, Fiddler on the Roof, and The Caine Mutiny Court Martial.
John Cena
One of our favorite actors today, John Cena was mostly in the wrestling world up until pretty recently. Cena is still currently signed with the WWE, but has shifted his focus to acting. His most recent films have been in the comedy genre in films like Amy Schumer's Trainwreck, Tina Fey's Sisters, and Judd Apatow's Blocks. He also lent his voice in films like Ferdinand. We are sure John is going to make us laugh a whole lot more in the future.