Have you ever won the lottery? Perhaps you've won $5, or even $20, or if you're really lucky, maybe you once received a $100 prize (but even that is extremely unlikely). How about $273 million? Yeah, we didn't think so. The man in this story, an unemployed New Jersey citizen named Michael, spent $20 on lottery tickets every single week. He may have won a time or two, but he certainly never expected to receive the payday he eventually did.
But what makes this story so intriguing was how it all went down. It's almost like divine providence, like a masterpiece, a symphonic composition that didn't make sense until the very last moment – and when everything was understood, the entire audience bowed and clapped, because they knew they were in the presence of greatness. But we're getting ahead of ourselves…
Michael may have won $273 million – but it was almost snatched right under his nose by someone else. A stranger whose life almost changed forever, but didn't because of one fateful decision.
Winning it big
This is a story about an unemployed New Jersey man who got very, very lucky. Let us repeat that. This man was as lucky as they come, and it's not just because he won $273 million in the Mega Millions lottery jackpot.
You might think to yourself, what could possibly be luckier than that? Well, it's not so much what he won, but more importantly how he won it that makes him so fortunate. When you hear the details of how exactly it went down, you'll understand what we mean.
Losing the tickets
It all started at the QuickChek in Phillipsburg, New Jersey, the very convenience store where he bought the tickets. Every week, Michael made it a habit of buying $20 worth of lottery tickets. This week however, after buying two lottery tickets like he normally does, he accidentally forgot them at the store.
He admitted later that it was because he was too focused on his phone. He "put the tickets down" so that he could put his money and wallet away, but then he got distracted with his phone, and by the time he was on his way out, he had completely forgotten about the tickets. They just sat there on the store counter.
A stressful search
Michael didn't even think about the tickets until hours later while he was hanging out at home. He realized he couldn't find them, and then he started panicking. He searched for hours in his Alpha home in New Jersey, which is close to the Pennsylvania border.
He convinced himself that he must have dropped them somewhere inside his house – and it was only on the following day that he began to consider another possibility. He realized that there was a chance he left them at the store. But if that was true, anything could've happened to them. There was only one way to find out, so he got in his car and headed back out there.
Sigh of relief
Once he was back in the shop, he asked an assistant manager working there if they had found any loose tickets lying around. To his incredulous relief and surprise, the worker said that someone had handed the tickets in. Yes, that's right, a random stranger picked up the tickets and decided to do the noble thing and return them to its rightful owner.
They could've kept it for themselves, but instead they turned them in, and now there's a special place in heaven for this person. Michael was naturally beyond relieved, but he wasn't out of the woods yet. The assistant wasn't willing to hand over those tickets just yet.
Will the real ticket owner please stand up?
The assistant needed to make sure the tickets belonged to Michael before she just handed them over. This wasn't her first rodeo, and she knew all the tricks in the book. So she decided to quiz Michael on the tickets that he had bought – and lo and behold, he passed with flying colors!
She happily gave Michael his tickets, and just in the nick of time, because the lottery draw was that night. Michael later expressed how "thankful" he was that there had been "an honest person out there" – because he genuinely thought those tickets were as good as gone. But if the stranger who found them knew those tickets would be winners, would they have returned them?
Potential winner?
Anyway, Michael got back home and although he was happy that he got the tickets, he completely forgot about them. In fact, he didn't even watch the lottery draw that night – because apparently he had better things to do.
Two days later, his mother told him that she had heard a friend of his had won the lottery. He called up this friend to this if this was true. Things were starting to get really fishy.
Jackpot
On the phone, his friend told him that no, he had not won the lottery. That's when Michael realized that he hadn't checked his own tickets. He turned on his phone and logged into his "lottery app."
He looked at the winning numbers and then looked at his own numbers – and then looked at his mother in shock. He told her, "I won $273 million." She looked back at him and said, "Get the heck out of here."
State of disbelief
What would you do if you just found out you won $273 million? Run outside and start jumping up and down? Scream on top of your lungs? Hug everyone in sight? Break down and cry?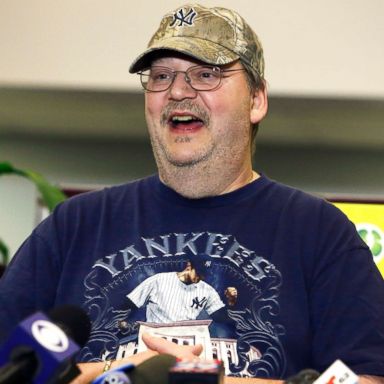 You can't really know unless it happens to you, but in Michael's case… he just did nothing. It's clear that he was just in a state of absolute shock, and he just allowed the information to sink in. In fact, he admitted that he stopped looking at the ticket, and watched TV for a while.
Reckless double-checking
But after watching TV, he realized what he needed to do. He jumped up, ran upstairs, got himself dressed, and decided to make sure that this was the real deal. In order to fully revel in the excitement of this moment, he had to double check that his winnings were legitimate.
So he decided to check his ticket at a nearby store. He didn't care that there was a snowstorm outside. This was 273 million times more important.
A complete 180
Sure enough, once he scanned his ticket at a nearby store, and had other people check it, he knew that this was the real deal. That's when he knew that his life was about to change.
For the past 15 years, Michael had been unemployed. Now he was the sole owner of $273 million. But what did he plan to do with the money? Would he use it to help him get back on his feet, or would he just live off it for the rest of his days, and not try to improve his life?
Crumbling marriage
Indeed, his life was not super easy, and not just from a financial perspective. Throughout his 15-year unemployment, his wife was the bread-winner of the family, and they were constantly moving around because of her job.
But their marriage wasn't to last, and as recently as October, they had officially split. Talk about bad timing for his ex-wife, right? We wonder how upset she is about breaking it off merely months before his big payday.
World of opportunity
But regardless of what his wife is doing, the important thing is what Michael is now doing. The amazing thing is that now Michael has literally a world of opportunity at his fingertips.
He has so many things he can do, and in fact he's shared with us exactly what he hopes to do moving forward. Unlike most people, who work hard and then make money, he hopes to do the opposite – make money, and then work hard.
Different plans
The first thing he wants to do is look for work. He hasn't exactly elaborated on what kind of work he's looking for, but let's be real – in his scenario, he can be a little picky, and he can take some time to decide.
However, he did say that he hopes to open up a new business. Another thing that he wants to do is to help out a friend of his who currently works in the handyman industry. Nice to see that he's using the money for good!
Simply enjoying it
But at the end of the day, he really doesn't need to be rushing into things, and he doesn't want to. Sure, he wants to get back on his feet, but he also just wants to relax and soak it all in.
There's a certain thing called karma in this world, and for all we know, Michael deserves this money. He won it fair and square, and now that he has it, it's nice to see that he plans on relaxing and enjoying it, and helping out some friends in need in the process.
Pickup truck
However, there is one thing he plans on buying that he was more than excited to share with us about – a new pickup truck. We all have that "thing" in our lives that we would buy in a second if we had the money, that "dream" object.
For some people it's a fancy electric guitar, for others it's season tickets to their favorite sports team, and for Michael – it's a pickup truck. But how will he make sure the money doesn't get to his head?
Lawyer advice
We've all heard the story countless times – someone wins a fortune and it ends up turning their lives into a living nightmare. Michael wants to prevent that from ever happening, and here's how.
He hired a lawyer to help him manage his finances. He has a number of things he wants to buy, but his lawyer will help him limit the things he spends money on – and the ultimate goal is that he'll be able to invest this money into his future.
Family vacation
He said that once his lawyer helps him get everything settled in, he plans on taking his vacation on a beautiful vacation. Now that right there is the best possible thing he could do with his money, wouldn't you agree?
We all need a vacation every now and then, and it sounds like Michael has been through a few trials of his own. For whatever reason he was given this money, and we believe that he and his family won't take any of this for granted.
Even luckier than he thought
Interestingly enough, it turns out that Michael is a lot more lucky than we thought. We already know that a stranger found the lottery ticket and returned it to him, but what we didn't mention was that this stranger would've been within his legal rights to claim that ticket for his own.
Indeed, due to the fact that Michael didn't sign the ticket, the stranger would've been able to keep that ticket, and all of that money legally.
Words to remember
Because of this fact, James Carey, a representative from the New Jersey Lottery corporation advised everyone out there to always sign their tickets. This story is the perfect example for how things can change on the turn of a dime.
True, it's unlikely that you're going to win something, but just in case you do, and just in case you lose it, you could very easily be bitter over the fact that the person who found it now has thousands of dollars that could've belonged to you.
The store's substantial stipend
There's another funny little caveat to this story. It turns out that Michael wasn't the only winner here – the convenience store that sold him the ticket actually received $30,000 for selling it to him! Just a little fun fact if you didn't know.
True, it's not even close to $273 million – but in the real world, $30,000 is a very large sum of money. Especially when you literally did nothing at all to earn it.